Current patients Marine Turtle Rescue Centre: Heidi, Arti, Fidji, Masha, and Discovery.
Current patients Sea Turtle Rehabilitation Centre: Azura and Eve.
Released
Bishy – Arrived 9th January, Released 29th March 2020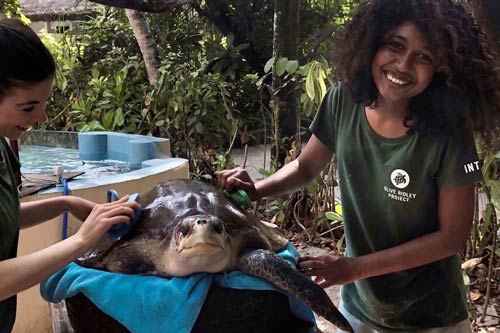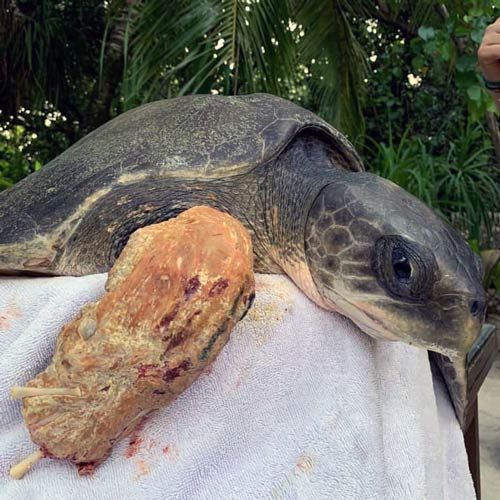 Bishy's wounds healed really well. Once we started catching her resting at the bottom the tank we knew she was nearly ready to be released. Bishy took turns with Sandy in the big tank to practice diving before her release.
Bishy was released on the 29th March. Due to the corona virus, boat excursions are banned, so she was released from the beach. Initially she was a little hesitant, in fact she seemed a bit shocked by the change in environment! But as soon as she saw us approaching she realised this was her chance! She swam off and followed Sandy into the deep blue. Bishy has been through a lot and we are so happy and proud that she made a full recovery in a relatively short time – it was wonderful to see her back in the sea.
Sandy – Arrived 6th February, Released 29th March 2020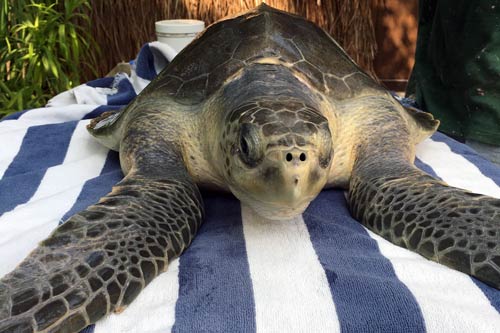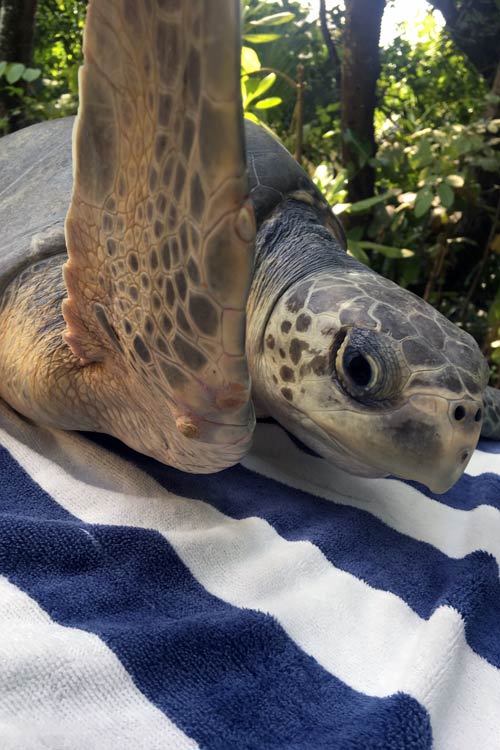 Sandy was released with Bishy on 29th March from the beach at Coco Palm (due to cancellations of excursions as a result of the COVID-19 restrictions). The moment Sandy was placed at the water's edge, she shot off with excitement. Sandy has always been itching to escape and she finally got her moment! As much as we will miss her, we are so happy she was able to get home safely.
Sandy's buoyancy gradually resolved itself and she swam beautifully. Guests often commented on how graceful and beautiful she is. She's also very feisty and was constantly trying to bite things (like the window cleaner!). She enjoyed playing with her ball which she moved around the tank and tried to bite.
She always seemed to be trying to get out. Even when she was in the big tank, she stuck to the sides the majority of the time trying to find a way out. Unfortunately she got some sores on her front flippers from this. These will heal naturally now that she is back in the big blue with no window panes to restrict her movements.
Teddy – Arrived 8th January, Released 28th February 2020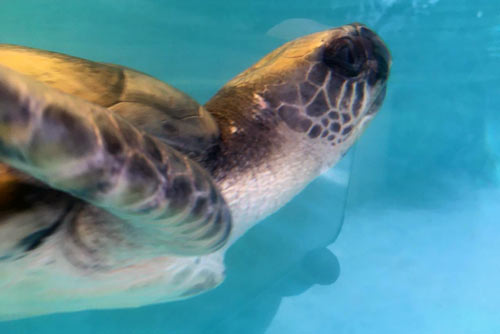 Teddy was released on February 28th. Teddy had a couple of weeks of wound treatment after his stitches came out, and he healed up nicely.
He left us with great gusto and dived straight down into the big blue.
The Resident Patients
Discovery – Arrived 7th February 2020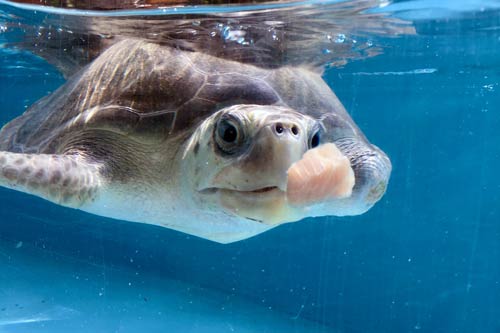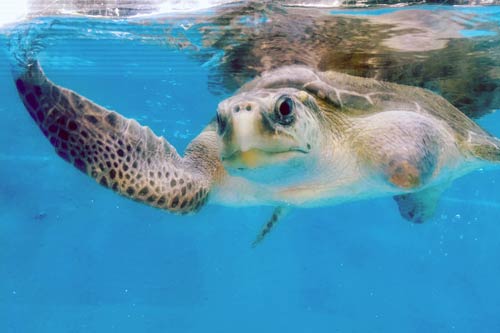 Disovery, popularly known as Disco, is still buoyant. She is regularly trying to dive and gets very frustrated that she can't go very deep. We have seen slight improvements in her diving ability when feeding, and she seems to sit a little lower in the water, but still can't reach the bottom of the small tank.
Disco is very curious, often watching out of the window. She currently has a couple of lesions on the back of her neck from where she is pushing her head up to the glass and making her neck rub on her carapace. Disco will be moved to a bigger tank to give her some more space to swim and practice diving.
Mascha – Arrived 24th January 2020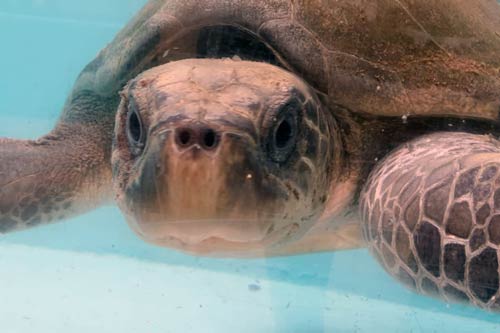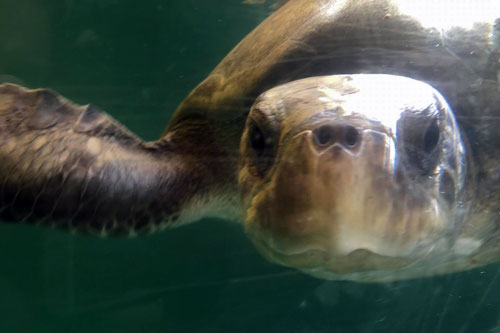 Mascha had some deep pockets of infection that needed debriding in her wound and went through a surgical procedure for this in February. There was just enough skin to close the wound and she recovered well from her sedation.
She had her sutures removed this week. She still gets very stressed around people and hides from us when we're trying to get her out of the tank for wound cleaning. But once she's out, she's extremely calm and she even seemed to enjoy her spa day this week.
We have cut her food down as she was getting fat. Her appetite is good and she's eating more quickly. She keeps bumping into the tank so the sides of her carapace are getting worn. We will move Mascha to the big tank now that Bishy and Sandy have been released.
Fidji – Arrived 6th January 2020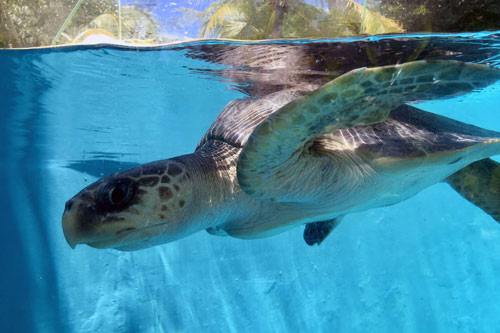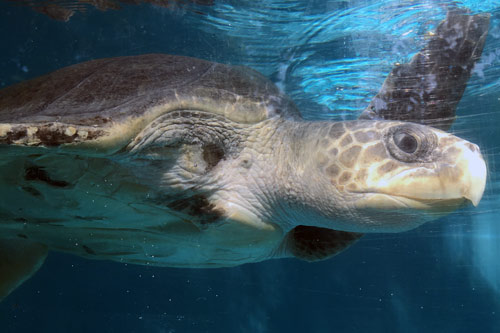 Fidji had a small setback in late February; part of his wound formed a pocket of infection. We cleaned it out but unfortunately there was not enough skin to close the wound surgically so we made him wear a bandage cover until it closed over. We also continued the antibiotics as his bloods showed a high level of white blood cells. However, his appetite remained good and he kept swimming well.
Fidji is now doing fine and his wound is being cleaned regularly.
Azura – Arrived 2nd April 2019, Moved to O&O 16th October 2019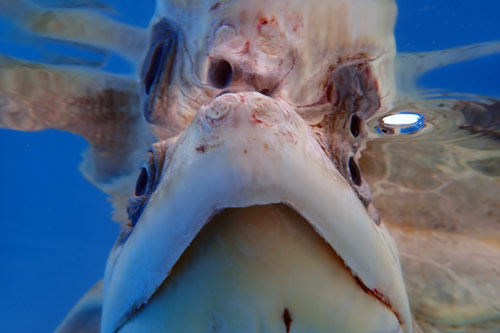 Azura is still very happy to go out on her lagoon swims and recently dived down 6 times during one such trip! On her last lagoon swim, she dived deeper than we have observed before, so this is great news and we hope that she will continue to make progress. She is very popular with everyone at the resort and we love her unique and sassy personality. Lately, Azura is even trying to dive by herself in the tank, which is great to see!
Arti – Arrived 27th February 2019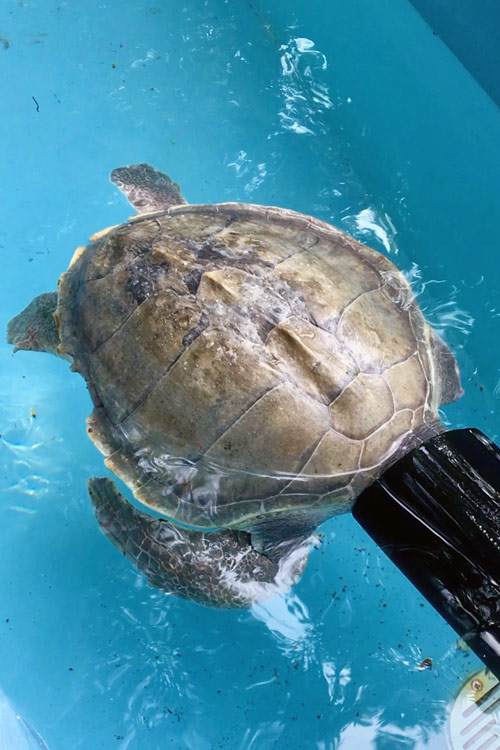 Arti has now been with us for more than a year. He is getting all of the attention as always. We gave him a hollow toy this week – first off he was very scared, then a little curious, and after a while he fell asleep with his head in it! His swimming is gradually improving (we encourage him to swim as much as possible during feeding) but he still cannot dive. He hasn't been for a sea swim this week but we're hoping to get him out next week.
Eve – Arrived 26th December 2018, Moved to O&O 15th January 2020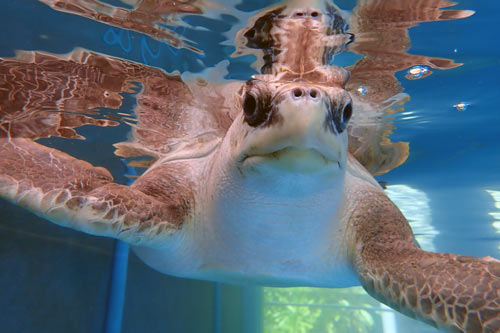 Eve has a tendency to be fussy about her food, but she has now decided decided that she wants to eat fish again – along with her prawns and squid. Eve is still enjoying her daily physiotherapy and seems to be using her flipper more and more everyday, especially when diving for food.
Heidi – Arrived 21st April 2018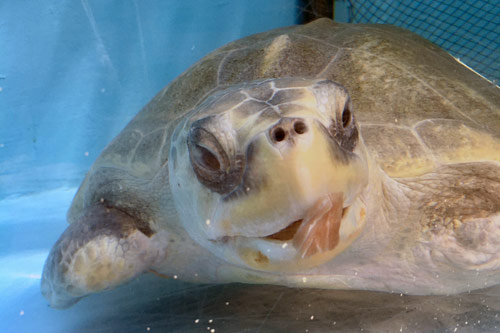 Heidi is doing OK. His recently had a bit of a check up in the vet clinic: His radiographs don't show much change since his previous ones and his blood work was pretty good. He is still quite chunky but has lost some weight. Unfortunately we haven't been able to get him out for a sea swim this week, but we're hoping to do it next week. He could do with some exercise as he is very lazy in his tank!