Current patients Marine Turtle Rescue Centre: Heidi, Eve, Artemis, KG and Orla
Current patient Marine Turtle Rehabilitation Centre: Azura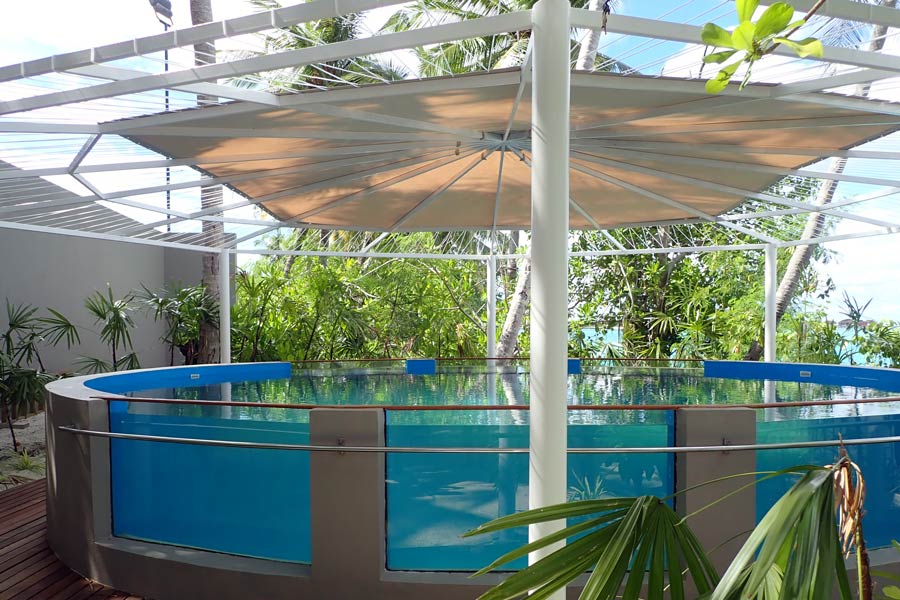 We are very pleased to announce the opening of our new Turtle Rehabilitation Centre at One & Only Reethi Rah, North Male Atoll! The centre has one large tank and can accommodate one to two turtles, depending on their size. The opening of the Turtle Rehabilitation Centre will allow us to transfer turtle patients requiring long term rehabilitation without veterinary care here. This will free up tank space for critical patients at the Marine Turtle Rescue Centre. The patients at One & Only Reethi Rah will be looked after by out Resident Sea Turtle Biologist Laura Whiteley.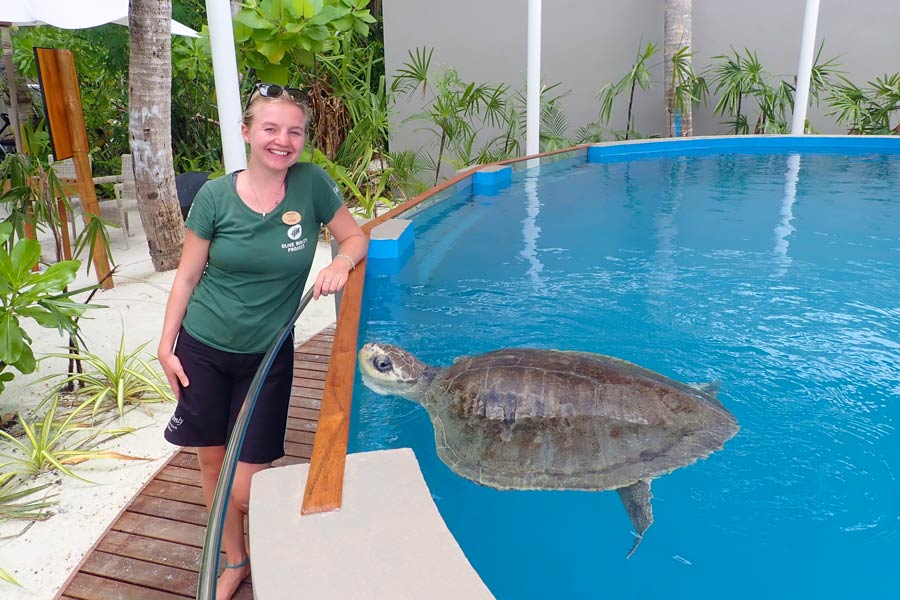 The first patient to be transferred to the Turtle Rehabilitation Centre is Azura. She was transferred by sea plane and speed boat and is settling in well.
Released
Thomas – Arrived 18th June 2019, Released 22nd October 2019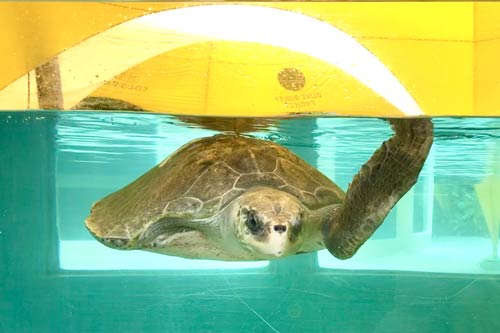 Thomas has made her way home! She was very ready to go and was seen off by a full boat of well wishers. She came up for a quick breath before disappearing fast into the deep. Thomas overcame a lot – an amputated flipper, deep shell cuts, a severe bone infection and buoyancy syndrome. It was an absolute pleasure to see her free back in the ocean.
New Arrival
Orla – Arrived 18th October 2019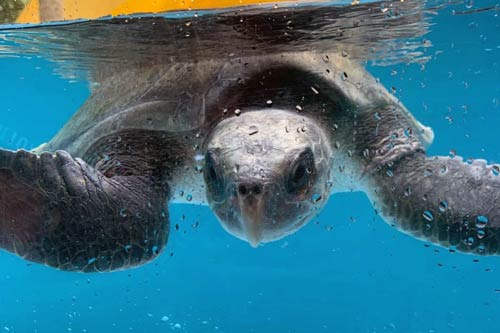 Orla is a juvenile olive ridley turtle who was rescued from a ghost net along with a green turtle by Soneva Jani in Noonu Atoll. The green turtle was uninjured and released immediatley. Orla, however, had several injuries from the entanglement and was transferred to the ORP Marine Turtle Rescue Centre for veterinarian care.
The ghost net cut through the muscles of both of Orla's front flippers. She also has injuries to her shell and lacerations to her back flippers where the net has rubbed. Vet Jackie started Orla on antibiotics for the infections and gave her pain relief. Once Orla was stabilized, she had surgery to remove a lot of dead tissue and to try to repair some of the muscle.
Although Orla was dehydrated and a bit skinny when she was rescued she recovered well from the surgery. She is bright and and active and has a lot of fight in her. We hope she will make a full recovery.
Transferred
Azura – Arrived 2nd April 2019, Transferred 16th October 2019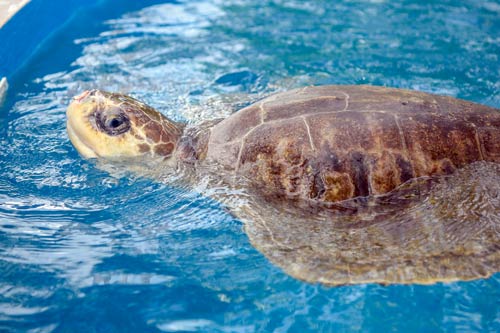 Azura has been trying to dive but is still buoyant. She also had touch up nose surgery. Our Visiting Vet Dr. Francesco brought us some special medication which we are applying to hopefully keep the mass from recurring.
She was moved this week to our new Turtle Rehabilitation Centre at One and Only Reethi Rah to finish her recuperation. She will be able to practice her diving and will be well cared for by our resident Sea Turtle Biologist Laura. She has settled in well.
The Resident Patients
Heidi – Arrived 21st April 2018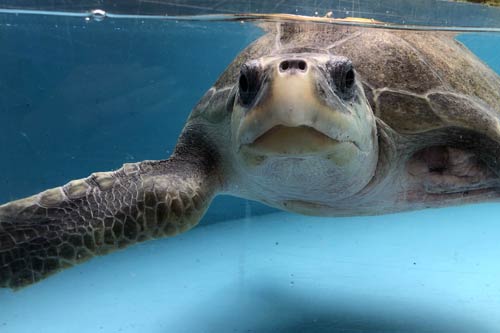 Heidi continues to do well. We have had rough weather so he still hasn't been out in the sea, but hopefully this will happen soon. His diet has been working and he dropped some weight this week.
Eve – Arrived 26th December 2019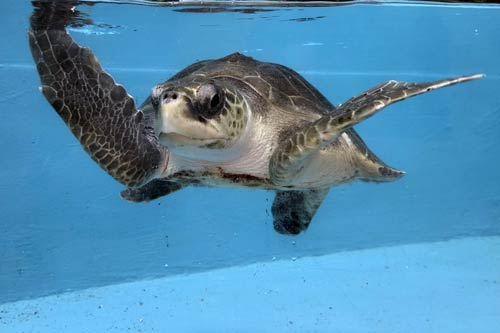 Eve suddenly decided she only wants to eat squid, so we are accommodating her change in taste. Occasionally our turtles become fussy and refuse to eat certain food items. Otherwise she is doing well with her laser and acupuncture. She has started physiotherapy and massage again as well.
This past week Eve has been using her bad front flipper extremely well and we are assessing her for release. She is swimming very strongly and we believe it is almost time for her to leave us. She has been with us for quite a long time so it is fantastic to see her doing this well.
Artemis – Arrived 27th February 2019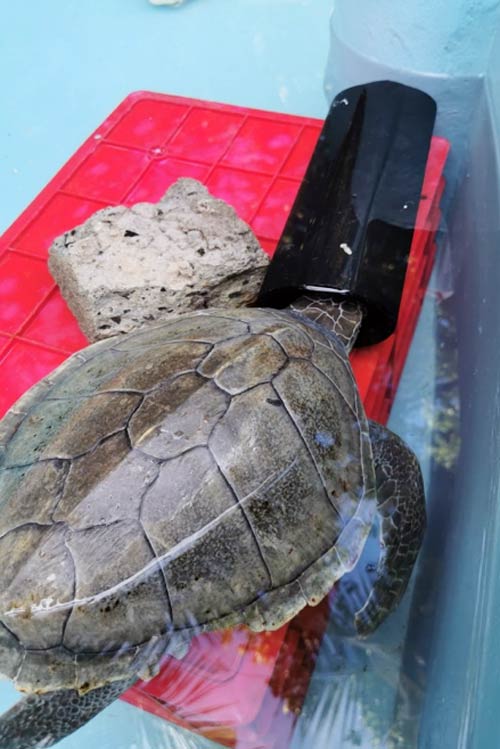 Arti has had a feeding platform installed in his tank. This allows him to make an attempt to dive to pick his food up off the platform. He was initially scared of the change but is now using the platform quite happily. We also gave him a black PVC pipe which has become a favourite toy. He likes to fall asleep with his head in the pipe. Unfortunately there is no improvement to his buoyancy.
KG – Arrived 4th September 2019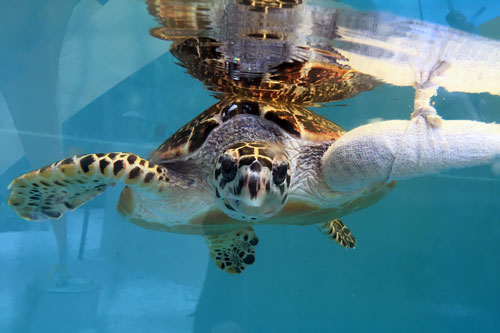 KG is healing well and enjoying visits from guests. Her flipper wounds continue to improve with regular treatments and this week she has been using her injured flipper well. The holes are filling in and the skin is starting to grow back. Unfortunately, her bone infection was worse on a recent x-ray. Visiting Vet Dr. Francesco bought some medication and we have now switched her to the new drug in the hope that the infection will resolve. Another x-ray will be taken soon to check on her bone infection. KG's appetite is fantastic.