Current patients: Heidi, Eve, Artemis, Azura, Lucky, Thomas and KG
The ORP Marine Turtle Rescue Centre has crossed the 100 treated turtle patients mark! In fact, we are now at 102. Out of the 102 treated turtles, 48 have been successfully released back into the wild. Some are still patients, some have been transferred to other centres for long-term rehabilitation, and some, sadly, we lost.
Released
Joy – Arrived 9th April 2019, Released 2nd September 2019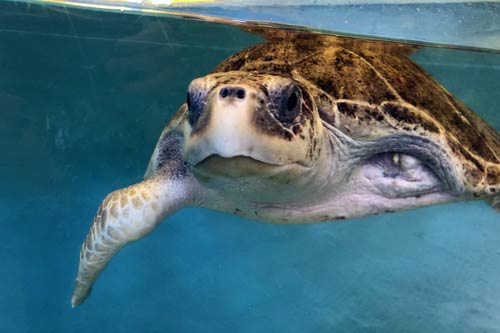 Joy, an adult female olive ridley, had been with us since April. She had lost a flipper in her fight to free herself from a ghost net. Unfortunately, we had to amputate what was left when she arrived at the Rescue Centre.
Joy did not use her remaining front flipper for weeks and it became very swollen due to an infection. After a long course of antibiotics, she started using her flipper, despite it still being swollen, and she was finally given the all clear to go back home after almost 5 months of treatment.
Upon release, she took off like a shot! She was definitely ready to go. She was a favourite of many of the guests and had regular visitors at the Rescue Centre. We will miss her but we are very happy that she has returned to the wild.
Elba – Arrived 6th May 2019, Released 30th August 2019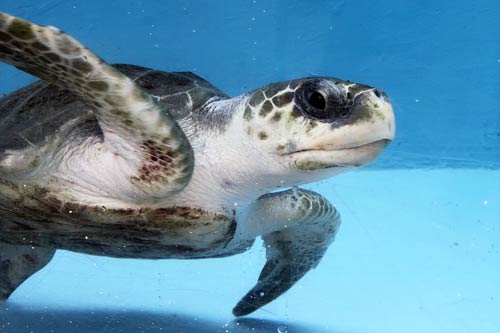 Elba is a juvenile olive ridley turtle who was with us for almost four months. Elba was not only a victim of ghost net entanglement – she had also swallowed fishing net in her struggle to free her self.
We had to surgically remove the net from her stomach after assessing her with X-ray and ultrasound exams. We then surgically repaired her flipper.
After some ups and downs due to a bone infection, Elba fully recovered. She swam like a superstar and was successfully released back to her ocean home! She was a little slow diving down, circling the boat, but eventually she took a few breaths and was off.
New Arrivals
KG – Arrived 4th September 2019
KG is a subadult hawksbill sea turtle that came to us from Marine Savers in Male Atoll. She has a penetrating wound through her left flipper, believed to be from a spear gun. Poaching of this species of turtle still occurs because of their beautiful shell.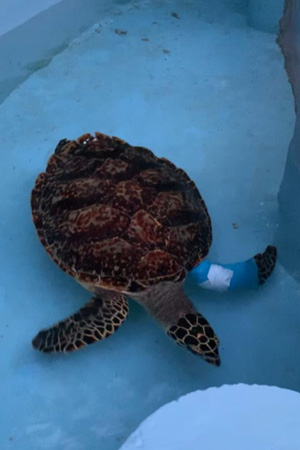 KG has a bone infection, but luckily the bone was not damaged by the spear. Her nerves are also intact, so she is one lucky turtle. If the injury was a little to the left, it would have been a different story.
She had surgery on 6th September to remove all the dead tissue and now the long healing process begins. KG is having daily dressing changes until there is a healthy bed of granulation tissue present. She may require follow up surgery for further debridement of the wounds. Currently she is having daily wound care, antibiotics and pain relief.
KG is a very shy turtle and has only just started eating crabs after being fed at night.
Tegan – Arrived 25th August 2019, Deceased 26th August 2019
Tegan was a juvenile hawksbill who came to us from South Ari Atoll. She was dehydrated and emaciated. Blood-work revealed she was anaemic and severely low in blood protein. She was also constipated and had a lot of gas in her intestines.
Treatment was started, but unfortunately she passed away overnight. On necropsy we found her body cavity full of fluid. She did not have enough proteins in her blood to hold the fluid in her vessels so they leaked out. She was so dehydrated that her gastrointestinal system was not moving anymore. Her liver also appeared abnormal. RIP Tegan.
Deceased
Trooper – Arrived 29th July 2019, Deceased 25th August 2019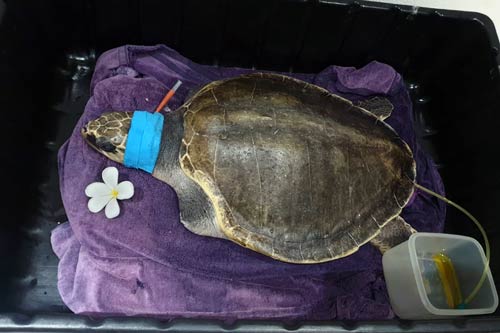 We are very sad to report that Trooper did not make it. She was improving before she suddenly passed away. On necropsy, we discovered that she had a massive infection of her liver. A foreign body had pierced through her intestine and punctured her liver, which started the infection. The infection had spread throughout her body and she died from sepsis. Antibiotics were initially helping her, but the infection was just too much.
The Resident Patients
Heidi – Arrived 21st April 2018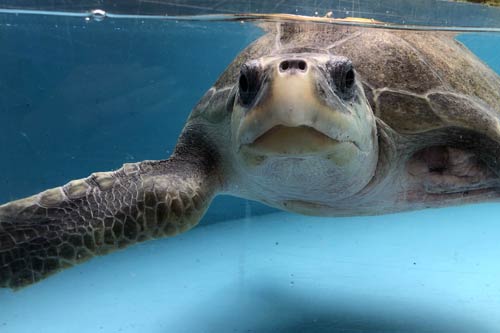 Heidi has been fed fish ice blocks this week. Sea turtles like to engage with their food and work out how to get it, so this should keep her mind active! She is doing well, but she is still disappointed that she is on a diet and would probably eat all the fish in the fish bucket if she was given the chance. The diet is paying off, however, and she has lost some weight.
In other news, Heidi might actually be a he! Our current Visiting Vet, who has a substantial amount of knowledge in turtle reproduction, thinks she may be a male after giving her a thorough ultrasound. So, we will now be saying "he" instead of "she"…
Eve – Arrived 26th December 2019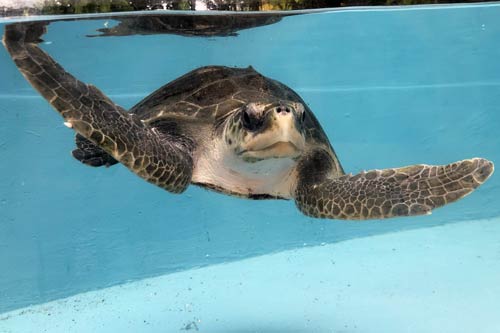 Eve had a setback and stopped using her right flipper again at the end of August. We took new x-rays and discovered a small bone infection. We gave her pain relief and started her on a course of antibiotics. We stopped her physio, but continued with the laser therapy. Eve also had acupuncture this week.
In the past week, she has been using her right flipper a little better, which is good news. She is due for another x-ray soon and will continue with antibiotics at this time.
Artemis – Arrived 27th February 2019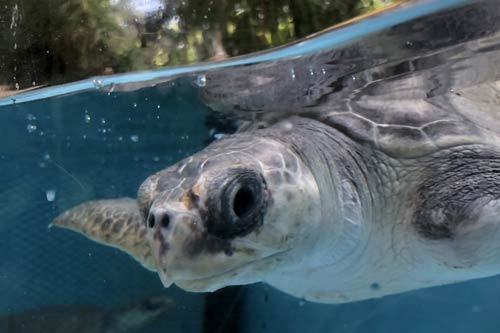 Artemis suffered from a sore eye at the end of August. One morning, his eye was closed and he wasn't interested in food – which is quite unlike him. After some pain relief and eye drops, he was back to his old self. Due to his eye condition, Artemis has had a rest from ocean swims.
Artemis is being spoiled by the volunteers this week. He is incredibly cheeky and makes everyone laugh. Still no luck with his diving, but he keeps practicing.
Azura – Arrived 2nd April 2019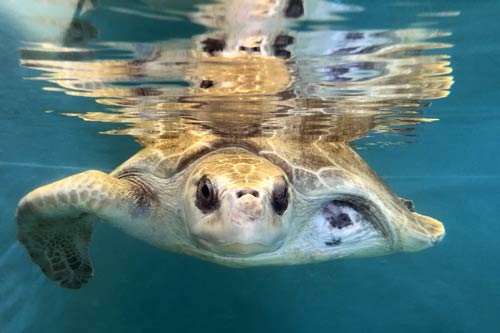 Azura's bone lesion is no longer showing an active infection and we have stopped antibiotic treatment. Her nose mass appears to be growing back, however. It is not as large as the first time, but we will continue to assess whether it requires another surgery.
Although Azura is doing well, she is still floating quite high in the water and cannot dive, even though she wants to! Her appetite is ravenous and the volunteers really need to watch their fingers around her.
This week Azura had an x-ray to be sure her osteomyelitis lesion is still stable. It is – which is fabulous!
Lucky – Arrived 12th June 2019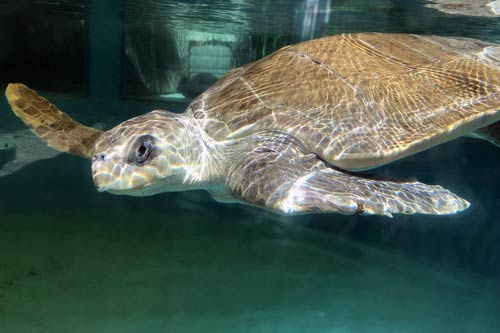 Lucky is now using her left flipper well. Her x-rays showed that her bone infection is resolving in some areas, but her left elbow joint has now developed an infection. We altered her antibiotics and we will x-ray again in a few weeks to see if we have the infection under control.
Lucky has been enjoying some time, and the space, in the big tank. She will continue antibiotics at this stage.
Thomas – Arrived 18th June 2019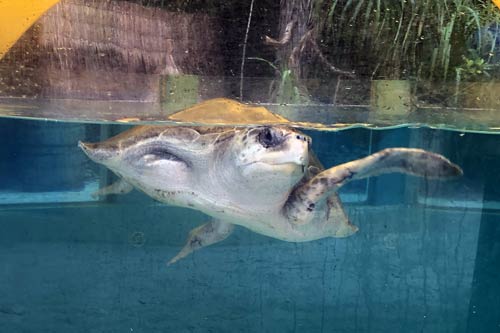 A few weeks ago, Thomas has had x-rays that showed a bone infection located at her elbow joint. She continued to use her flipper well, so it was not causing her any pain. We treated the infection with a course of antibiotics and she will soon have a repeat x-ray to check her elbow.
Thomas has started diving and can reach the bottom of the tank before she pops back up to the surface. She is enjoying having this ability back, but does tire after a while.
Though she is cruising along quite well, she needs a little more time to get her buoyancy issues under control before she can be released.