ORP's sea turtle volunteer programme at the Marine Turtle Rescue Centre in the Maldives is an unforgettable and rewarding experience. You will work hard, but you will also have a lot of fun. And you get to explore one of the most beautiful places in the world.
The Marine Turtle Rescue Centre is located on the tropical island of Dhuni Kolhu in Baa Atoll. It is one of the most unique sea turtle medical facilities in the world where the majority of the patients are olive ridley turtles.
As a volunteer, you will gain hands-on experience with sea turtles and exclusive insights into the world of sea turtle veterinary care. You will learn about sea turtle biology and anatomy, how these animals are treated, the threats they face, and what you can do to help protect them. Working alongside our experienced veterinary team, you will help us return injured and sick turtle patients to health and ensure their safe return to the wild. By volunteering with us, you can play your part in the conservation of these amazing but threatened animals, while also having the experience of a lifetime!
If you are passionate about marine wildlife and sea turtles in general and you would like to take part in protecting and helping these amazing and unfortunately endangered species, ORP is definitely the right choice for you! Contribute to this inspiring programme by investing your time and hard work and you will never regret. To join this project was definitely one of the best decisions I have ever made in my life!

~ Petra Kacirkova, volunteer 2023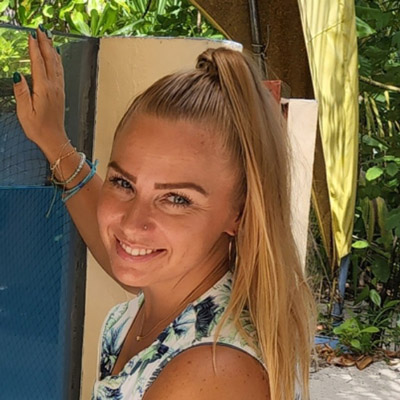 Who Can Join ORP's Sea Turtle Volunteer Programme?
Our sea turtle volunteer programme ideally suits those with a passion for and interest in learning about sea turtle care and husbandry, as well as sea turtles and the need for their conservation in general. The programme is open to everyone – no previous experience is needed – however, we do require you to be:
18 years or older
Physically fit
Willing and able to do sustained physical labour, including heavy lifting
A capable swimmer
Competent in English
Willing to work as part of a team
This is a highly rewarding, but very physically demanding volunteer opportunity. You will be doing strenuous work in a hot and humid environment. Daytime temperatures regularly exceed 32 C / 90F and insects are common.
We can accommodate up to three volunteers at the time.
Please note that we do not offer veterinary student EMS placements/externships.
How much does it cost to volunteer with ORP?
In order to sustain the Marine Turtle Rescue Centre, expand our sea turtle conservation medicine efforts, and cover your expenses for volunteering at the Rescue Centre, we ask for a modest donation of: :
4 Weeks: £2,775 per person
2 Weeks: £1,595 per person
Your donation will cover:
Return domestic flights from Malé to the Marine Turtle Rescue Centre
Shared accommodation for the duration of your stay
Three meals per day
ORP t-shirts to be worn as your uniform
Please note that your donation does not include:
International flights to and from Malé
Accommodation in Malé, should you require
Food and beverages purchased from the resort bars and restaurants
Extra activities such as diving and watersports
Extra days of accommodation at Coco Palm Dhuni Kolhu pre and post your volunteering stay
In addition, your donation will help fund our internship programme for Maldivian nationals, as well as other aspects of our mission to protect sea turtles and their habitats.
Why Volunteer with Sea Turtles & ORP?
Sea turtles have existed on Earth for over 120 million years. They play a vital role in ensuring the health of our oceans. Oceans play a critical role in sustaining human life by regulating the Earth's climate and providing essential resources such as food, freshwater, and oxygen. Therefore, preserving and protecting our oceans is crucial for the survival of our species. If sea turtles become extinct, the whole marine ecosystem — the planet's largest — will weaken; To protect our oceans and ourselves, we need to protect sea turtles.
Unfortunately, sea turtles face many threats to their survival. These include entanglement in marine debris, illegal harvesting, bycatch, and destruction of feeding and nesting habitats. As a result, six of the seven remaining species of sea turtles are classified as threatened with extinction.
This is why we at the Olive Ridley Project use a three-pronged approach to protecting sea turtles and their habitats through:
We conduct sea turtle scientific research and education and outreach activities across all our bases. However, our rescue and rehabilitation efforts are focused especially in the Maldives, where we run the Marine Turtle Rescue Centre and a Sea Turtle Rehabilitation Centre in North Malé Atoll.
Volunteers are essential in the everyday running of our Marine Turtle Rescue Centre. We would therefore very much like to welcome you to our team. It is your contribution that enables us to to provide the best medical care for these threatened species. As a volunteer, you will contribute directly to our conservation efforts and see the results of your positive impact firsthand.
It was such a unique, memorable, and meaningful experience I got at this special place, accompanied by lovely people who shared with me so much important knowledge that I think everyone should have. There will always be in me those moments feeding these vulnerable and beautiful creatures, cleaning tanks with good vibes, and most important: enjoying and having fun. Thanks to EVERYONE!

~ Valentino Odasso Precedo, volunteer 2023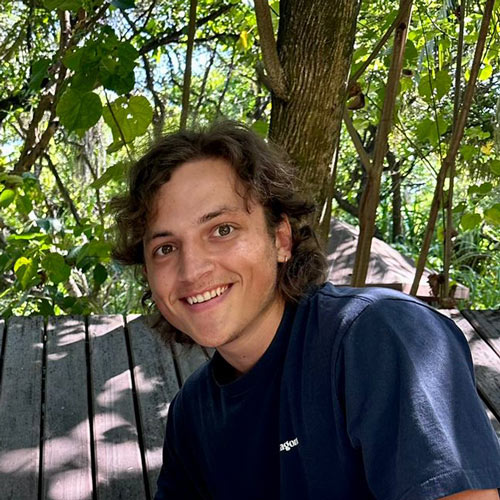 The Marine Turtle Rescue Centre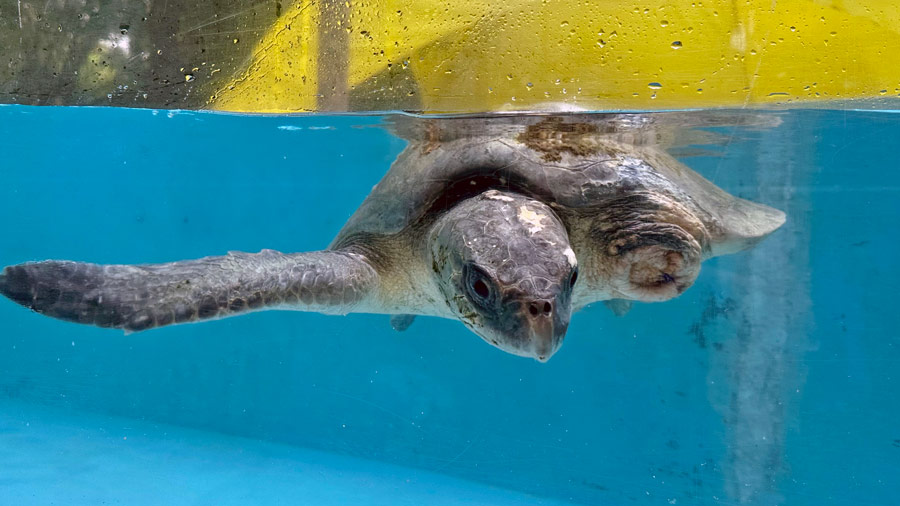 The Marine Turtle Rescue Centre opened in collaboration with Coco Collection in February 2017. It was the first such facility in the Maldives, staffed with a veterinary surgeon and equipped with full surgical facilities and seven patient tanks. Today, the Marine Turtle Rescue Centre is an advanced teaching facility that serves as a leading resource for sea turtle conservation medicine in the region.
The Clinic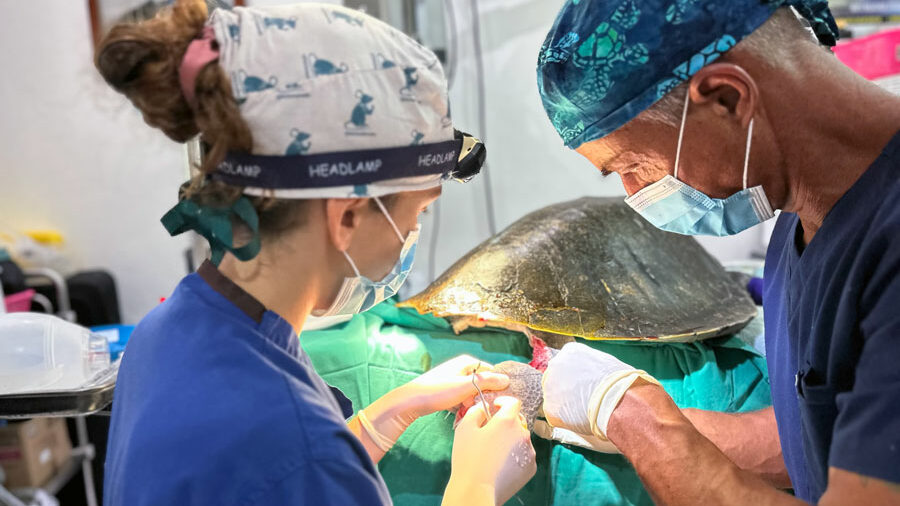 The Rescue Centre Clinic is comprehensively equipped with a full blood laboratory, radiography, endoscopy, ultrasonography, Class 4 laser, and full surgical suite. It has seven patient tanks which are divided into staging areas based on the specific condition or procedure being performed.
Since the opening of Marine Turtle Rescue Centre, we have treated over 220 sea turtle patients. Approximately 60% have been successfully rehabilitated and released back into the ocean – an outcome that is excellent by wildlife medicine standards and that we continue to improve upon. The majority of our patients are olive ridleys (Lepidochelys olivacea); however, we do see hawksbill (Eretmochelys imbricata) and green (Chelonia mydas) turtles as well.
Our Current Turtle Patients
Most of our patients arrive with complications related to two types of conditions: entanglement in marine debris and buoyancy disorder. As a result, our veterinary team has become highly experienced at treating these conditions. In addition to conventional therapies like surgery, we use several medical modalities to maximise treatment success. These include regenerative (blood- and cell-based therapies) and integrative (cold-laser, acupuncture, and targeted external weight therapy) medical approaches.
By joining ORP's Sea Turtle Volunteer Programme, you will have an opportunity to observe these modalities among others. You will also have a front-row seat to what it takes to rehabilitate injured sea turtles and run a sea turtle rescue centre.
Life As a Volunteer at the Rescue Centre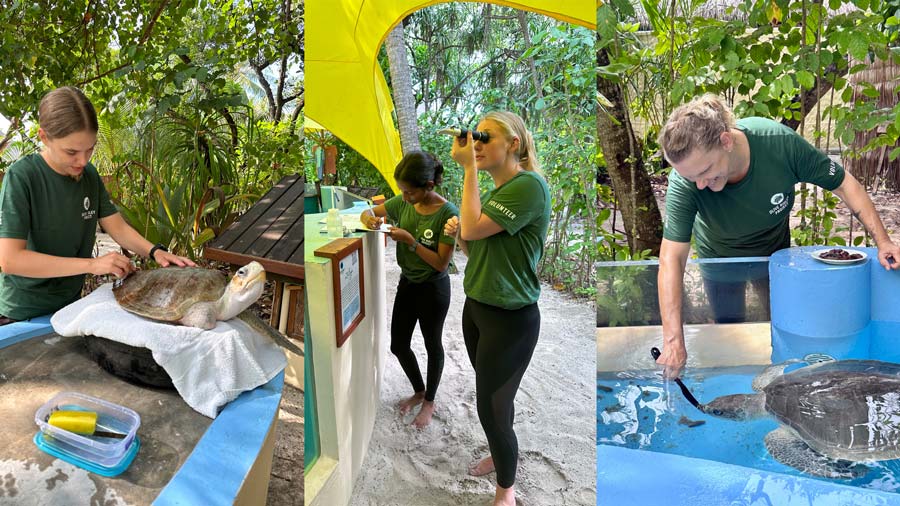 During your time as a volunteer, you will be assisting the veterinary team with many aspects of sea turtle rehabilitation and care, as well as the running of the Rescue Centre and educational outreach activities. These may include observing surgeries and other clinical procedures as well as assisting with:
Diet preparation for and feeding of turtle patients
Providing enrichment to turtle patients
Documenting behavioural observations in patients
Guiding tours of the Rescue Centre for visitors
General maintenance of the Rescue Centre, patient tanks, and other equipment
Data collection
Releasing rehabilitated patients
Making ghost net bracelets
Please note:
All activities are subject to change due to the medical needs of our turtle patients, staff and visitor safety, seasons, and weather conditions.
We keep physical contact with our turtle patients at a minimum since it causes them stress; do not expect to be constantly interacting with patients.
In your free time, there will be opportunities to go snorkelling and explore the magical underwater world surrounding Dhuni Kolhu island. You can also soak up some sun on the beach and marvel at the famously beautiful Maldivian sunsets. Watersports are available at an extra cost. Post dinner, you may attend some of the resort's entertainment activities, including cultural nights, karaoke sessions, and dive and marine biology presentations.
Available Volunteer Dates 2024
We are fully booked for 2024. If you would like to be notified in case of cancellations, please sign up for the wait-list below.
Apply to ORPs Sea Turtle Volunteer Programme 2024
Download the Volunteer Information Brochure 2024 and read through it to make sure this is the volunteer programme for you.
Complete the Volunteer Application Form for 2024.
If you application is successful, you will receive a deposit invoice for 20% of your contribution within 7 days of completing the application form. This must be paid within 48 hours to secure your volunteer experience.
Enroll in e-Turtle School and learn as much as you can about sea turtles to make the most out of your volunteer experience at the Marine Turtle Rescue Centre.
Sign Up For notifications Of New Volunteer Dates 2024
Sign up here to be notified of volunteer dates becoming available due to cancellations.