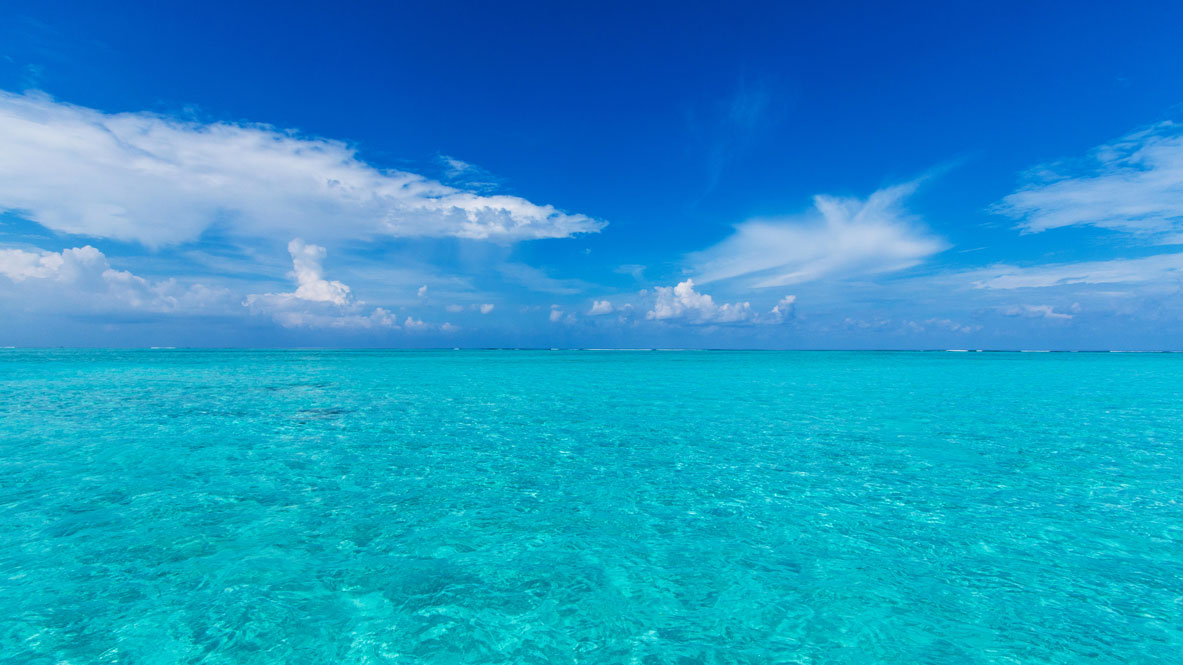 Discover the beautiful Maldives as
a Volunteer at the
ORP Marine Turtle Rescue Centre
Join us for 2, 3 or 4 weeks of volunteering with sea turtles at the ORP Marine Turtle Rescue Centre at Coco Palm Dhuni Kolhu Resort in Baa Atoll. We promise you an unforgettable experience! You will help our veterinarian care for the turtle patients at the rescue centre, learn lots about sea turtles, marine conservation and marine life in general, and make many new friends – humans as well as reptiles. All this whilst staying on the tropical island of Dhuni Kolhu and exploring the stunning land- and seascapes of Maldives.
---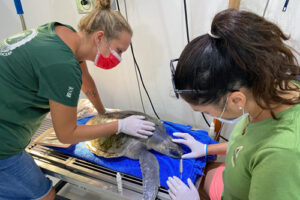 "I fell hopelessly in love with 2 of the patients (Hubi and Disco). To be able to be around them every day, taking care of them and support their progress, until they can get released, was the thing I loved the most about my stay on this project."

— Selina, Volunteer 2021
---
Volunteering with sea turtles and ORP in the Maldives is open to anybody who would like to experience sea turtle conservation first hand. However, we do ask that volunteers are 18+, able swimmers and have a passion for sea turtles. They must speak English and be willing to do physical work.
This volunteering program ideally suits those wanting to learn more about sea turtle medicine and first aid, and to experience what it takes to work with these charismatic animals in the wild. We can accommodate 3 volunteers at the time and the work will be very hands on. To cover the expenses for you stay, we ask for a very reasonable donation to ORP.
Maldives and Baa Atoll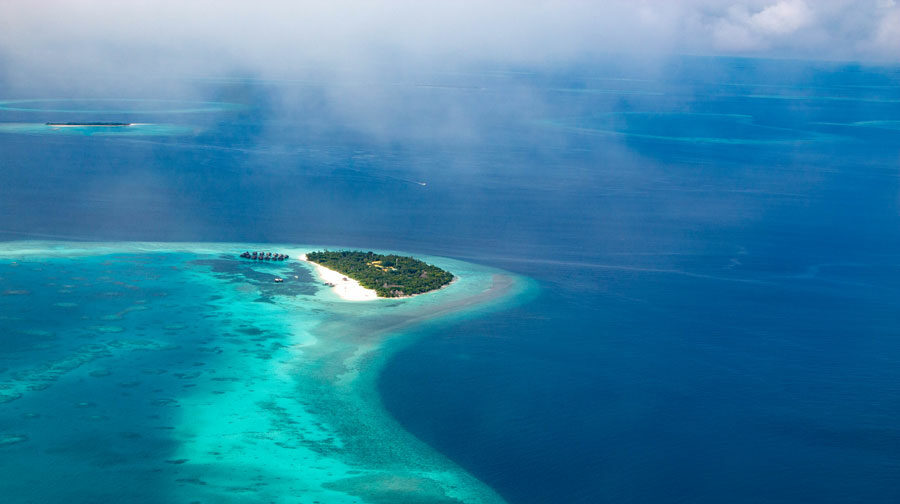 The Republic of Maldives is a nation of coral islands situated in the Indian Ocean. The country spans roughly 90,000 square kilometres divided into twenty-six atolls with approximately 1190 islands. It is the smallest Asian country by both land area and population. Maldives is famous for its sandy white beaches, crystal clear turquoise waters, beautiful coral reefs and colourful marine life, and is truly magical, both over and under water.
The Marine Turtle Rescue Center is situated on Dhuni Kolhu island in Baa Atoll, a 30-minute sea plane ride north of Malé, the capital of the Maldives. Baa Atoll consists of 75 islands, only 13 of which are inhabited. 13 additional islands are operated as island resorts. Baa Atoll is rich in biodiversity with plenty of sea turtles, manta rays, hard and soft coral, and a huge variety of reef fish species.
Why volunteer with sea turtles?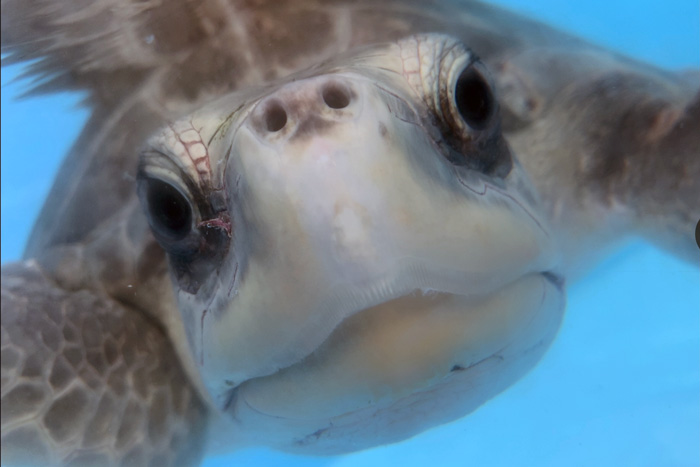 Sea turtles face many threats to their survival and, as a result, six of the seven species of sea turtles are classified as threatened with extinction by the IUCN Red List of Threatened Species (International Union for Conservation of Nature and Natural Resources). One species, the flatback, is not listed due to insufficient data. Six species of sea turtles can commonly be found in the Indian Ocean.
In the last ten years, more than 1,000 sea turtles have been reported entangled in ghost gear (abandoned, lost or discarded fishing gear) in the Maldives.
The majority of these entangled turtles were olive ridleys; however, green, hawksbill and leatherback turtles were also reported.
The Marine Turtle Rescue Centre provides medical treatment to sea turtles found ensnared and injured across the Maldives. As part of our team, you will work with a veterinarian and a full-time intern. You will help rescue and treat injured sea turtles, with the aim to return as many turtles as possible back to the wild.
Why volunteer with the Olive Ridley Project?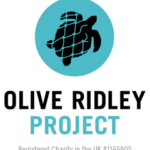 The Olive Ridley Project (UK registered charity No. 1165905) was established in 2013 by Dr Martin Stelfox. At the time, he was working as a biologist in the Maldives, where encountered countless numbers of olive ridley sea turtles entangled in ghost gear. Martin was curious to understand why this was happening and where the nets were coming from. He enlisted the help of other biologists and citizen scientist to help answer these questions and the Olive Ridley Project (ORP) was formed.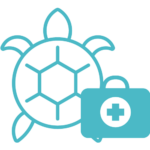 ORP later expanded its mission to include protecting sea turtles and their habitats through rescue and rehabilitation, education and outreach, and scientific research. At the core of our work is a passionate and dedicated team of scientists, conservationists, citizen scientists and volunteers. We pride ourselves in being able to collaborate with a wide range of diverse groups in order to reach our goal and fill data gaps in sea turtle conservation.
The Marine Turtle Rescue Centre
The Marine Turtle Rescue Centre opened in February 2017. It was the first such centre in the Maldives with a full-time veterinarian! Through internship placements we also work with Maldivian nationals, who assist our vet in the daily operations at the Rescue Centre.
Volunteers are essential in the everyday running of our Rescue Centre, and we would therefore very much like to welcome you to our team. It is your contribution that enables our staff to continue to provide medical care for these threatened animals.
What does volunteering with sea turtles and ORP involve?
As a volunteer you will first of all assist staff with all aspects of turtle rescue and rehabilitation, including treating wounds, helping with routine medical exams, observing surgeries, diet preparation, feeding, and tank and turtle cleaning.
If you are lucky, we may be releasing a turtle patient whilst you are with us and you will be part of the release team!
In addition, volunteers will assist with guided tours of the Marine Turtle Rescue Centre for resort guests and invited visitors and educational outreach.
If you are volunteering during nesting season, you will help with night time patrols for nesting turtles and hatching events. We might also ask volunteers to contribute to our blog and social media channels and make ghost net bracelets.
When I wasn't busy learning new things about turtle medicine, biology, and ecology – I was soaking up one unbelievable experience after another. I will never forget what it felt like to witness a rehabilitated turtle swimming off and fading into the blue during a release.

Brian Anton, Volunteer 2019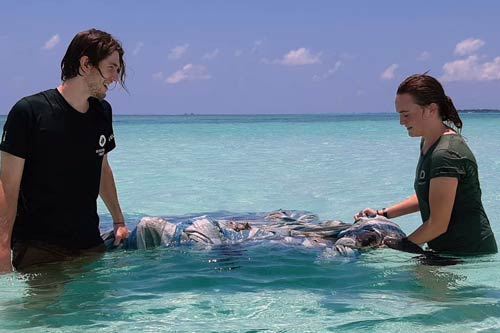 How much does it cost to volunteer with ORP?
In order to sustain the running of the Marine Turtle Rescue Centre and expand our sea turtle rescue and rehabilitation efforts, we ask for a donation to cover your expenses for volunteering at the Rescue Centre:
2 Weeks: £1,385 per person
3 Weeks: £1,820 per person
4 Weeks: £2,075 per person

Your donation will cover:
Return domestic flights from Malé to the Marine Turtle Rescue Centre. (The Rescue Centre is in Baa Atoll and a domestic flight is necessary to get to there. The views are incredible so have your camera ready!)
Accommodation for the duration of your stay at Coco Palm Dhuni Kolhu
All meals for the duration of your stay at Coco Palm Dhuni Kolhu
In addition to covering your costs, your donation will help us fund our internship program for Maldivian nationals, as well as our core charitable objectives, such as expanding our rescue and rehabilitation efforts and further our understanding of sea turtle veterinary care; broaden our research into sea turtles and their conservation; grow our education and outreach programs; and protect sea turtles and they habitats all over the world.
Please note that your donation does not include:
International flights to and from Malé.
Accommodation in Malé, should you require.
Ready for an experience of a life time, volunteering with sea turtles in the Maldives?
Here is what you need to do:
Available Volunteer Dates 2023
We have no volunteer slots available for 2023.
Sign Up To Be Notified If New Slots Become available in 2023
Volunteering in 2024
We will released volunteer dates for 2024 in September/October 2023. Sign up be notified of 2024 volunteer dates before we publish the dates and get first dibs on booking your slot.