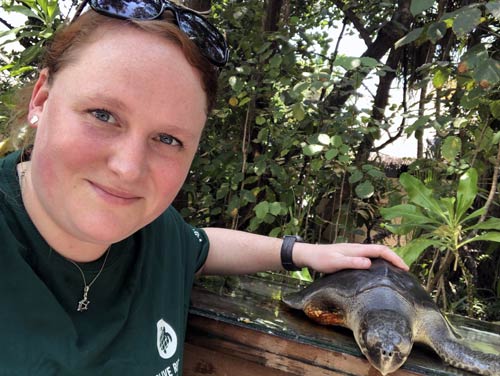 Sonya Miles, BVSc CertAVP ZM MRCVS, RCVS Recognised Advanced Practioner in Zoological Medicine, was the first veterinarian to join our Visiting Veterinarian Program at the Marine Turtle Rescue Centre in Maldives. She worked hard, but also had time to enjoy the beautiful tropical paradise surrounding her. She enjoyed it so much she wants to come back!
The Visiting Veterinarian Program
During the first two weeks of April 2019, I had what can only be described as one of the best experiences of my life. As an exotic species veterinary surgeon with a passion for chelonia, I jumped at the chance to take part in ORP's Visiting Veterinarian Program. The resort (Coco Palm Dhuni Kolhu) where the charity is based, covered my guest level accommodation, my food (which was amazing) and my internal flights. Unlike many veterinary volunteer projects, I just covered my additional drinks and international flights.
The aim of the Visiting Veterinary Program is to share skills and expertise. I was able to impart my knowledge as an experienced reptile vet and surgeon, whilst gaining experience with a species, in an environment, that I would never normally get the opportunity to work with or in. I got to work alongside a very experienced and dedicated team who handled the daily struggles of being the only centre in the Maldives able to perform surgery with a seemingly unlimited amount of patience and professionalism.

Sonya Miles, BVSc CertAVP ZM MRCVS
After flying from London Heathrow to Male via Doha, I arrived on the evening of the 2nd of April 2019. From Male, a small seaplane takes you to the Atoll, then there is a short speed boat ride to the island. The veterinary team were waiting for me on the jetty. They showed me around the island, the rehabilitation and the veterinary centre and then took me to my room. I got to meet the rest of the volunteer team that evening at dinner. As a lover of sea food, I have to add, this is some of the best food I have ever eaten.
A Day As A Visiting Vet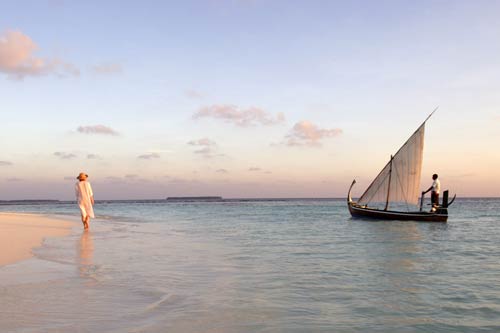 Each day started after a complimentary breakfast. There was enough time in the mornings before breakfast to make the most of the island, whether exploring the local reef with a snorkel, joining an excursion for free or walking around the island taking in the sites. After breakfast, we would check on all the turtles (predominantly Olive Ridley) in the rehabilitation centre, start routine cleaning and the daily feeding of the patients.
During feeding times guests can to come and visit. They can learn about the turtle patients as well as the reasons they are in the centre to start with. Most evenings are yours to spend as you wish. The sunsets are amazing, make the most of the free excursions, and don't forget to look up at the most amazing amount of stars.
Ghost Nets – The Most Common Reason For Turtles Needing Rescuing
The most common reason for turtles being rescued is entrapment in ghost nets. These are fishing nets that are either accidentally lost whilst fishing or cut away when trapped. They go on to entangle and kill marine life. Turtles, especially, are often found with severe wounds and subsequent buoyancy syndrome; a condition where gas becomes trapped in the body cavity preventing them from diving. This makes them a perfect target for predation by tiger sharks or allowing them to be hit by boats.
Injured turtles are brought to the veterinary centre from all over the Maldives, these are either transferred via plane or boat from other resorts or brought directly to the centre by the finder. Being the only true veterinary facility for this sea turtles in the Maldives, diagnostic tests such as radiographs, blood testing, culture and sensitivity and ultrasonography are able to be utilised for the patients. Many of these procedures can be performed consciously, however the centre is fully equipped for advanced surgical procedures performed under general anaesthesia.
The Medical Cases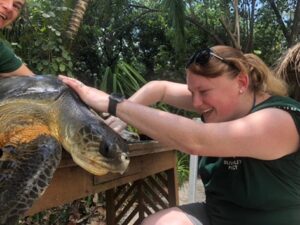 During my time with the charity I was fortunate enough to be involved with a number of cases. These ranged from simple wound management to advanced surgical and diagnostic procedures.
Working alongside the experienced veterinary team, I was able to put skills as a pet exotic species vet to use with this fantastic species.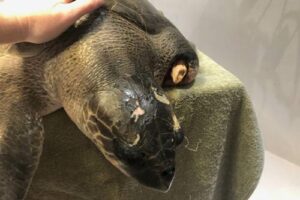 In addition, I was able to help study blood smears and suggest treatments accordingly. I performed joint taps and bone biopsies to perform cultures on areas with suspected osteomyelitis. In addition, I performed in-depth orthopaedic surgeries and assisted with anaesthesia maintenance and unfortunate amputations as a result of severe traumatic injuries.
Buoyancy Syndrome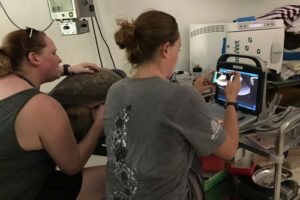 Two cases that I especially enjoyed being involved in include Lynn, an adult female Olive Ridley with buoyancy syndrome. We removed a significant volume of air from her coelomic cavity, performed radiographs to check for lung tears as well as full body ultrasonography including an echocardiogram.
My main area of interested is chelonian reproductive disease. So normally when I am scanning turtles and tortoises in the UK, I am doing so to check for eggs or follicles. I was very surprised to find a vast number of follicles inside of Lynn when we scanned her. These will be monitored whilst she is recovering from her buoyancy syndrome.
Fractures And Wounds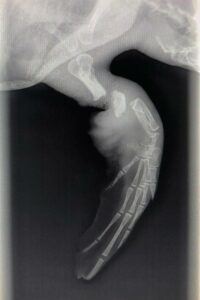 Artemis, another Olive Ridley turtle, arrived after being caught in a ghost net. He had sustained severe injuries to his front limbs. Unfortunately, his humerus was also fractured, preventing the wounds sustained from fully healing .
I performed surgery to remove a large fragment of bone and closed the deficit after debriding the necrotic tissue. Over time it is hoped that the deficit will heal and he will be able to have a functional flipper leading to eventual release.
Hoping To Return
I cannot thank the team enough for my time with them, for providing amazing facilities to stay in, amazing food, for allowing me to collaborate and hone my skills and for making me feel welcome throughout my time with them. I am counting down the days until I can return and hope to be able to stay there for a longer period of time next time.