Released
Seaheart – Arrived 22 February 2021, Released 27 April 2021
Seaheart was released on 27 April. Although he had a little bit of a rough start, struggling to control his buoyancy, he soon worked it out and dived off into the blue! We are so happy with how he did at the Rescue Centre; his wounds looked amazing and he was as bright as a button. It was amazing to see him back off in his home. You can watch his release video here.
Honu – Arrived 22 March 2021, Released 20 April 2021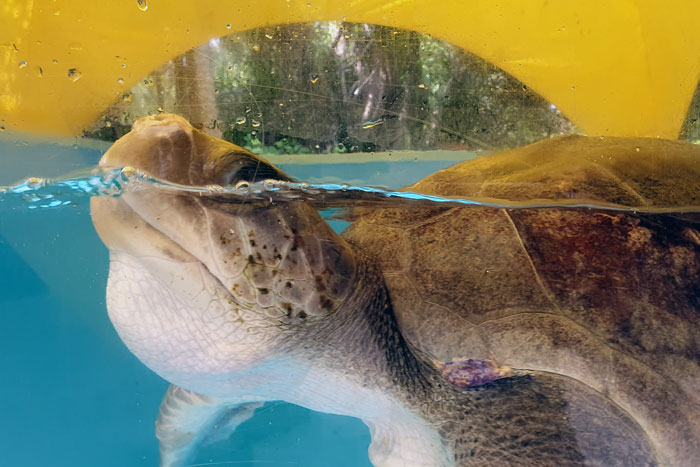 Honu bounced back quickly from her surgery and regained full buoyancy control. Once her wounds had healed up, there was no reason to keep her at the Rescue Centre and she was released after just short of a month with us. She swam calmly away, deep into the blue, happy to be back home.
Maadhu – Arrived 12 March 2021, Released 11 April 2021
Maadhu was released after a month in our care. He had to have a few toes on his right back flipper amputated, but he bounced back very quickly. He was cleared for release barely a week after his stitches came out. He swam away rapidly – just what we like to see!
The Resident Patients
Abba – Arrived 5 April 2021
Abba wounds from entanglement were very deep on both front flippers, all the way down to bone. His wounds are healing well, but are still very severe. Thankfully, he is diving and swimming well and responding to daily wound care. At this stage he won't need surgery.
Unfortunately, Abba is quite a stressed out guy. He required surgery this week to amputate one little finger bone, which he had damaged by knocking it on the tank walls. We have now covered the windows of his tank which seems to have made him more comfortable, so hopefully we can avoid any further self trauma! His ghost net wounds are looking excellent, starting to heal really well. He still has bone exposure on both sides, but the tissue is looking really nice and healthy and it shouldn't be long before it covers over the exposed bone. He is eating well and has good control over his buoyancy now. Current weight: 32.2kg
Sunan – Arrived 12 March 2021
Sunan has been doing really well in terms of the plastron wounds and amputation site, but unfortunately we noticed during one of his wound care exams that he had quite a swollen wrist on his remaining right flipper. We took an x-ray and our suspicions of a bone infection were confirmed. This has likely come about as a result of spread from his severely infected left flipper. He is on a course of antibiotics, and also antifungals, to get on top of it. It's unfortunate, as otherwise he was getting ready for release. Thankfully he is using his flipper as if nothing is wrong, still diving and swimming well, so he doesn't seem too put out by it.
Thari – Arrived 4 March 2021
Thari has so much personality crammed into her little body! She is a voracious eater and often barges her tank mates out the way for food at feeding time; we now have to have a designated Thari feeder to ensure everyone else gets their share! Thari made the most incredible progress in the space of a day; she went from making a small attempt to dive down for food in the morning, to being able to actually touch the bottom to eat in the afternoon! We were all gobsmacked and elated. She hasn't been able to rest on the bottom yet and still does what we call "corking" (where she pings back up to the surface in an uncontrolled way!) but that will continue to improve in time. This is really exciting as buoyancy problems are the only issue Thari is currently dealing with. If she can overcome those, then she can go home! It's especially impressive given she is having to overcome lung damage as a result of a likely boat strike.
Amber – Arrived 2 March 2021
Amber was very quiet for a few days and after a few follow up tests and x-rays, it was revealed that she was still showing signs of a bit of lung infection. She is therefore back on her antibiotics and it has made a huge difference. She is eating well and gaining weight, but unfortunately her buoyancy issue is still a problem – though she has noticeably levelled out, meaning her buoyancy is more evenly distributed and hopefully improving!
Xena – Arrived 1 November 2020
Xena has been gaining weight well and is making good use of her space in the big tank at the Sea Turtle Rehabilitation Centre at One & Only. She will soon be starting consistent weight belt therapy and sea swims to try and get her buoyancy sorted.
Discovery – Arrived 7th February 2020
Disco went out for a sea swim recently and she actually did really well! She was bright and active and seemed to really like looking at the fish. As always, she did her best to dive but isn't able to get very far. It's great to see her looking so well though after her gastrointestinal infection a few months ago. For now we await an endoscope to allow us to investigate her buoyancy issues/lung tear. She is also eating much better without spitting out, so that is making our lives a lot easier with a lot less tank cleaning! Current weight: 9.3kg
Azura – Arrived 2nd April 2019
Azura had more sea swim where she got going much faster, but didn't try to dive. We are concerned her elbow is still playing up, so she is going to have a few more x-rays. We are also going to try and take a sample of the fluid around her elbow joint to check for bacteria or fungi to track her progress. Her new antibiotics seems to be working well; she is as bright as ever and has regained the weight she lost. Current weight: 24.2kg.
Heidi – Arrived 21st April 2018
Heidi has been great as always, a very bright and hungry boy, not the most active mind you, so we always have to be keeping an eye on his weight! We are still pursuing leads for getting him to an aquarium, but these things do take time.