Current patients: Heidi, Azura, Discovery and Hubert.
Released
Coral – Arrived 11 July 2020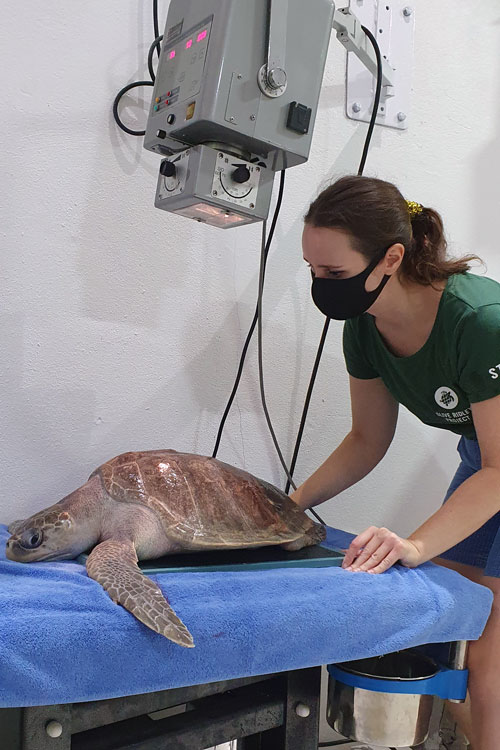 Coral had come on leaps and bounds since arriving at the rescue centre in July. She arrived buoyant but with some good food and time to recover, she started to be able to dive beautifully. Her shell was looking great too and so we are happy to announce she was successfully released on the 25th September.
She got a little stressed on the boat, but the moment she touched the water, all that disappeared and she shot off incredibly quickly! So quickly that our dive master intern Jinaad couldn't keep up and it was all over in a flash. We were so happy to see her back in her natural habitat. Good luck Coral!
New Arrival
Hubert – Arrived 20 September 2020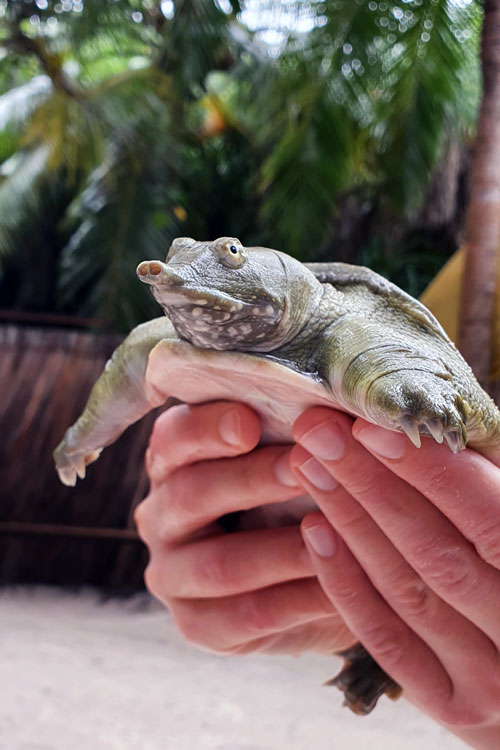 Hubert is a Chinese soft shelled turtle that has been sent to us after being seized by the EPA as an inappropriate pet in Malé, the capital of the Maldives. He has a little damage to his top shell but it looks to be nice and clean. It should heal up nicely now that we can get him in a big tank with some appropriate husbandry changes. Beforehand he wasn't being kept in water at all.
He has already started to eat chunks of fish well, but he won't do it when anyone is watching! We gave him a sandbox that he can burrow down into which is a big part of their natural behaviour expression in the wild; he was much happier once he could do this, and he chooses to spend most of his time there now. We suspect he will become bolder once he is settled, as they're known to be very hungry and quite messy animals!
Deceased
Arti – Arrived 27th February 2019, Deceased 25th September 2020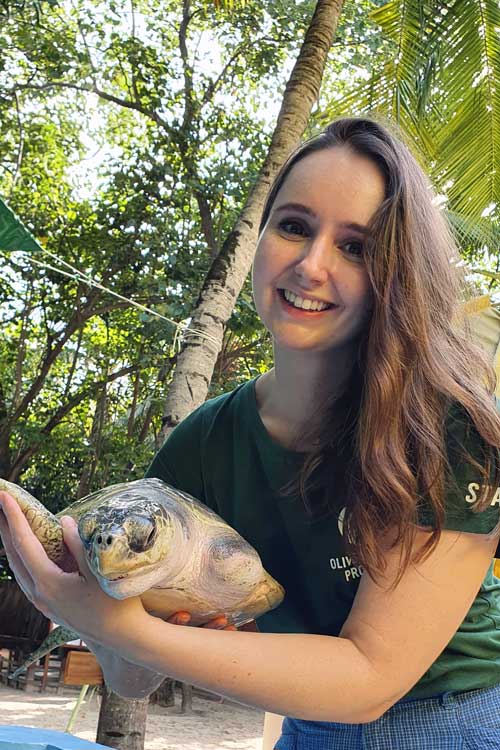 We are extremely sad to let you know that we have lost Arti. He was undergoing a procedure to address his ongoing buoyancy issues when he suffered complications that, unfortunately, led him to pass away. It is always devastating when we lose a patient, especially one who has been with us for so long and touched so many people's hearts.
From Arti's post mortem we discovered that his lungs were damaged beyond repair, and it was apparent that he would never have been able to dive again. We cannot tell if the damage to his lungs were caused by the persistent buoyancy or if he had suffered from a previous medical issue like pneumonia.
We know Arti was a favourite of many of you, and we want to thank you all for supporting and adopting him over the years. Your contributions helped not only him but will go on to help more turtles that have suffered the same fate of being caught in ghost nets.
The Resident Patients
Discovery – Arrived 7th February 2020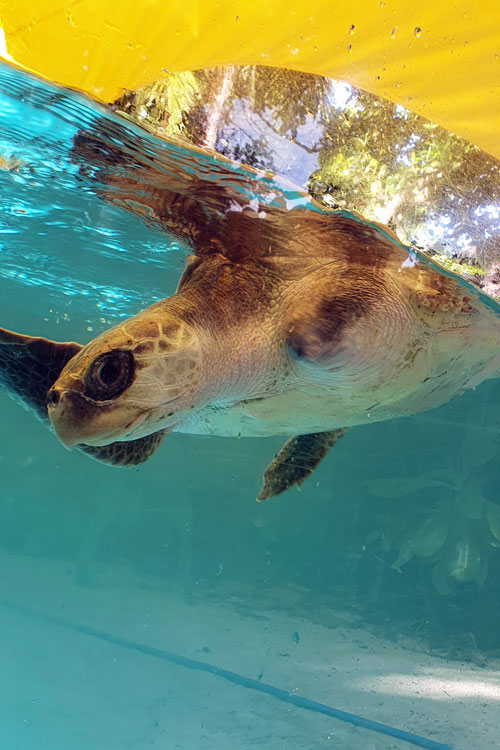 Disco's buoyancy issues are still ongoing, and she is noticeably more raised in the water on her left hand side, meaning that the air distribution is asymmetrical. Dr Minnie was able to give her a thorough examination and perform some repeat x-rays to see where this gas was.
She has signs of gas in her body cavity as before, but also signs of gas in her intestines as well. This hasn't been a feature before, so she is scheduled for an ultrasound which will allow us to see her gastrointestinal tract better than on x-rays. Unfortunately when you x-ray a turtle, a lot of their organs are obscured by their bony shells! At the same time, she will have a small procedure to remove some of the air that is in her body cavity with the hopes that this will improve her buoyancy.
Azura – Arrived 2nd April 2019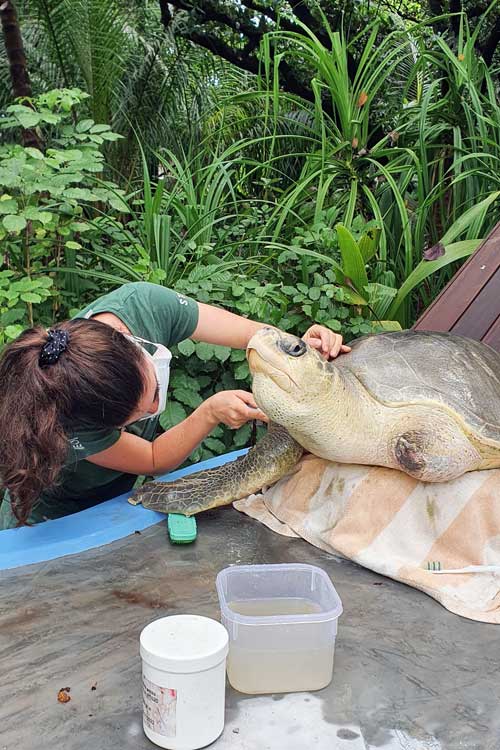 After her return to the Rescue Centre in Baa Atoll from the Rehabilitation Centre at One and Only Reethi Rah in North Malé Atoll, Azura has settled in well to life back at Coco Palm. She is still buoyant but she definitely makes a concerted effort.
Although there hasn't been much change, we feel the trend is in the right direction. We have collected some crabs for her which she absolutely loves, and she tries to dive a little when she goes to catch them! She has some x-rays scheduled for this week to re-assess her ongoing buoyancy issues.
Heidi – Arrived 21st April 2018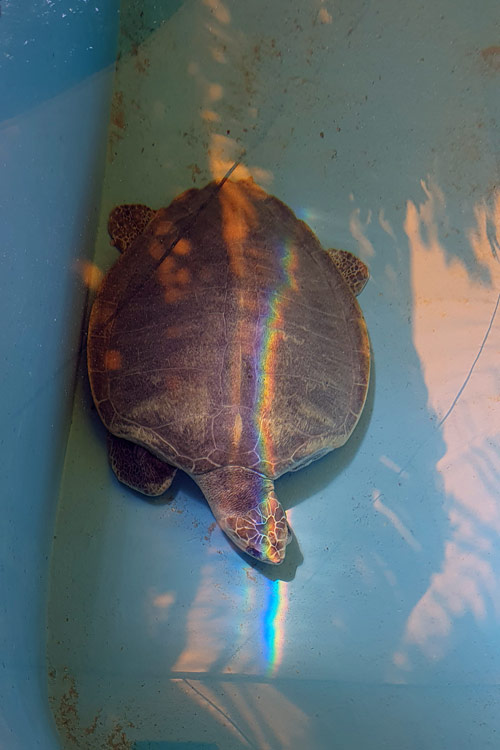 Due to the reduction in staff numbers at the Rescue Centre over these last few months, we haven't been able to take Heidi on as many sea swims as we would like. But we will be able to now that we have a full team of a vet, a biologist and an intern! He had a good examination out of water when we cleaned him this week, and everything is looking good, although he is a little on the chunky side!
Heidi is always reliably ready to eat so he is easy at mealtimes, but he is going to need a little less this time around! His right flipper remains non-functional, but he manoeuvres very well with his back flippers.