Current patients – Marine Turtle Rescue Centre: Heidi, Arti, and Discovery.
Current patients -Sea Turtle Rehabilitation Centre: Azura and Eve.
Released
Mascha – Arrived 24 January, Released 13 April 2020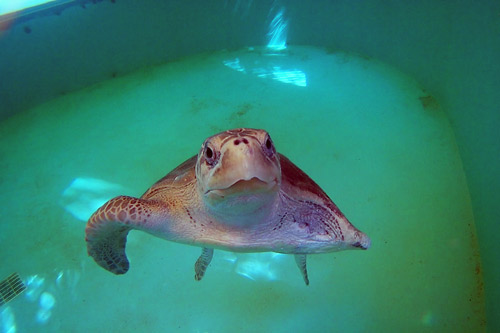 Mascha arrived in late January with a badly damaged front flipper that required amputation. After around 3 months of care in our Rescue Centre, her wound healed well and she was swimming perfectly! We are pleased to tell you that we released her on 13th April. This was a fantastic release – she was so calm and swam away so confidently. We have high hopes for Mascha!  
Fidji – Arrived 6 January, Released 11 April 2020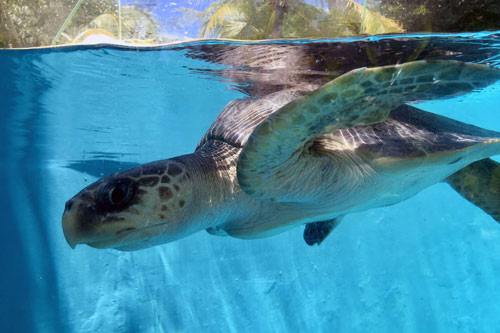 Fidji was sent to us in early January. He had partly self-amputated whilst entangled in ghost gear – one of his front flippers was missing and the humerus bone was exposed. Fidji was diving well and he recovered relatively quickly from his surgery, despite some setbacks along the way. We released him on 11th April and we are hoping that he is now safe back in the deep blue! Fidji is certainly missed at the Rescue Centre but we are so happy that he is now where he belongs.
The Resident Patients
Discovery – Arrived 7th February 2020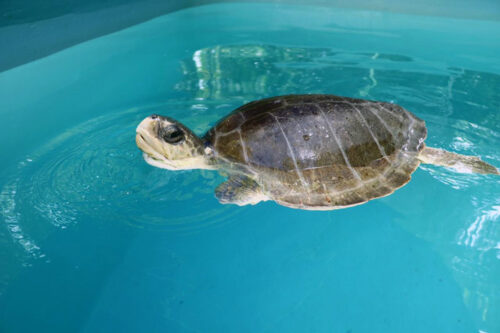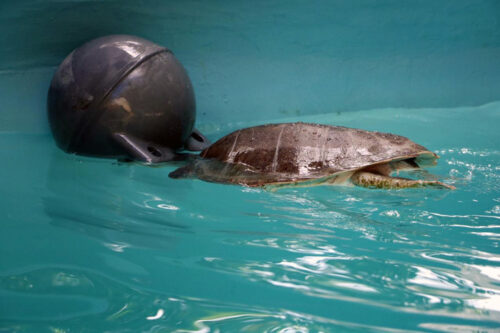 Discovery, popularly known as Disco, arrived in February 2020. She is a juvenile olive ridley turtle who was found floating and missing her left front flipper due to ghost net entanglement.
During her time at the Rescue Centre, her flipper has healed well. However, she also suffered from a lung tear causing buoyancy and she still cannot dive. She will be ready for release when she starts diving and sleeping at the bottom of the tank.
Disco is currently in our biggest tank so that she can practice her swimming and diving and she is having a ball! She has certainly become more active since being in the big tank. Disco was taken on her first sea swim recently and she loved it. She started by trying to dive then eventually became more relaxed and even started watching the fish and baby sharks! She has overcome her recent setback where she was refusing to eat. She is now back to a healthy weight and is sitting a little lower in the water.
Azura – Arrived 2nd April 2019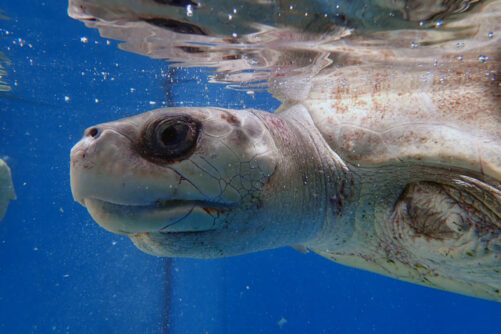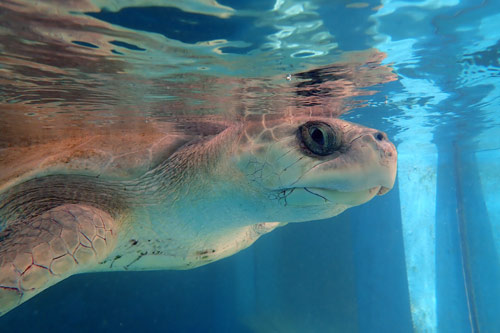 Azura arrived at the Marine Turtle Rescue Centre in April 2019 and has completed just over 1 year with us. Azura is an adult female olive ridley turtle who arrived with a very severely infected front flipper after being entangled in a ghost net. She needed an amputation and responded well to treatment.
The deep wound in her shoulder has now healed completely and her shoulder looks fantastic compared to when she first came in. However, she remain buoyant.
We transferred Azura to the Sea Turtle Rehabilitation Centre at One & Only Reethi Rah in October 2019. She has made steady progress since then; she is lower down in the water and will actively dive down for food (especially prawns and lobster!). She shows the most progress when we take her out for a lagoon swim, however, due to rough weather this hasn't been possible for a while.
Arti – Arrived 27th February 2019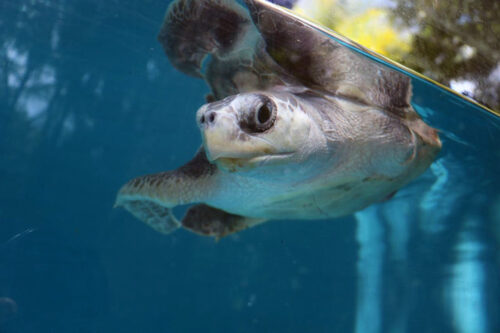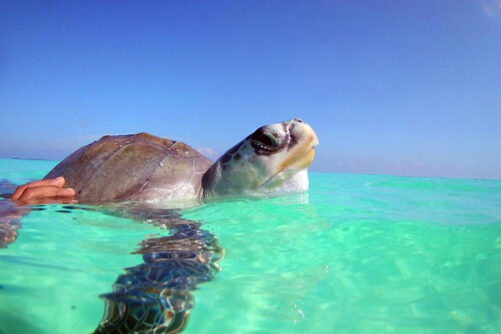 Artemis, or 'Arti', has been with us for over a year now. He is the smallest juvenile olive ridley turtle at the Rescue Centre. He arrived in February 2019, missing a flipper due to ghost net entanglement. He is also buoyant so cannot yet be released.
During feeding, he is encouraged to swim as much as possible. We also take him on regular sea swims. Since there are few turtles at the Rescue Centre, he is in one of our biggest tanks and he seems to love it! Over the past few weeks, Arti has become a little more comfortable in the sea. Our team at Coco Palm will continue to work on this to build his confidence and encourage him to swim as much as possible.
Eve – Arrived 26th December 2018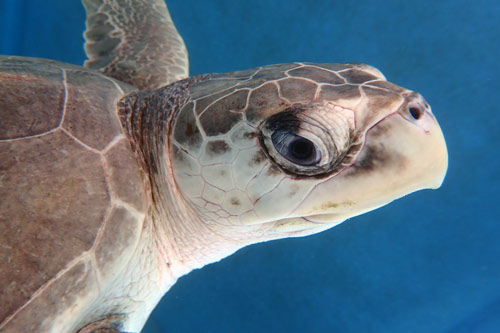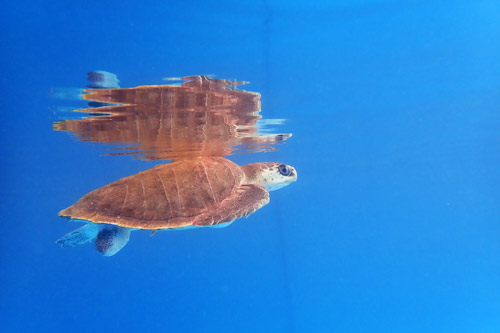 Eve is a juvenile olive ridley turtle who arrived at the Marine Turtle Rescue Centre in December 2018. She was rescued from a ghost net and had already lost her back flipper when she came to us. One of her front flipper was also severely damaged from the ghost net, with two broken bones and deep cuts the whole way round. She has had multiple surgeries to repair this flipper, and has been using her flipper on and off.
Eve was moved to the Sea Turtle Rehabilitation Centre at One & Onlly Reethi Rah in January 2020. There she has shown a lot of progress with her damaged flipper and she has been observed in the last month using it a lot more frequently in the tank. Once the weather improves we plan to take her for a lagoon swim with a harness to see how she is in the sea with a lot more open space to swim.
Heidi – Arrived 21st April 2018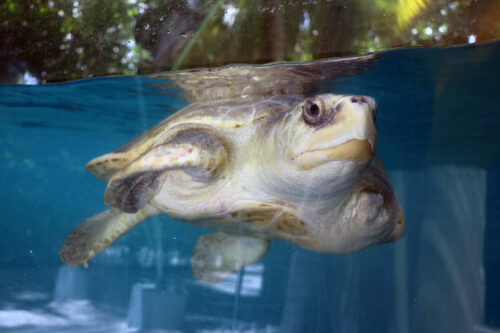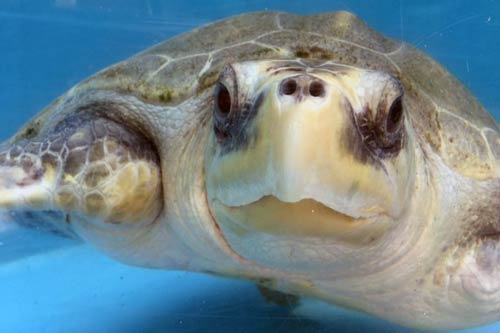 Heidi has been with us for more than 2 years now. Heidi is a male olive ridley turtle that we originally thought was female, hence the name!
He was found entangled in a ghost net and was brought to us in April 2018. Unfortunately we had to amputate one of Heidi's front flippers and the other has suffered extensive damage so is not functional. Because he cannot use either of his front flippers, it is highly unlikely that he would be able to survive in the wild if we released him. We are therefore trying to get him into a well-respected aquarium where he can act as an ambassador for sea turtle conservation.
He seems to be very comfortable at the Rescue Centre but he is taken on weekly sea swims so that he has a change of environment and some mental stimulation. This week he has eaten well and even got a special crab treat on his 2 year anniversary with us!