Current patients Marine Turtle Rescue Centre: Heidi, Arti, Fidji, Teddy, Bishy, Masha, Sandy and Discovery
Current patient Marine Turtle Rehabilitation Centre: Azura and Eve
Released
Bubbles – Arrived 8th January 2020, Released 16th February 2020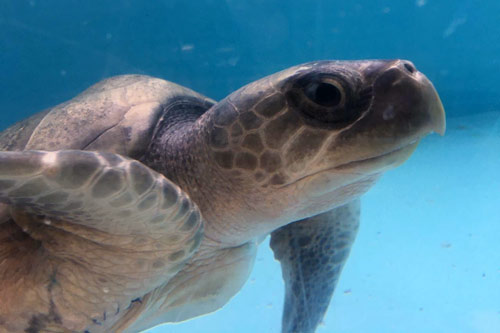 Bubbles injury healed well and about a week after having her stitches out she was released. On the way to the release site she started hyperventilating on the boat and tried to wriggle out of her box a few times. This caused her to be buoyant when we put her in the water. We gave her time to calm down and tried again a bit later. She then decided to leave us – down and down she went until we could not see her any more. We wish her good luck.
Crash – Arrived 17th January 2020, Released 8th February 2020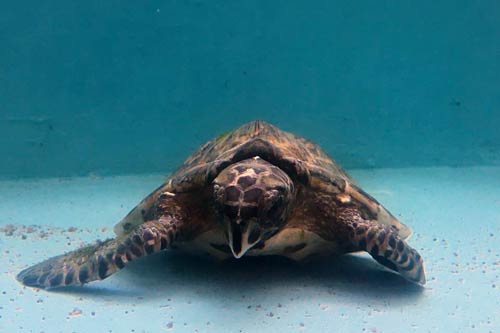 Crash progressed from a turtle that had zero energy and didn't move when he arrived to a turtle that zipped all over the tank and teased Arti in just three weeks. He would not eat at the Rescue Centre so we had to tube feed him. We also gave him antibiotics. Then one day he decided he didn't want to be fed him anymore and started putting up a fight. That was a cue that he did not need us anymore.
He was released onto the same beautiful reef as Kaushell (who has been spotted there since) and we hope he decides to stay. At least he knows the face of one friendly resident! Upon release, he immediately started snacking on the food the reef had to offer, which was obviously much better than the hospital food! We wish him all the best and hope to spot him regularly.
June – Arrived 23rd December 2019, Released 8th February 2020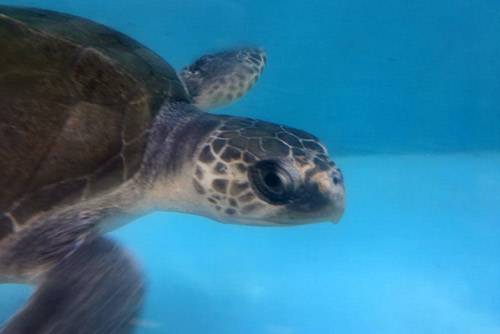 After having daily physio and regular laser sessions to help break down some scar tissue, June healed nicely and started using her right front flipper more. We finally decided that she really needed to get out and use her flipper, not lie around in a tank resting. We popped her in the big tank and she showed us that she was ready.
The scar tissue will settle and flatten, and her flipper will only continue to improve as she uses it more. Her other two flippers that were injured work perfectly well. We will miss her, our little Christmas turtle.
Kaushell – Arrived 30th October 2019, Released 2nd February 2020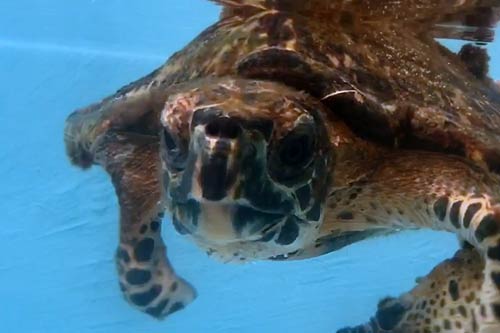 Kaushell was released onto a beautiful reef called called Muthaa Fushi close to the Rescue Centre. We will be able to check up on her regularly as the resort has frequent snorkelling trips to the reef. She seemed well at home in her new surroundings and we wish her all the best. Kaushell has been spotted several times after her release!
Reethi – Arrived 29th January 2020, Released 3rd February 2020, Turtle Rehab Centre O&O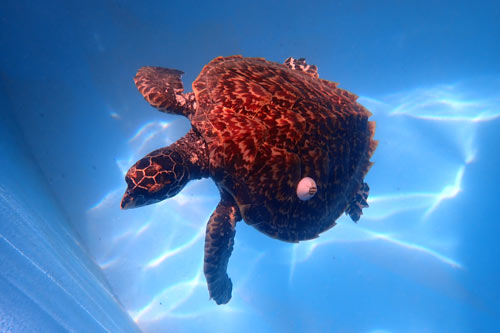 Reethi, a juvenile hawksbill, was found entangled in a ghost net that was caught on the One & Only Reethi Rah house reef. Fortunately she had not sustained any critical injuries and only had surface wounds to her from flippers.
Reethi means beautiful in Dhivehi, the local language in Maldives. She was given this name because her shell is particularly beautiful! Reethi spent a few days at the Rehab Centre, building up some strength, before being released back onto the reef. We hope to see her again on one of our snorkeling trips.
Laetitia – Arrived 2nd January 2020, Released 31st January 2020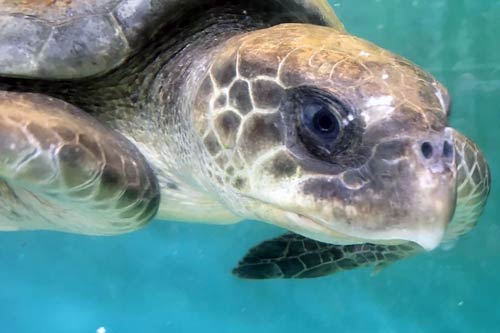 Laetitia was a very stressed turtle and was not coping well being in a tank. The big tank was not big enough for her, and she was causing injury to wounds that were well on the way to heal. We therefore made the decision to release her back to the big blue where there are no walls. She was released at high tide from the beach with a small group of guests watching on. Out she went over the reef and then past the drop off. We hope she lives a long and happy life and does not encounter another ghost net.
New Arrivals
Discovery – Arrived 7th February 2020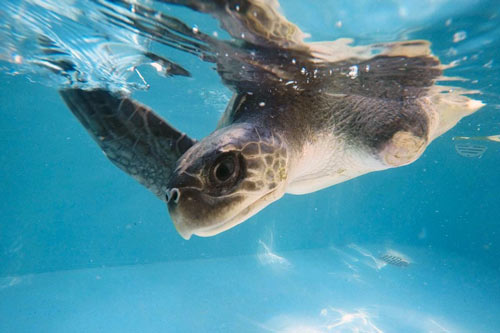 Discovery, a juvenile olive ridley, was found floating and missing a flipper near One & Only Reethi Rah in North Malé. She probably lost her left flipper due to ghost net entanglement and she is also buoyant. She spent a few days at One & Only Reethi Rah before being sent to Dr. Jackie at the Marine Turtle Rescue Centre. 
Dr. Jackie took X-rays and found that she has a pneumocoelom (air in the body) from a lung tear. Some air and fluid was removed from her body cavity. She still floats and this will take some time to resolve. Her flipper injury has healed over quite nicely and hopefully we may not need to operate to remove the last piece of humerus bone.
Sandy – Arrived 6th February 2020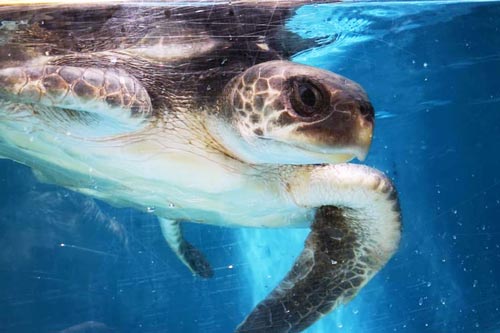 Sandy is a juveline olive ridley turtle. She was found floating near Four Seasons Kudha Hura in North Malé Atoll and was brought to us by Marine Savers. She had no apparent injuries. We X-rayed Sandy to find out what was causing her buoyancy: She has a large pneumocoelom (air in the body) from a lung tear. 2 litres of air was removed and she is able to dive better, but is still mainly buoyant.
Sandy will require time for this lung tear to heal and the air to absorb. The cause is still unknown at this point, but trauma is usually the number one cause of these big leaks. She is already eating so we hope she can adjust to living in our centre while she convalesces.
Mascha – Arrived 24th January 2020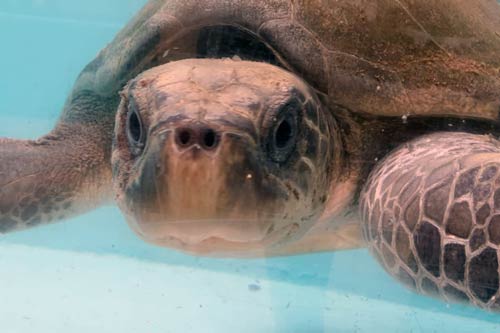 Mascha, an adult female olive ridley turtle, was found entangled in a ghost net by Vakkary in Baa Atoll. She arrived with a badly damaged left front flipper. The ghost net had cut into her front left flipper, leaving it lacking a blood and nerve supply. She had amputation surgery on the 29th of January and recovered well. Mascha is a highly-strung turtle, although she is not as bad as dear Laetitia was. She is coping okay in the big tank, but is bumping and abrading her nose. Her appetite is good and she is healing, however, some of her stitches have broken down due to her unhealthy skin. We hope this setback won't keep her here much longer than she has to be.
The Resident Patients
Bishy – Arrived 9th January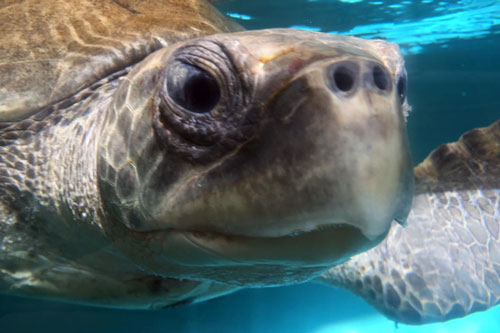 Bishy recently had an ultrasound. She was putting on an unusual amount of weight and we were worried that she was having liver trouble with fluid accumulating in her body. Unfortunately, that seems to be the case. Her liver does not look healthy and has multiple nodules. She seems well in herself, however, and is eating everything we serve her now.
Bishy is diving more and sometimes we catch her resting at the bottom of the tank. It should not be long before her buoyancy issues resolve. She is on her antibiotics for her liver issues and wounds, which are healing slowly. She also had her stitches out this week.
Teddy – Arrived Arrived 8th January 2020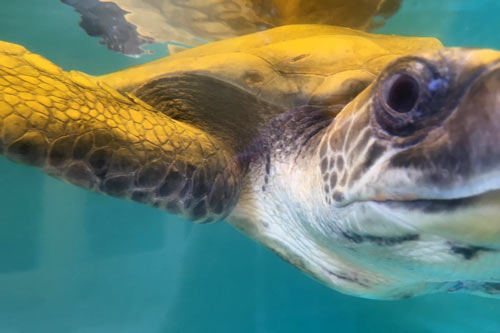 Teddy is managing to do little dives now and keeps practicing. He should soon be he sleeping at the bottom of the tank. The unhealthy skin is being treated topically and he still remains on antibiotics. Teddy's appetite is great and he has adapted well to life with three flippers.
Teddy had his stitches out and most of the surgery site healed well.  There is however a gap that opened up so he is having wound treatments twice a week, but he should be healed soon.  We are hoping to get him home before long. Teddy is a really nice little turtle, super curious and always hungry!
Fidji – Arrived 6th January 2020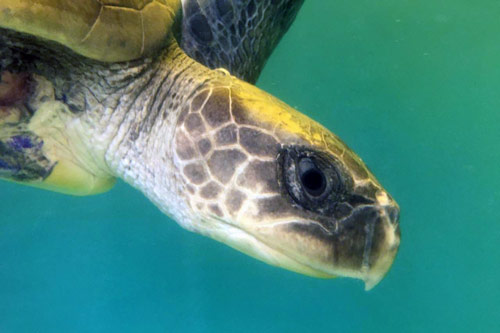 Fidji now has wound care twice a week and things are moving along nicely, albeit slowly. He is not a fan of treatments and tries to hide from us where we cannot reach him. His appetite is great and he is swimming very strongly. We are leaving in his remaining stitches a little longer than normal to make sure the skin has had enough time to heal. A part of the wound that broke down will take some time to heal over as there is not enough skin there for a primary closure.  
Azura – Arrived 2nd April 2019, Moved to O&O 16th October 2019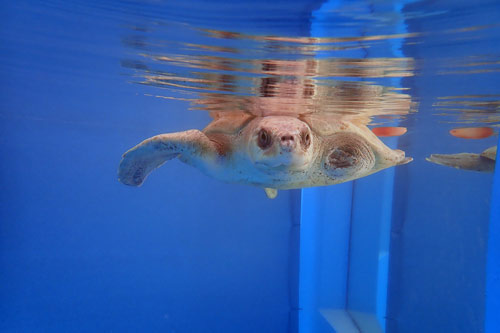 Azura is still practicing her diving in the tank. She has been working hard to reach her submerged buoy and we are lowering it every couple of days to try and motivate her to dive more often. Azura enjoys her lagoon swims with seeing all the fish; sometimes she not in the mood to dive but likes the change of scenery.
Arti – Arrived 27th February 2019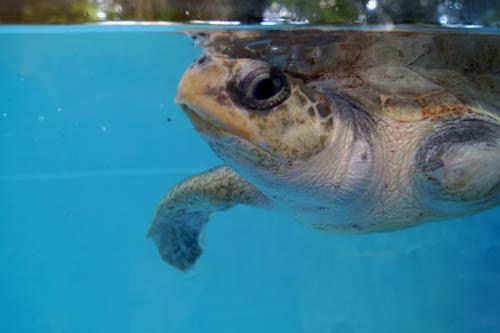 Arti is his usual happy self, but is no less buoyant so spends all his time at the surface of the water. He has Vaseline shell protection applied once a week after his spa treatment to remove the algae on his shell. Arti is now back on his own in his tank. He doesn't seem to miss Kaushell and Crush too much. He went on a sea swim this week and had a glorious time!
Arti has many new admirers. One guest from Germany visited him every day during her stay and when she had to fly home, she cried because she was so sad to leave him. Guests do get attached to the cute little guy.
Eve – Arrived 26th December 2018, Moved to O&O 15th January 2020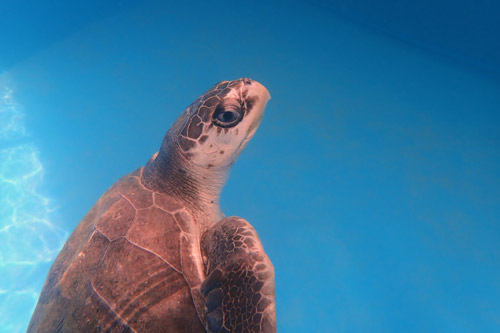 Eve is showing more progress with her damaged front flipper (particularly when food is involved). Eve is a healthy weight of 6.4 kg and has been very active on the tank, which is lovely to see. We give her daily massage and physio therapy to aid with building up her muscle strength. Eve is being being a little fussy with her food and decided for a while that she only wanted to eat prawns. This week she is happy to eat reef fish, although she still spits out any squid that we give her.
Heidi – Arrived 21st April 2018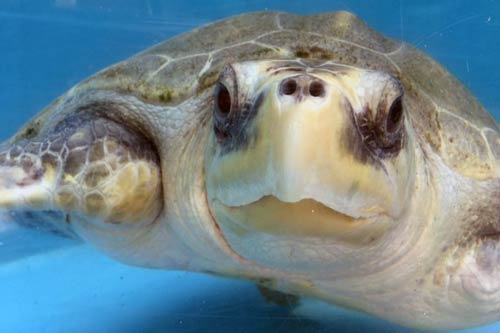 Heidi still really enjoys his time in the sea. The exercise is really good for him and he is on the go the entire time. He has lost a small amount of weight. Although he doesn't like the wheelbarrow ride to the beach, he thinks the swim at the other end is well worth it.