Current patients Marine Turtle Rescue Centre: Heidi, Eve, Arti, Kaushell, Amal, Beasty, Esther, June and Shimmi.
Current patient Marine Turtle Rehabilitation Centre: Azura
Released
Talia – Arrived 21st November 2019, Released 20th December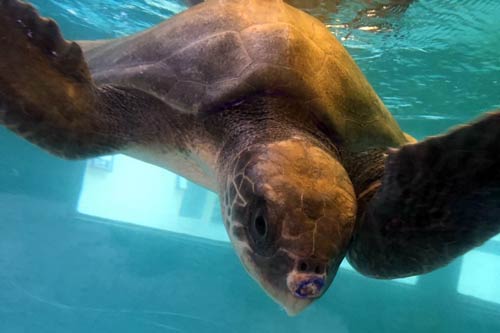 Talia's release was delayed for a couple of days due to bad weather, but on the 20th December there was finally a lull in the storm. A boat full of well wishers braved the rough seas and joined us for the release. Talia shot of like a rocket as soon as she was in the water.
Daniella – Arrived 16th December 2018, Transferred to Atoll Marine Centre 27th February 2019, Released 17th December 2019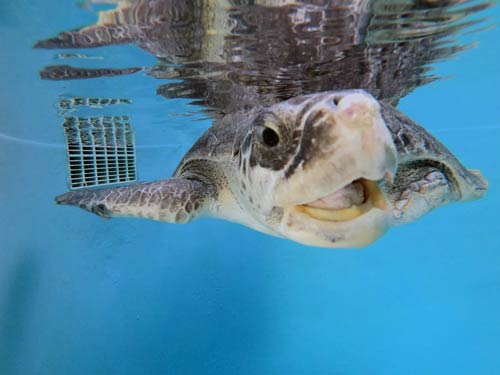 Daniella was transferred to Atoll Marine Centre for long term rehabilitation for her buoyancy syndrome back in February. We are super happy to report that she finally recovered and was released back into the wild!
New Arrivals
We have just admitted two new patients today, June and Shimmi. They are both olive ridleys and ghost gear victims. June is a juvenile who came to us by sea plane from Coco Palm Bodu Hiti in North Male Atoll. She has injuries to 3 flippers and require surgery. Shimmi is an adult female who was rescued by Soneva Jani in Noonu Atoll. The net has cut straight through one of her front flippers and she will require a flipper amputation. She has also self-amputated one of her back flippers during her entanglement. Both are in bad shape, but Vet Jackie will do everything in her power to help them. As she always does.
Esther – Arrived 8th December 2019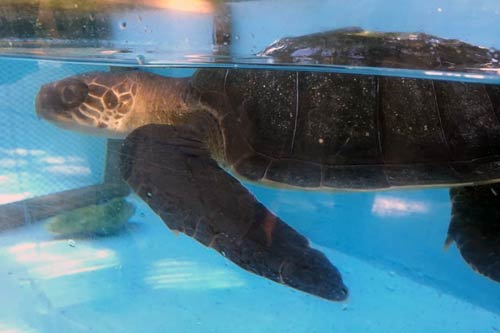 Esther is a juvenile olive ridley. She was rescued from a ghost net by Reethi Faru Resort in Raa Atoll. The ghost net had cut into her front right flipper and the wound was very deep. Bone was exposed in one small area. She had surgery on the 9th of December to close the hole and protect the bone, and also to remove all of the dead tissue. It was discovered that she has good blood supply to the end of the flipper but, unfortunately, the only healthy tissue left covering the humerus bone broke down and we had to amputate her flipper. She recovered well from the surgery and has already adapted to having 3 flippers; she is quite happy to do speed laps of the tank.
As the Rescue Centre was so busy, Esther had to join the other babies Artimus and Kaushell in a bigger tank. She wasn't eating when she was on her own, but the other kids have shown her what to do and now her appetite is back on track!
Beasty – Arrived 2nd December 2019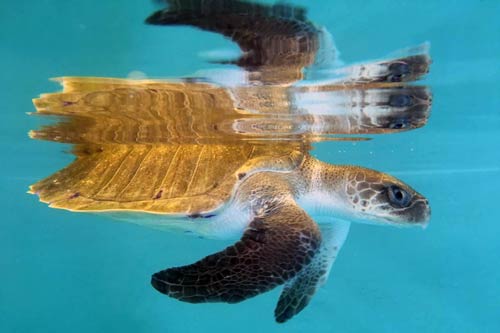 Beasty, a sub-adult olive ridley turtle, was rescued from a ghost net in Baa Atoll. She came to us via Atoll Marine Centre and Marine Savers at Four Seasons Landa Giraavaru.
Beasty was found entangled in a ghost net that had sliced right through her back right flipper, removing her 'foot'. The bone above the injury was exposed and diseased and she was unable to move her knee.
The best option for a pain-free life for Beasty was to remove the rest of her flipper. We performed flipper amputation surgery the day after she arrived at the Rescue Centre. She has recovered well from the procedure, however, Beasty also has an issue with using her right front flipper, so this is strapped at the moment. And she is suffering from buoyancy syndrome, a common effect of ghost gear entanglement.
In better news, she began to eat straight away with good pain relief and antibiotics on board. She is diving to the bottom of her tank, so her buoyancy issue is resolving. She is also almost due to have her stitches out. Beasty is swimming very strongly and about to be moved to the big tank for swimming practice in preparation for her release.
Deceased
Delilah – Arrived 12th December 2019, Deceased 21st December 2019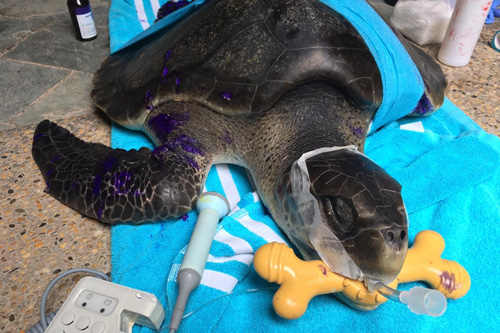 Delilah was an adult female olive ridley turtle. She was rescued from a ghost net by The Westin Maldives Miriandhoo Resort in Baa Atoll. She had partly self-amputated in the struggle to free herself form the ghost net. The tissue was so rotten that all of the bones were falling out.
Vet Jackie performed surgery to remove the humerus, which was diseased. There was very little skin left to close the the wound so the middle area was left open to heal by secondary intention. Delilah recovered well from the anesthetic and remained stable throughout the surgery.
Unfortunately, Delilah took a turn for the worse and passed away on the morning of 21st December. She had liver pathology and had a raging internal infection that affected her whole gastrointestinal system .
The diseases are most likely entanglement related. She had not eaten for ages when she was rescued and had most likely been entangled for some time. Her immune system was shot and she had a severe skin infection from the ghost net injuries.
Despite our best efforts, and our initial optimism, we were unable to save Delilah.
Bernie – Arrived 10th December 2019, Deceased 14th December 2019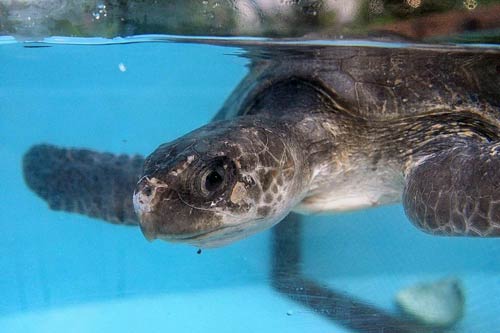 Bernie was a juvenile olive ridley sea turtle who was came to us from One and Only Resort, North Male Atoll. He was found entangled in a ghost net which had cut into both his front flippers, causing deep injuries with exposed bone. Bernie had also swallowed some ghost net.
Bernie was skinny, weak and dehydrated when he arrived. At first we gave him fluid therapy and fresh water baths. After he was stabilised we attempted surgery to remove the ghost net he had swallowed. Unfortunately, after 2.5 hours of surgery and several attempts to get the net out, Vet Jackie had to abort the surgery.
Sadly Bernie never woke up from his anesthesia; Vet Jackie was breathing for him all through the night, and the next day, and did everything possible to save him. Bernie actually died from heart failure due to too much fluid in the sack around his heart. This greatly reduces the heart's ability to function. He also had kidney pathology and kidney failure may have been the underlying cause for the heart failure.
When sea turtles are entangled for an extended time and are unable to eat, malnutrition and dehydration push the sea turtles' into organ failure. We have no way of knowing how long Bernie was entangled before he was found, but judging by his condition, it was probably for a long time. Neither can we say for sure what caused the kidney disease – it may have been preexisting, but the entanglement most likely caused the rest of his issues.
The Resident Patients
Amal – Arrived 22nd November 2019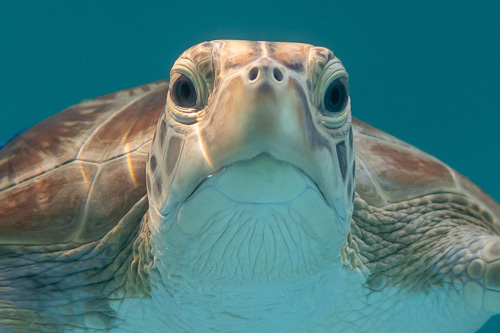 Amal had to have her front right flipper amputated. The bone broke down and was very infected, so to remove the infection and make sure she is not in any future pain, the best course of action was to remove the flipper. She recovered well from anaesthetic and was just grumpy that she missed her breakfast on surgery day.
Amal is coping well with the loss of her flipper. Her appetite is incredible. She has almost finished her course of antibiotics and we plan to remove her stitches in early January.
Kaushell – Arrived 30th October 2019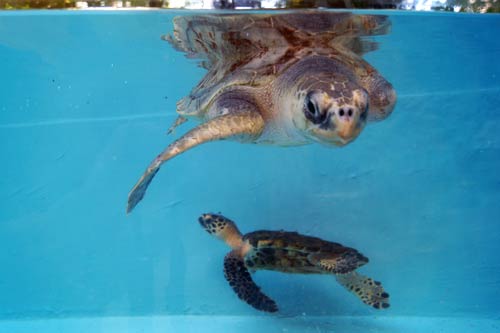 Kaushell has been putting on weight but she still has a way to go. She is going to have a repeat blood examination to check that she is regenerating her red blood cells well as she was very anaemic when she arrived. She has taken her iron injections like a champ!
Kaushell is still slightly buoyant but she is loving life and the free food we provide. She has become BFF with her tank mate Arti and they love hanging out together. It shouldn't be too much longer before we can send her back to her home reef.
Azura – Arrived 2nd April 2019, Transferred O&O16th October 2019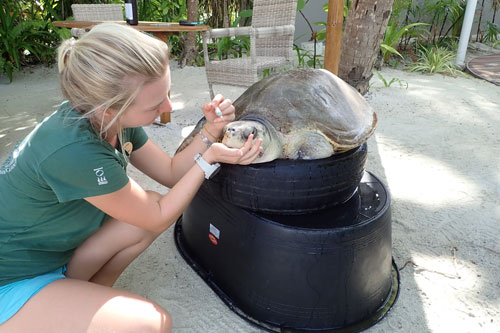 Azura is doing well. She has also been missing out on her ocean swims due to the weather, but at her last swim she used her flipper a lot more than before. She still cannot dive, but it is nice seeing her making an effort!
Arti – Arrived 27th February 2019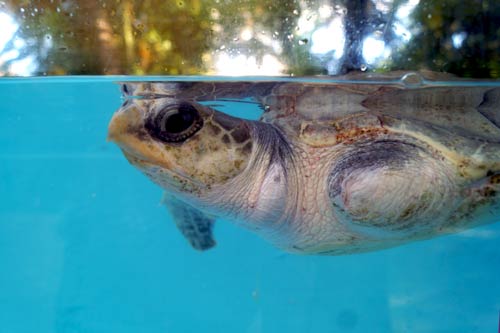 Arti has been missing out on his sea swims due to the terrible weather – and he is not happy about it! Otherwise Arti is doing extremely well. He had a check up this week with a blood test and some xrays. Apart from the fact that he is buoyant he is a bit fat, so his food intake will be reduced. Arti loves hanging out with his tank mates Kaushell and Esther.
Eve – Arrived 26th December 2019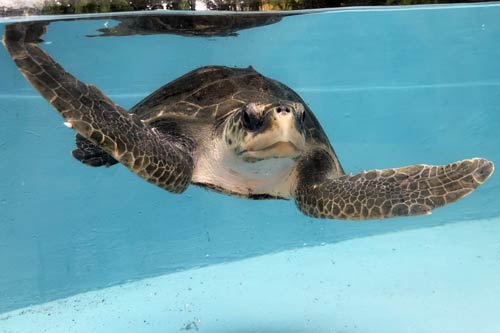 Eve have had some physio but there hasn't been much change with the use of her flipper. She uses it on and off. Always the fussy eater, she decided that squid tastes better and refused to eat anything else for a while. She is now eating all of her food again and is having a very lazy time – she doesn't move unless she has to. She will definitely be going on a diet soon!
As we tried to shuffle and make room for all our turtle patients, Eve had to be moved around a bit. She is a bit of a grump and doesn't get along with many – we were lucky when she liked Orla! She is currently in a tank on her own and enjoying her privacy.
Heidi – Arrived 21st April 2018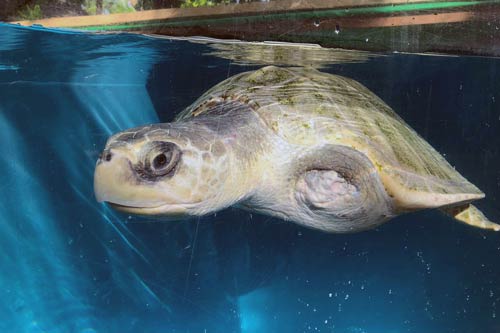 Heidi is always a crowd favourite as he has such an amazing personality. No sea swim for him due to rough seas in the last couple of weeks. Hopefully we can take him out next week.