Current patients Marine Turtle Rescue Centre: Heidi, Eve, Artemis, Kaushell, Talia, and Amal
Current patient Marine Turtle Rehabilitation Centre: Azura
Released
Orla – Arrived 18th October 2019, Released 30th November 2019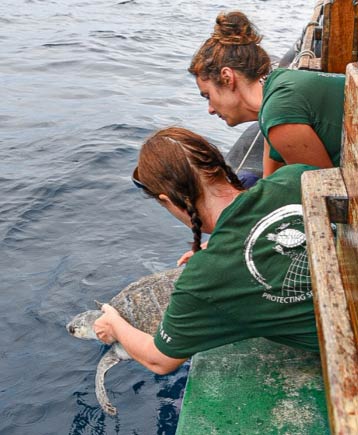 Orla has been released! Her release went smoothly and she went straight down! We will miss her. She was a very relaxed turtle and it was a pleasure to treat her.
KG – Arrived 4th September 2019, Returned Male Atoll 1st December 2019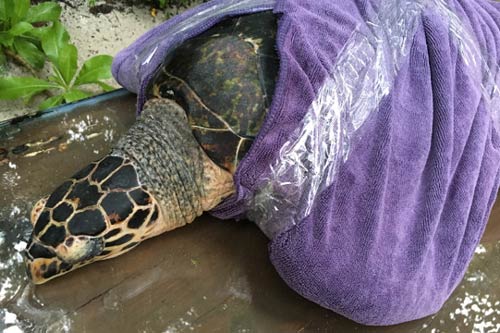 KG has gone back to Male Atoll to be released on her home reef. She took a flight to Marine Savers and the on site Marine Biologist said she arrived safely. We are looking forward to her release soon!
New Arrivals
Amal – Arrived 22nd November 2019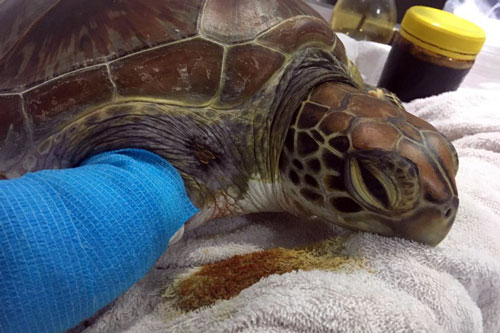 Amal is a juvenile green turtle who was rescued by Four Seasons Resort, Landaa Giraavaru, in Baa Atoll. She was found entangled in a ghost net which had cut deeply through her front right flipper, causing a mid-shaft fracture of her humerus. She had a long surgery to try and pull the fracture ends together and stabilize the bone. Now she has a splint and a bandage to immobilize her flipper.
She is quite a character and tells us with her body language that she does not like her antibiotic injections! But they are very important to help aid her healing. She eats sea grass that we weigh down at the bottom of her tank.
Amal has had an xray and a bone lesion is visible. Osteomyelitis is a common problem that we encounter when turtles are injured by ghost nets. She continues on pain relief and antibiotic cover, however, she really dislikes having injections!
Talia – Arrived 21st November 2019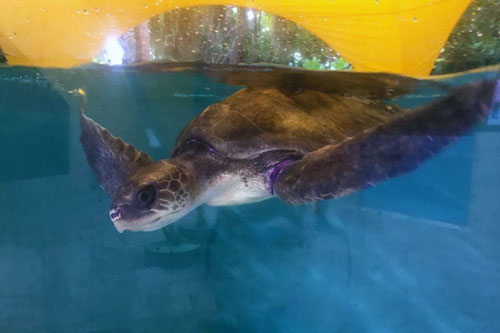 Talia is a sub-adult olive ridley turtle who was rescued by Maldives Whales Shark Research Programme in North Male Atoll and sent to us via Marine Savers. She was found entangled in a ghost net which had cut deeply into her front and rear left flippers. The fibula of her rear left flipper had been fractured by the net. She had surgery upon arrival to the Rescue Centre to remove dead tissue and some bone fragments.
She also has many other skin scrapes (some deeper than others) and an injury to her nose that we are treating. Luckily she can currently dive and is eating well!
Talia is healing healing well. Her back flipper still has a way to go but the front flipper laceration is almost healed. She is a stressy turtle and has been bumping her nose on the glass in the medium tank. When Orla was released, we moved Talia to the large tank and that has solved this problem, so we hope her nose lesion will now heal. She continues on antibiotics and wound treatments.
The Resident Patients
Kaushell – Arrived 30th October 2019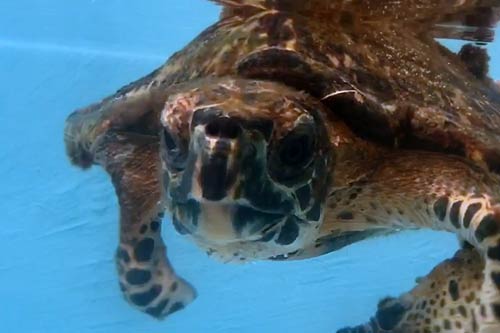 Kaushell is doing so well and has quickly become a favourite with the volunteers and the guests. She is plucky and lively and eating well. She is also gaining good weight and getting stronger every day. We will repeat her blood test soon to see if her infection is resolving. We are very happy to report that Kaushell dives well and sleeps at the bottom of her tank.
Artemis – Arrived 27th February 2019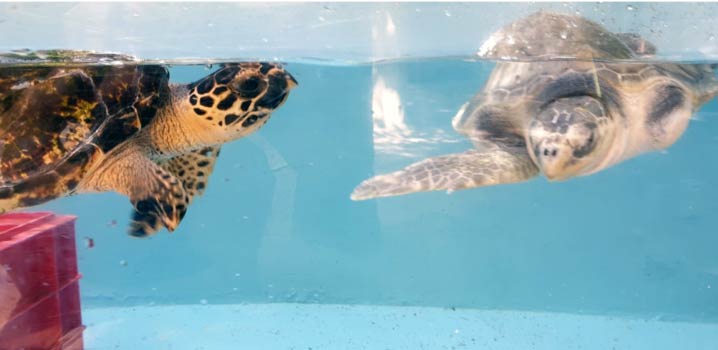 Arti is doing well and is enjoying his sea swims. We took him out to the sea grass bed this week and he enjoyed the different scenery. He always protests when it is time to come back in. His tank-mate Kaushell and he are still getting along well.
Eve – Arrived 26th December 2019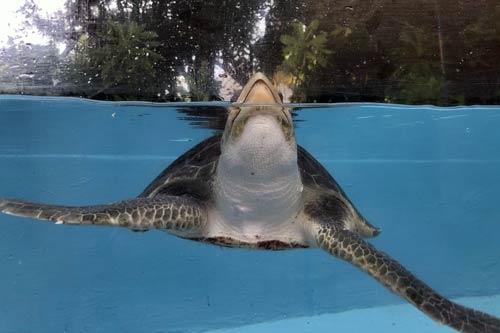 Eve has been using her flipper well lately. We are still assessing her for an intra-articular steroid injection into her shoulder joint. She spent some time in the big tank in order to get some exercise, but as the Rescue Centre was full of patients, she had to share her tank with Orla for a while. They did not argue, which was wonderful. Eve also ate faster as she had competition!
Eve is now back on her own in a medium tank. She has been eating well this week and is still using her front right flipper on and off.
Heidi – Arrived 21st April 2018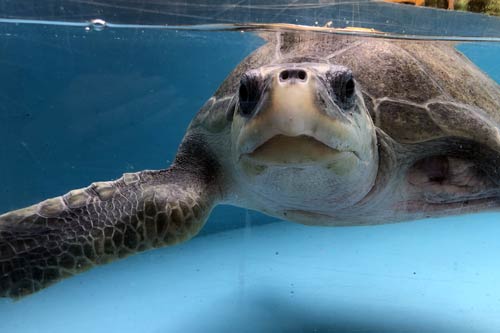 Heidi had been having regular sea swims, which he enjoys. However, he is still very lazy when he is not in the sea, so he remains on a diet. We have altered his harness as he doesn't like the material touching his neck; we have gone for an off the shoulder look that is trendy and also practical in case he decides to make a run (swim) for it!
Heidi had fun on his sea swim with Arti this last week. Some guests took a shine to him this week and he had a lot of visitors.
Azura – Arrived 2nd April 2019, Transferred O&O16th October 2019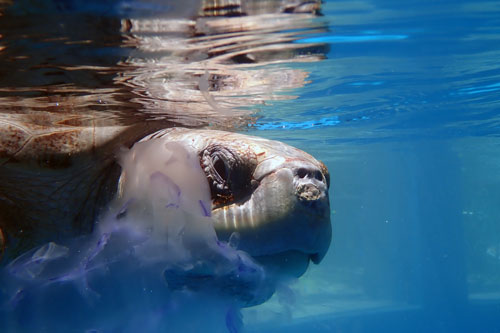 Azura is recovering nicely from her bone infection. The swelling of her flipper has gone down significantly since she has been on antibiotics, so we will shortly be taking off her anti inflammatory medication and continue her course of antibiotics. To treat this poorly girl, our dive team brought her back a jellyfish; she was very interested and enjoyed her special treat. This will also aid with mental stimulation and enrichment. We will assumed her weekly ocean swims now that she is showing good recovery.