Current patients Marine Turtle Rescue Centre: Heidi, Eve, Artemis, KG, Orla and Kaushell
Current patient Marine Turtle Rehabilitation Centre: Azura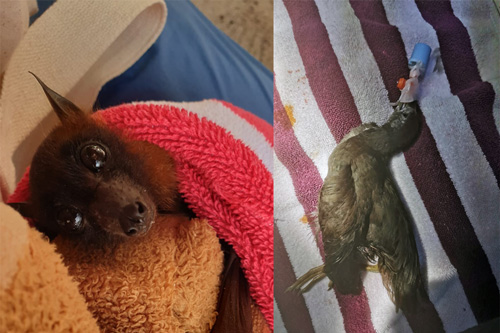 In the last few weeks we have had a couple of non-turtle patients: a water hen and a bat baby! The water hen, Gimpy, had a severely broken and infected leg. After a successful surgery he is now back with his family. Baby bat Vlad orphaned was found orphaned under a tree. He was having seizures caused by hypoglycemia as he had not eaten for a long time. Vlad weighed only 31 grams when he arrived, but he is now a whopping 153 grams after being hand fed night and day by bat-mum Vet Jackie. Vlad is starting to fly, although not very successfully – he more often than not ends up with a face full of sand! Vlad will stay with us until he is weaned from his milk and big enough to be released.
New Arrival
Kaushell – Arrived 30th October 2019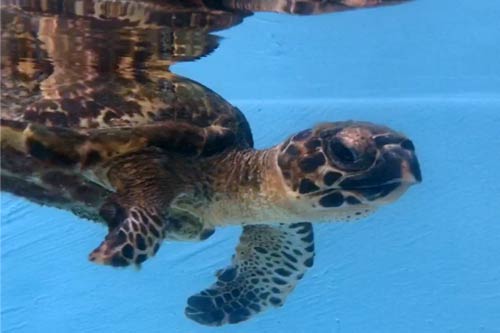 Kaushell is a juvenile hawksbill turtle who was rescued by Kudadoo Maldives in Lhaviyani Atoll and sent to us via Atoll Marine Centre. She was found missing her right flipper, unable to dive, covered in algae and extremely skinny. She has been worked up in the vet clinic and has been found to be anaemic and fighting a massive infection. We are giving Kaushell fluids and antibiotics as well as iron and vitamin supplements.
She is weak and fragile but we hope she will rebuild her muscle mass soon and put on some weight. She has already started to eat – which is great news! Although we though Kaushell was buoyant, it turned out that she was not diving because she was also constipated! After a big poo a week into her stay at the Rescue Centre, she started diving!
The Resident Patients
Orla – Arrived 18th October 2019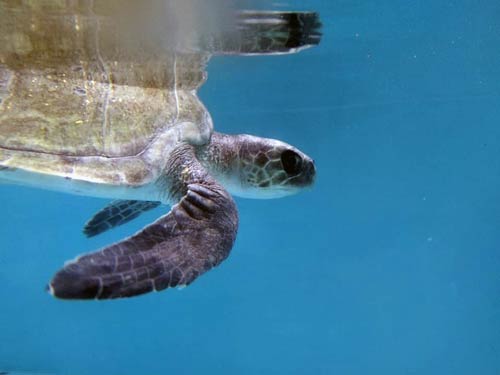 Orla is eating and playing with her ball and has settled in well. She is even diving! Some of her suture site has broken down, but with regular cleaning and debridement, it should heal nicely. She has a swollen knee, and we suspect an osteomyelitis lesion is forming, so she has been started on a new antibiotic. 
KG – Arrived 4th September 2019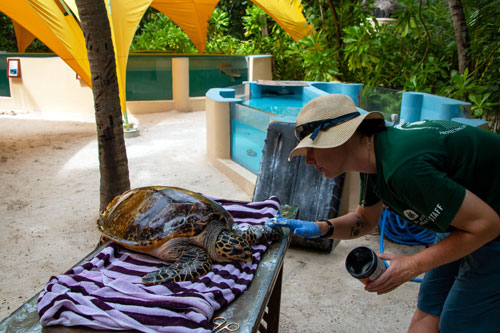 KG is still making progress. It has been a long road for her. The bone infection is still present, but we hope we have finally got on top of it. She had another another x-ray on the 4th of November to reassess her bone infection; it finally appears to have halted. Her wounds are looking better but she still requires regular wound care. She remains on antibiotics but has been using her flipper well lately.
Artemis – Arrived 27th February 2019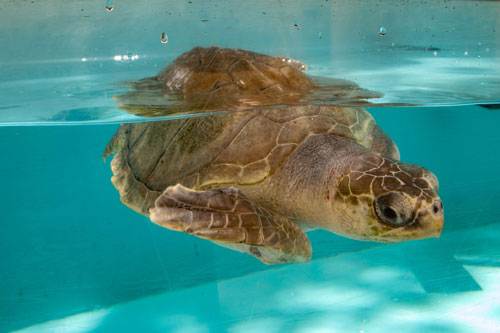 Arti is his cheeky old self; he has been playing with his ball and checking out the new guests. Last week, Arti went for a sea swim in the ocean! He had a great time in the calm conditions. We will aim to take him out once a week.
Eve – Arrived 26th December 2019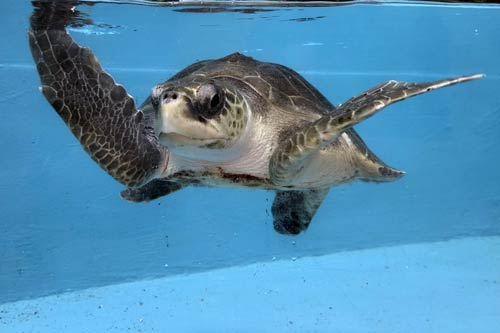 Eve has been using her flipper off and on. We know she can use it, but we are not sure why she stops using it from time to time. Her x-rays show the bone is stable and there is no current infection, but there is extensive damage to the joint. We are planning to give her intra-articular injection of a steroidget into the joint to, hopefully, make her more comfortable. She has been eating well.
Heidi – Arrived 21st April 2018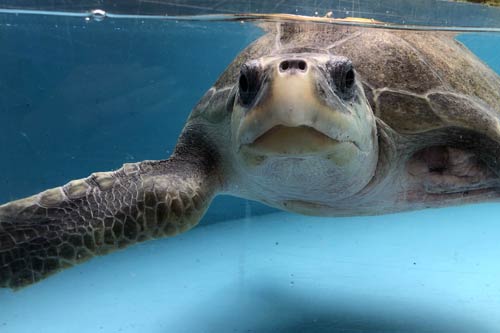 We finally took Heidi on a sea swim! On the first swim, he wore an adapted BCD as harness and seemed happy to be back in the sea, cruising around and looking at the fish and corals. On the second swim we used a modified t-shirt as a harness. He found the lighter material more comfortable and enjoyed his open water experience very much.
Azura – Arrived 2nd April 2019, Transferred O&O16th October 2019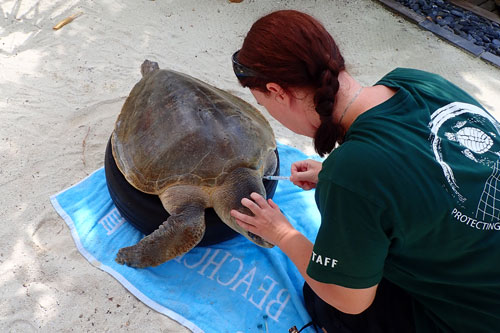 Azura has been settling in well at One & Only. She has been enjoying her ocean swims to provide some mental stimulation during her rehabilitation and loves to play with the submerged buoys in the tank that our Sea Turtle Biologist made as enrichment. Dr Jackie Reed also recently visited for a check up of Azura. She took a physical examination and unfortunately Azura's bone infection has flared up again. She will therefore be put on a course of antibiotics and given a lot of rest to recover. Fortunately she has a lovely big tank all to herself where she will receive lots of yummy fresh seafood and TLC at One & Only Reethi Rah.