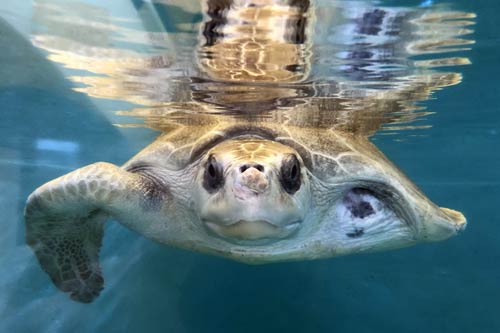 Dr. Shiva Sawmy spent 3 weeks as a Visiting Vet at the Marine Turtle Rescue Centre in September 2019. He called the experience "An otherworldly adventure in the Maldives – veterinary care, rehabilitation and release of injured wild sea turtles". Read on to find out more about his experience.
An Adventure With Sea Turtles Begins
After months of planning and preparation, I am finally boarding the flight to the Maldives from Edinburgh, the city where I trained as a vet, and used to live and work. However, I am only here on a fleeting visit. I am jetting off on this late Scottish summer's day to spend three weeks volunteering as a vet with the Olive Ridley Project (ORP).
Scotland vs the Maldives – the contrast could not have been starker! This is a dream come true for me. Working with sea turtles is something I've wanted to do since I was a young boy growing up in my native Mauritius. However, I have spent most of my adult life studying and working abroad. I am currently work as a wildlife vet at the University of Sydney. 
The ORP Marine Turtle Rescue Centre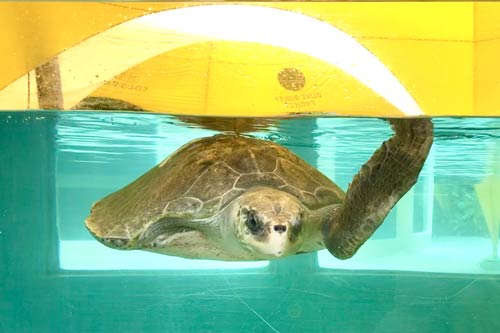 The opportunity to volunteer with the Olive Ridley Project arose a few months ago. Dr Claire Petros, the charity's Lead Veterinarian, invited me to spend some time helping the resident vet at the Marine Turtle Rescue Centre. The ORP also helps remove 'ghost nets' (see below) from the ocean. And they have an education and research program, which helps to raise awareness about marine conservation and the devastating effects of vagrant fishing nets on marine life.
Claire helped set up the veterinary/rescue centre in partnership with a local tourist resort, Coco Collection, in Baa Atoll in 2017. At the time of writing, it is the only one of its kind in the Maldives. It has a full-time veterinarian on site providing care and rehabilitating injured marine turtles rescued across the Maldives. There are talks of another charity setting up a similar facility on a nearby atoll next year. This is great news if you're an injured turtle or a local inhabitant involved in sea turtle rescue. 
ORP's Research on Ghost Gear
Around the world, sea turtles are in danger of extinction due to human activity, namely through pollution (plastics, oil spills, etc), fishing bycatch, entanglement in discarded fishing nets/gear ('ghost nets'), boat strike, poaching and habitat destruction. The ORP's research suggests that ghost nets actually come from countries further afield, such as India, Pakistan and Sri Lanka. These ghost fishing gear drift in the sea currents towards the Maldivian archipelago during the North-eastern monsoon, where they wreak havoc on the unique marine life, including sea turtles.
Olive Ridleys – Most Frequent Turtle Ghost Gear Victims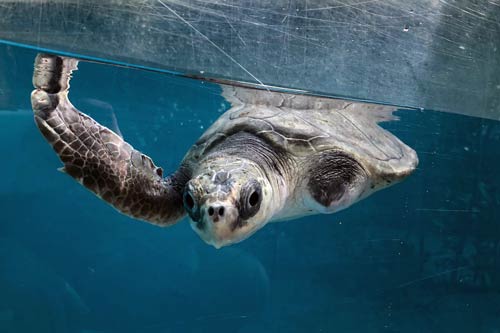 Of the five extant marine turtle species that can be found in the Indian Ocean, the olive ridley sea turtle (Lepidochelys olivacea) is the most commonly affected by ghost nets. Indeed, they account for 89% of all entangled turtles reported. Once trapped in these nets, the turtles suffer from severe mutilating limb injuries, exhaustion and eventually drown as they cannot resurface to breathe.
Those that manage to survive and get rescued on time often suffer from buoyancy syndrome. Buoyancy syndrome requires prolonged treatment and rehabilitation in captivity until deemed fit for release. Unfortunately, many arrive at the Rescue Centre, with limb injuries so severe that amputation of the affected appendage(s) is the only option. Sadly, those with two non-functional limbs or requiring more than one flipper to be amputated cannot be released back into the wild.
The Journey To Maldives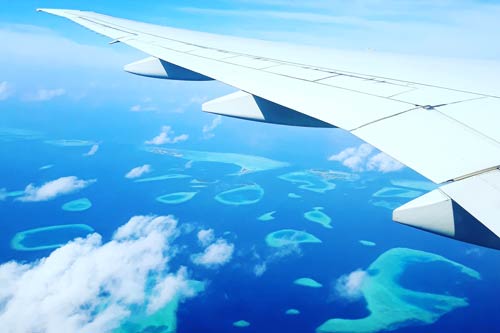 After an uneventful journey to the UAE, my flight to Male, the capital of the Maldives, has now been sat on the boiling tarmac in Dubai for more than 1 hour. Then, we finally get clearance for take-off and the second leg of my journey finally gets on its way!!! After a 4-hour flight, as the plane slowly starts its descent to land in Male, I catch the first glimpses of the emerald turquoise waters and the myriad of atolls that make up the Maldivian archipelago.
The view is surreal, magical, otherworldly! There are no words to describe the beauty of these islands. No wonder they have been designated as a UNESCO biosphere reserve. However, it also reminds me of how delicate and precious these atolls are. Especially with the threat of rising sea levels due to global warming. Interestingly, I remember learning about the Maldives at primary school in Mauritius 30 years ago! As a fellow islander from the Indian Ocean, the view is familiar. It does feel like I'm going 'home' but the Maldives has put on an unrivaled show.
On arrival in Male, I am greeted by puzzled Immigration and Customs officials. They are initially baffled by the fact I can't speak Dhivehi, the Maldivian language, despite looking like a local! When they realise that I am from Mauritius, a mini-interrogation ensues but I'm eventually allowed into the country.
Arriving At Coco Palm Dhuni Kolhu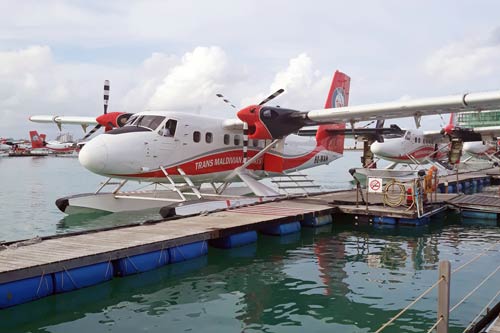 After a breath-taking 30-minute seaplane flight from Male, I arrive at my destination on Coco Palm Dhuni Kolhu Resort, in the Baa Atoll, where the Olive Ridley Project has set up the marine rescue and veterinary centre. The landing is surprisingly smooth and I am greeted by a glorious sunset! The Maldives knows how to receive its guests!!! This will be my home for the next three weeks. After a quick boat transfer to the jetty, I'm greeted by Jackie, the relatively new resident vet from Australia. I apologise profusely for being late. All the delays in Dubai and with Maldivian Immigration and Customs authorities mean that I'm over 3 hours late.
Jackie briefly introduces me to the key hotel staff and takes me to my quarters. I'm expecting a basic beach villa for volunteers, but we keep on walking along meandering paths surrounding by what seems to be lush vegetation. It is dark by now but it's a nice evening, with the Milky Way dancing in the sky.
The Unexpected Villa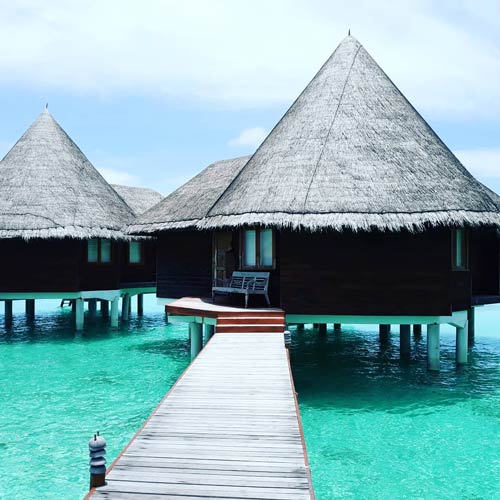 Jackie apologizes that my accommodation will be the farthest from the sea turtle centre – relatively speaking – as the island is tiny (you can walk around it within 20 mins!!). But the nice surprise is that it is one of the lagoon villas!! So I'll get to be rocked to sleep by the sound of the waves and wake up to view of the seemingly endless stretch of azure waters from my bed!
I quickly drop my bags and we go for a buffet-style dinner at one of the resort's restaurants. There I'm introduced to the rest of the team. Hadhif is a young enthusiastic, but slightly shy, Maldivian intern who's recently finished high school. Amy, an accountant-turned sea turtle volunteer from London, is spending a couple of weeks on the island. I am quite pleased to see that the ORP is training local staff to help with the conservation of the marine habitat.
Meeting The Turtle Patients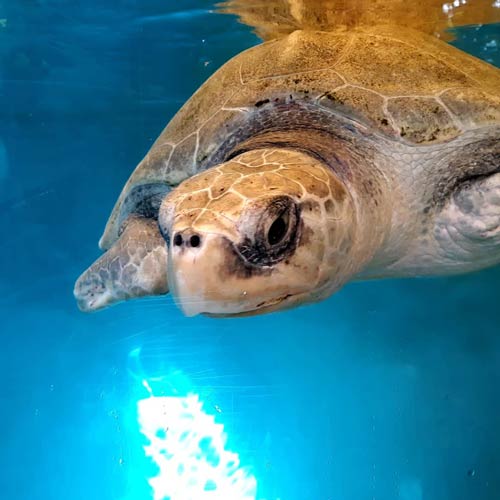 The following day, Jackie introduces me to our resident sea turtles. There are 6 olive ridleys, Lucky, Thomas, Artemis (Artie!), Eve, Heidi and Azura, and K.G, the hawksbill. Most of them are victims of entanglement in ghost nets except, K.G. She has a severe spear wound on her left forelimb. This wound requires regular debridement, analgesia, antibiotics and laser therapy. This is the closest I've been to olive ridleys or hawksbills in my whole life! Although I have encountered green sea turtles while snorkelling back in Mauritius, I have never been this close to them.
The Job Of A Visiting Vet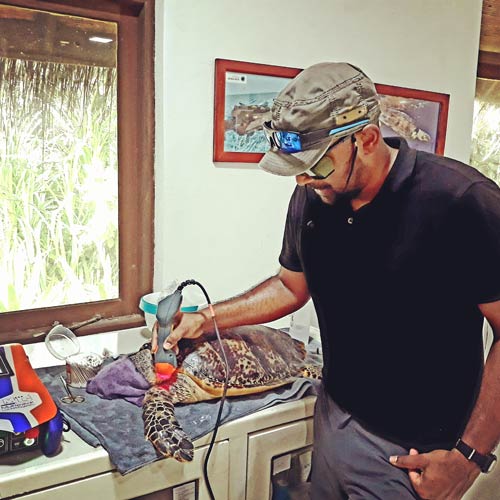 My job primarily involved assisting Jackie in providing veterinary care to the rescued turtles. This included regular wound care to those with limb injuries, performing radiographs, weekly weighing, 'spa' treatment and health checks.
I also helped with the daily cleaning of tanks, feeding the turtles, sensitising the visitors on the island about our work and the damage ghost nets and plastic pollution were causing to sea turtles and marine life. And I was introduced to bracelet making by using ghost nets. We made and sold these to the visitors to help raise funds for the ORP.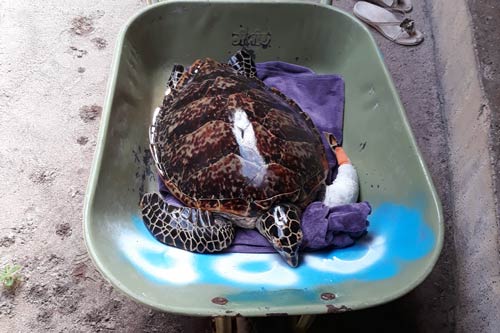 The Daily Routine
My daily routine was as such: wake up at 7:30 am; go for a morning swim; breakfast at 8:30 am; then start work at the centre at 9am. The first task of the day involved visual assessment of all the turtles. We would then move any that needed treatment to the clinic by carrying them or using a wheelbarrow for the bigger ones (the heaviest was Thomas at around 32 kg). We would also thoroughly clean the tanks with chlorine and re-fill them. Well, refilling them seemed to be a mission every day as the pump system had a mind of its own, and required daily maintenance by the hotel staff. So a lot of time was spent making bracelets while waiting for the tanks to fill up.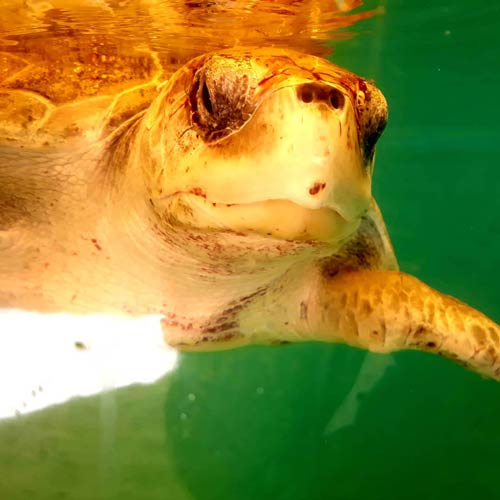 10: 00 am was turtle feeding time and the guests at the hotel would come witness this! The turtles' diet consisted of reef fish squid, prawns, which the resort's fish chef would kindly chop up and save for us.
At midday we all went for lunch and the afternoon involved further tank cleaning, bracelet making or performing more treatments and turtle feeding at 4pm. We'd normally finish work at 5pm and usually went snorkelling before dinner.
Lucky's Release & A Manta Festival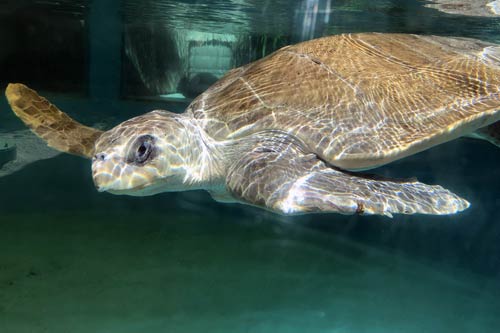 During my first week, I was honoured to be involved with Lucky's release. After several weeks of rehabilitation she was finally deemed fit to be returned to the wild. It was great to be part of this final stage, with a happy end to her story!
We also attended the Manta Festival on the island of Eydhafushi, the capital city of the Baa Atoll (accessible by a 45-minute ride by speed boat), to celebrate and conserve manta rays. The Olive Ridley Project and dozens of other local marine conservation NGOs/resorts had stands to raise awareness about marine conservation. It was a nice atmosphere with Maldivian music, food and the local inhabitants and school children from neighbouring islands attending the event. Even the vice-president of the Maldives, Faisal Naseem had even made the trip from Male for the inaugural ceremony.
What I Learnt As A Visiting Vet
My three weeks working with the Olive Ridley Project was an unforgettable once-in-a-lifetime experience. It helped me cement my knowledge of sea turtle medicine and surgery, but more importantly, I learned about the practical aspects of running a rescue centre in a remote setting, with limited equipment and facilities. Eventually, I hope to use these skills to help save sea turtles back in Mauritius. Although we don't often get olive ridley turtles, other species such as the hawksbill and green sea turtles are commonly in rescued in Mauritian waters. Volunteering as a vet with the ORP was also a chance for me to explore the marine life of another Indian Ocean island.
New Insights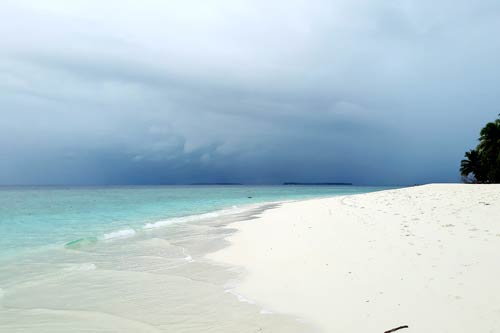 During my stay, I witnessed some amazing stormy weather, which made for some dramatic skies, sunsets and thundery evenings. Cyclones are always a highlight of the year for me in Mauritius, so I really enjoyed this. Snorkelling most evenings, the turquoise waters didn't fail to impress. There was plenty of marine life to delight, including regular sightings of a manta ray, reef sharks and a plethora of fish under my stilt house home.
I leave the Maldives with a new insight into a truly inspirational project. The Olive Ridley Project is working really hard to tackle the terrible problem of discarded fishing nets devastating marine life and raise awareness about their effects and promoting marine conservation across the Indian Ocean, especially in countries where these nets originate from. I leave the island with some new skills and knowledge, but perhaps more importantly truly inspired! Thank you!