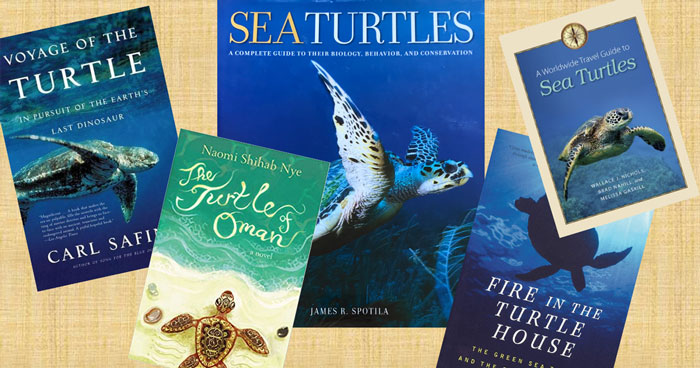 In this week's Turtle Book Club we move on from children's books to turtle stories aimed at an older audience. In these various works of prose, the authors invite readers on a trip around the world through developments in sea turtle science, a true crime story (involving turtles), turtle-centric holidays, and a young boy's life journey.
Each of these reads is easily accessible for interested specialists and laymen alike. Enjoy they journey!
Voyage of the Turtle: In Pursuit of the Earth's Last Dinosaur
Written by Carl Safina
383 pages, first published 2007
Non-fiction
Our Recommendation
Simply beautiful, a real comfort read. Feels like a novel, but is actually non-fiction. Highly recommended!
Through beautiful and poetic storytelling, Safina let's the reader follow one of the farthest traveling animal through the mayor ocean basins
The gigantic leatherback turtle is the largest of the seven extant sea turtle species. The impressive nearly black reptile feeds of jellyfish and travels large distances between feeding and nesting areas. Safina describes conservation attempts, research teams and the effort that is made to follow these animals on one of the longest migration routes all across the Pacific Ocean.
In a uniquely poetic style, the reader is brought closer to the leatherback and learns about the threats these animals face due to our actions as humans.
Sea Turtles: A Complete Guide to Their Biology, Behaviour, and Conservation
Written by James R. Spotila
227 pages, first published 2004
Non-fiction
Our Recommendation
Beautiful & informative all in one, well written and easy to read, a highly recommended introduction to sea turtle biology.
All things concerning sea turtle biology.
This large format tome is filled with just as much useful and interesting information as it is with beautiful images illustrating all aspects of sea turtle life.
This book contains it all. First you get general introduction to sea turtle biology and their life cycle and behaviour. Then you learn about the threats sea turtles face. And finally you get a detailed portrait of all seven turtle species. Whether you are looking for an intriguing read or an introduction to a sea turtle species for a presentation, the complete guide provides a great starting point.
Fire in the Turtle House: The Green Sea Turtle and the Fate of the Ocean
Written by Osha Gray Davidson
288 pages, first published 2003
Non-fiction
Our Recommendation
Gripping as a true crime story and a beautiful insight into the sea turtle population of Hawaii!
Sea Turtle Population of Hawaii: Historic Trends, Conservation and the emergent disease FP
In an informal voice, Davidson paints a picture of Hawaii and its sea turtle population. Historically abundant, the turtles are now scarce and in dire need of protection. Fishing to provide a "unique delicacy" for the mouth of tourists decimated the number of turtles around the islands by an unknown percentage. In the book we follow the story of a budding conservation movement and the first hopeful steps of population research . Unfortunately, a new and unexpected player steps unto the field: a disease is spreading amongst the sea turtles. Initially no one knows why or how.
Davidson's account of the initial discovery of fibropapillomatosis and the spread of the disease in US waters presents the reader with one of the many riddles that are still prevalent in sea turtle science.
A Worldwide Travel Guide to Sea Turtles
Written by Wallace J. Nichols, Brad Nahill and Melissa Gaskill
222 pages, first published 2014
Travel Guide
Our Recommendation
This is a great compilation, written in 2014 and it is only missing one of the newer awesome additions to the scene – ORP in the Maldives!
Responsible and eco-friendly travel destinations providing a variety of opportunities to see turtles
This Travel guide provides a quick overview on sea turtle species and the threats they face – before diving right into turtle watching! Organized by geographical location, the reader is introduced to sea turtle projects working around the world. Each is introduced briefly and turtle related activities are listed, as well as how everyone can help.
The book offers a great overview and might be an inspiration for every turtle aficionado who is planning on traveling abroad on how to turtle-y enrich their holiday experience.
Scattered throughout the books are various information boxes providing the reader with different tidbits of information on sea turtle conservation. There are also some sea turtle watching tips in the book which are highly recommend in conjunction with the ORP Code of Conduct. If you should you be inspired by this book to plan a turtle-centric holiday, please take a look at ORP's volunteer programs in the Maldives.
The Turtle of Oman
Written by Naomi Shihab Nye
309 pages, first published 2014
Fiction
Our Recommendation
Even though not entirely focused on sea turtles, this book is a great story about love and the journeys we take throughout life.
In this, not entirely turtle-centric, book we follow young Aref Al-Amri during a very challenging time in his life.
The Turtle of Oman follows a young boy in his home country, the Sultanate of Oman. Aref Al-Amri is supposed to leave Oman as his parents wants him to go to graduate school in the United States. Aref enjoys making lists, collecting important trinkets and is really not very fond of the idea of leaving Oman. Together with his grandpa he goes on adventures exploring the wonders of his country – including the nesting of sea turtles.
More Turtle Book Club Recommendations
We hope you will enjoy these turtle stories as much as we did!