Ghost fishing refers to the destructive cycle of continued catching and killing of marine animals by abandoned, lost or discarded fishing gear. This so called ghost gear is no longer actively managed or attended to by a fishing operation or an individual fisher. Yet, it remains active, continuing to catch and kill animals, capturing anything in its path in an unselective manner. Entanglement in ghost gear often causes exhaustion, suffocation, starvation, amputations of limbs, and even death. This is a different issue than by-catch, which means the accidental capture of non-targeted species by actively managed fishing gear.
The Impact of Ghost Fishing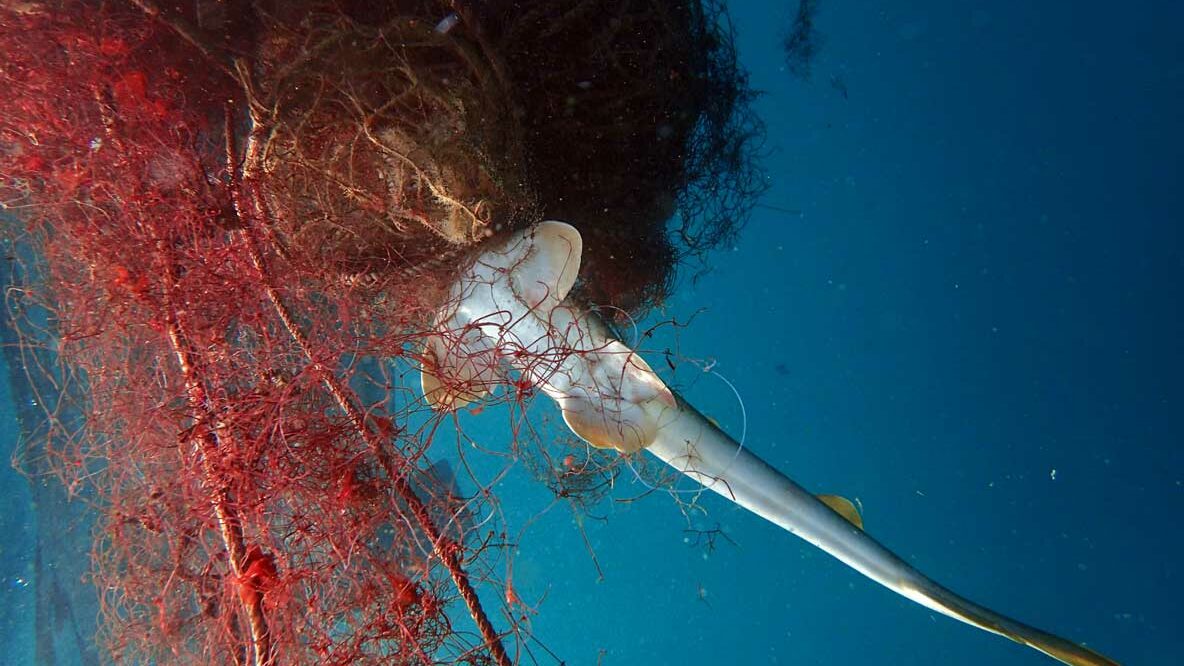 Ghost fishing is responsible for the death of countless marine animals. As well as catching and killing marine life, ghost gear can smother and damage already sensitive habitats (such as coral reefs), facilitate the spread of invasive species, devastate shorelines and damage boats.
Regardless of the type of gear, ghost gear can impact various marine species when ghost fishing. Most fishing gear is designed to target a particular species or group of species. However, abandoned, lost or discarded gear is often far more destructive than originally intended.
In fact, ghost gear is thought to increase its catch efficiency the longer it persists in the ocean. This is because the initial catch often acts as bait, attracting larger fish and megafauna.
Indirectly, ghost fishing also impacts livelihoods and fishing communities by compromising the sustainability of small-scale fisheries by depleting fish stocks. For example, one single ghost net has the ability to kill an estimated $20,000 (£13,000) worth of Dungeness crab over a period of 10 years, in turn negatively affecting the crab fishing industry.
The Destructive Cycle of Devastation
When ghost gear drifts into deep water it will attract or entangle a variety of marine animals, including small fish. These act as bait, attracting and entangling larger predators, such as sea turtles, sharks, and dolphins. A ghost net is often a conglomerate of nets that have become entangled in each other. Eventually it becomes so heavy due to its catch that it sinks to the bottom of the ocean. Once on the seabed, smaller ocean dwellers and scavengers may start feeding on the entangled marine life. This, along with natural decomposition, reduces the weight of the net to the extent that it floats back up to the surface. And the cycle of ghost fishing, starts over again.
How To Break The Ghost Fishing Cycle
Many years ago, fishers made fishing gear from natural materials, such as cotton, hemp and coconut, that degraded overtime. Today we make fishing gear out of plastics such as high density polyethylene and nylon.
Plastic is very cheap and has revolutionised the fishing industry, but it is also very durable. It remains relatively unchanged in the environment for a very long time. Due to the durability of modern fishing gear, the circle of devastation can continue for decades. Unless there is human intervention to remove the gear, it will likely be a grave threat to marine life for many years to come, contributing to the depletion of fish stocks around the world.
Physically removing ghost gear from the ocean, beaches and coastal areas is often dangerous and difficult work. A ghost net conglomerates often weighs hundreds of kilos. Removal is only possible by either cutting it into manageable pieces or by using machinery.
Although removing ghost gear and safely disposing of it is important to break the ghost fishing cycle, it is only a short-term and minimally effective solution. The long-term solution is to prevent fishing gear from becoming ghost gear in the first place.
---
References
O'Hanlon, N.J., Bond, A.L., Lavers, J.L., Masden, E.A. and James, N.A., 2019. Monitoring nest incorporation of anthropogenic debris by Northern Gannets across their range. Environmental Pollution, 255, p.113152.