Fishing gear becomes ghost gear when the fisher loses all operational control of the equipment. Gear loss can happen for various reasons, such as:
Poor weather conditions
Poor access to disposal or recycling facilities
Lack of or inadequate gear maintenance
High cost of retrieval
Catch overload
Illegal, unreported and unregulated fishing activities
Conflicts between fisheries
Destructive fishing techniques.
In Indian gillnet fisheries, for example, conflict between fisheries is the main cause of gear loss. Trawlers often drive straight through set gill nets, resulting in direct gear loss. This single net then has the capacity to smother an entire reef.
Another significant cause of gear loss is destructive fishing techniques. Bottom trawling, for example, involves dragging a huge net across the sea floor. During this method, fishing nets often snag on the bottom and break, leaving fragments of potentially entangling net behind. One example is in northern Australia, where trawl nets were the most abundant net type found stranded on beaches [4]. Similarly, trawl net fragments were one of the major gear types responsible for ghost gear found drifting into the Exclusive Economic Zone of the Maldives.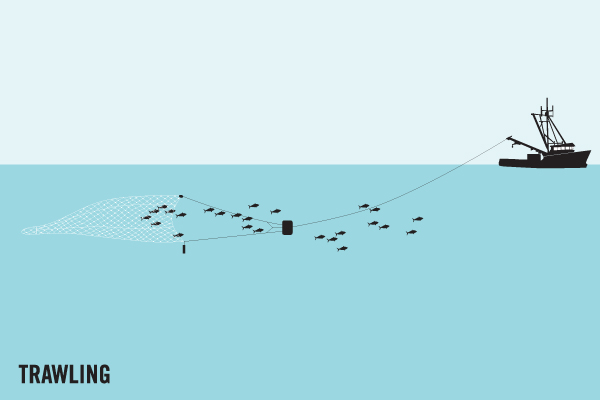 ---
References
Stelfox, M., Bulling, M. and Sweet, M., 2019. Untangling the origin of ghost gear within the Maldivian archipelago and its impact on olive ridley (Lepidochelys olivacea) populations. Endangered Species Research, 40, pp.309-320.
Thomas, S.N., Edwin, L., Chinnadurai, S., Harsha, K., Salagrama, V., Prakash, R., Prajith, K.K., Diei-Ouadi, Y., He, P. and Ward, A., 2020. Food and gear loss from selected gillnet and trammel net fisheries of India.
Wilcox, C., Heathcote, G., Goldberg, J., Gunn, R., Peel, D. and Hardesty, B.D., 2015. Understanding the sources and effects of abandoned, lost, and discarded fishing gear on marine turtles in northern Australia. Conservation biology, 29(1), pp.198-206.