Released
Azura – Arrived 2nd April 2019, Released 13 December 2021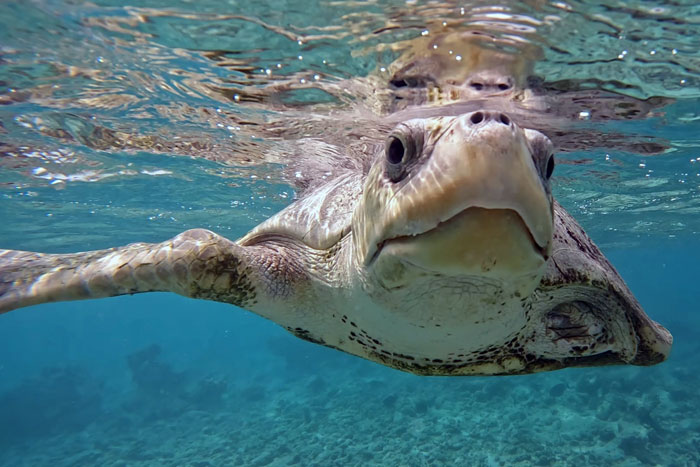 Azura had been doing progressively well on her sea swims throughout November – so well that, for her most recent sea swim, we arranged for the resort to take a boat out so that we could observe her from a distance and see if she was ready to go.
Yesterday, after two years, eight months and eleven days, we took Azura for her final sea swim, not quite sure whether she would have enough control over her buoyancy to go on her way or not. But her persistence and motivation paid off and we are thrilled to say that Azura is now back home in the wild. She had dived so deep that we had lost sight of her underwater but we monitored her from the boat for about an hour and didn't see her resurface anywhere near, so we can be confident she was far away and diving well. What an achievement – we are all incredibly proud of Azura, she will be so missed at the Rescue Centre!
Kaamil – Arrived 10 December 2021, Released 13 December 2021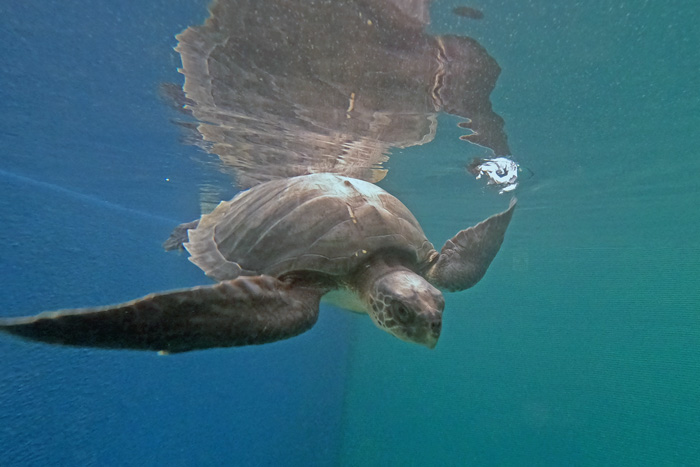 Kaamil is a juvenile olive ridley turtle. He/she was found entangled in ghost gear by the team at Ritz-Carlton with all 4 flippers and only mild constriction wounds. Kaamil was sent to our biologist Joe at One&Only for rehabilitation since they were struggling with their buoyancy. Kaamil made a good effort to dive regularly and that paid off! Joe released Kaamil from the beach on Monday morning after they showed much more control over their buoyancy! Kaamil went off really well and we are thrilled to see them back in the wild so quickly.
The Resident Patients
Tibby – Arrived 26 July 2021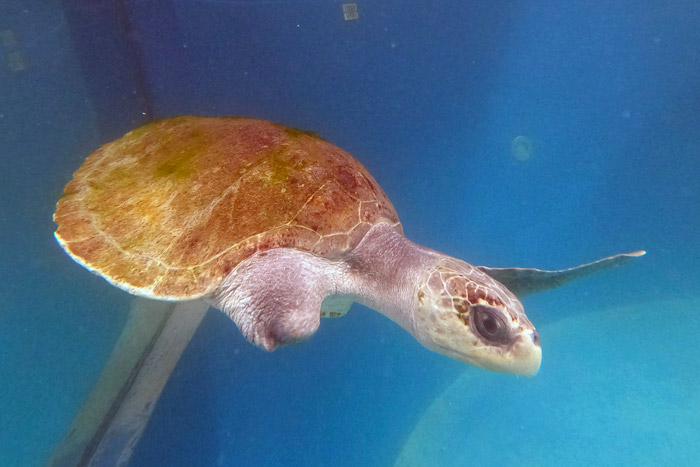 In mid November, Tibby had a blood sample and her PCV (packed cell volume – a measure of the percentage of red blood cells in the blood) had raised from 10% on admission to 18% which is a good steady increase, meaning she is definitely on the mend. Her protein levels have also increased significantly in line with her improved nutritional status. As such, Tibby was moved to our rehabilitation centre at One&Only Reethi Rah where she can have one to one care with our sea turtle biologist, Joe, and free up space for more urgent patients at the Rescue Centre.
Tibby settled in really well and has been eating around 700g of food a day! Consequently, she has gained nearly a kilo since joining us, which is amazing news. She is now 18.2kg and will be going for her regular sea swims when the bad weather clears. Tibby even spends most of the time resting at the bottom of the tank, showing she has full control of her buoyancy!
Xena – Arrived 1 November 2020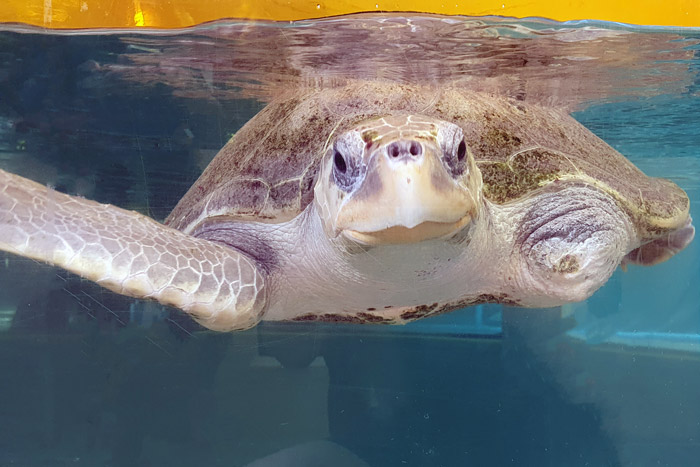 Xena has absolutely blown us all away recently! After spending 2 years in rehabilitation (1 year at the Atoll Marine Centre in Lhaviyani Atoll and 1 year with us), she finally started diving! It was truly amazing to watch, and she managed to figure a lot of it out in only one day! We feared Xena would never dive, because of her significant lung damage visible on x-ray, but she has proved us wrong and started to figure it out. She will need some more time to cement this, but with some sea swims and regular training, we are now hopeful that she will be releasable!
Xena had a slight setback, with another bone infection, but she has been on her new medication for a few weeks and it seems to be doing the trick! Her flipper usage is so much better, and she is putting in some excellent performances in the morning when personal trainer Ni (our Rescue Centre intern) is on the case! She can now fully submerge herself regularly and we just need to wait until her medication course is finished before we can get her back out in her ocean home!
Discovery – Arrived 7th February 2020
Disco has been eating a lot and making a mess as always! She had a few hiccups in late November, not showing any interest in food for a while but thankfully she is now back to her normal self. She has been moved to a medium tank now that Tibby has left so she has a little more space to manoeuvre. She continues to delight guests at the Rescue Centre by being exceptionally cute, determined and motivated!
Heidi – Arrived 21st April 2018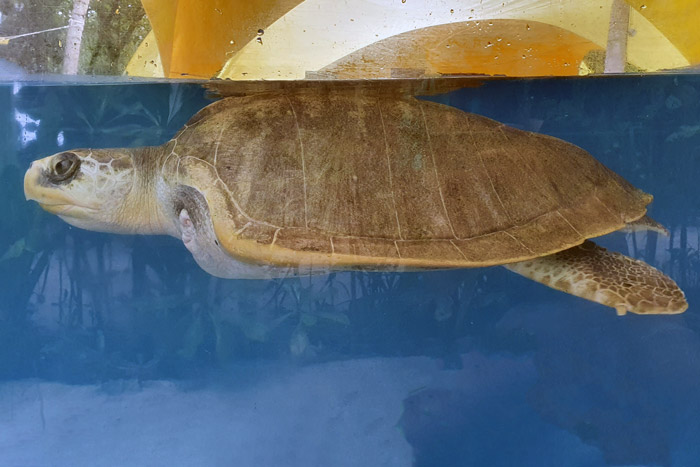 Heidi is doing very well – he is very bright and active and his weight has remained very stable which is always good considering how robust his appetite is! We are making good headway with finding Heidi a new place to live. We had a meeting with a UK based aquarium this week, which was very positive. We are now working on getting his export permits sorted so we can make his aquarium home dream a reality!