New Arrival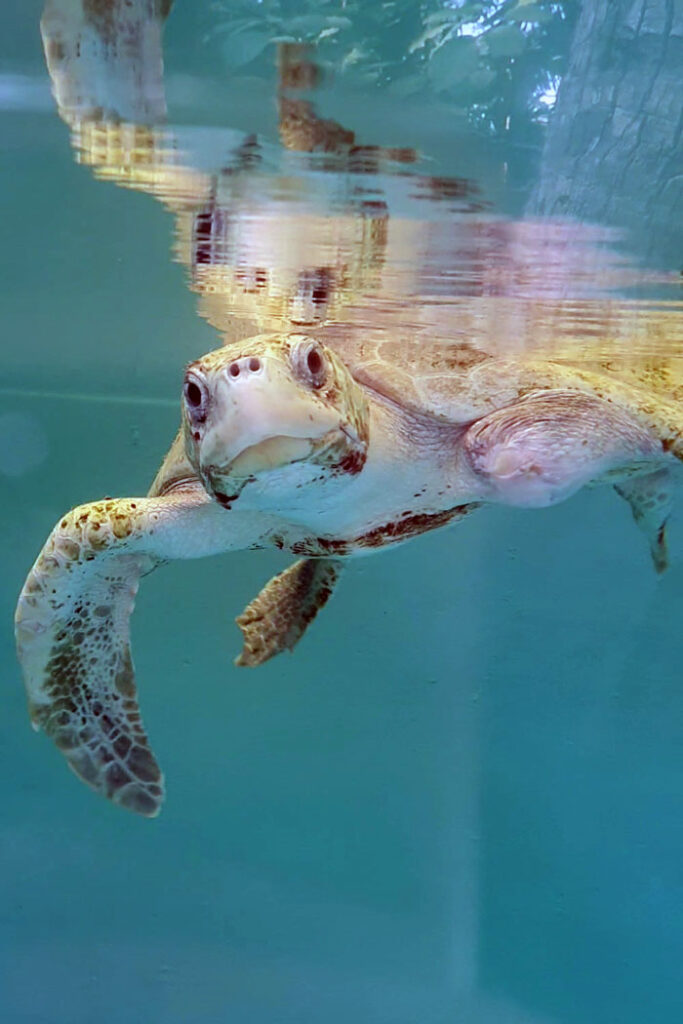 Xena is an adult female Olive ridley. She was found floating upside down and missing her left front flipper in Lhaviyani Atoll back in October 2019. She has been rehabilitating at Atoll Marine Centre all this while but recently started deteriorating, refusing food, losing weight and showing signs of shifting buoyancy issues. Xena arrived at the Marine Turtle Rescue Centre after a journeying on two sea planes and a speed boat!
On her first day she refused fish but she did eat 2 crabs quite vigorously – so that was encouraging. She had a full diagnostic workup, inlcuding x-rays and ultrasound and faecal analysis. We found evidence of a bone infection that has likely spread body wide. We started her on antibiotics and fluids, and we are monitoring her very closely, but we still have a way to go.
Xena has been very up and down since her arrival. She ate very well initially, but then was very lethargic the rest of the week. As of today, her appetite has thankfully picked up. She is noticeably more active around the tank so fingers crossed we are making progress!
The Resident Patients
Discovery – Arrived 7th February 2020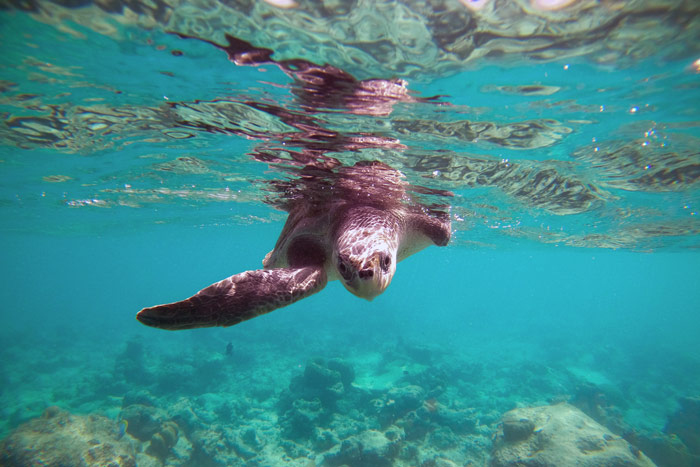 Disco has been her usual changeable self! Sometimes she has an excellent appetite and other times she spits everything out until you give her squid! The main thing is that she is always keen for food and chases it – it's just that once she gets it in her mouth, she seems to change her mind.
We recently took new x-rays to reassess what is going on. She has evidence of some pocketing of gas in her left lung, which is likely due to her long standing buoyancy. This is consistent with the clinical picture of her floating higher on her left side. She also had some evidence of gas in her intestines. To exclude parasites like flukes and other intestinal worms as being a feature in her gas and buoyancy issues, we gave her a worming course in October. For 3 days we fed her powdered wormer hidden in squid pockets.
Disco did really well on a recent sea swim even though the current was strong. She made a few attempts to dive down but of course she can't get far at all. However, she generally seemed to get off quicker and was calmer about things. Disco has also spent a week in the big tank – which she made good use of. We popped a bit of interesting rock at the bottom to see if she might be inclined to dive. She did have a bit of a go, but it is quite hard for her. We are currently devising a little weight belt to help pull her left side down. This is so that she can gain more purchase in the water and increase her confidence swimming.
Azura – Arrived 2nd April 2019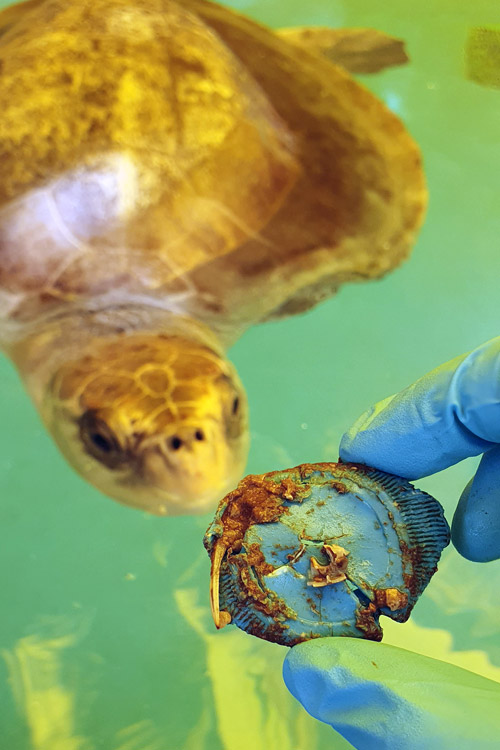 One morning this week we discovered something a little odd in Azura's faeces: over night she had passed a plastic bottle cap! The shocking part is that Azura has been with us for more than a year and she has not been exposed to any plastic like this. This probably means that the bottle cap has been in her intestines for over a year before she managed to pass it. Thankfully she was not showing any clinical signs associated with the ingestion of a foreign object, but it could have caused some serious damage. Azura was lucky, but many marine creatures who ingest plastic or other foreign objects are not so lucky.
We have been taking Azura out to swim every 2-3 days and she recently she dived to 7 meters with a dive time of 2.5 minutes – far deeper and far longer than she ever has dived before! She did that twice to the same depth and for the same time. This was the first time that she stayed comfortably at the bottom without floating back up quickly. It was amazing to see. But then we started to notice that, on the last few sea swims – despite very calm waters – Azura was not attempting to dive. And that it was because of her flipper, not because of her buoyancy issues. We repeated x-rays on and unfortunately found evidence of major degradation of her elbow joint – likely due to an infection. She has been started on antibiotics and anti-inflammatories and is already showing signs of improvement.
Heidi – Arrived 21st April 2018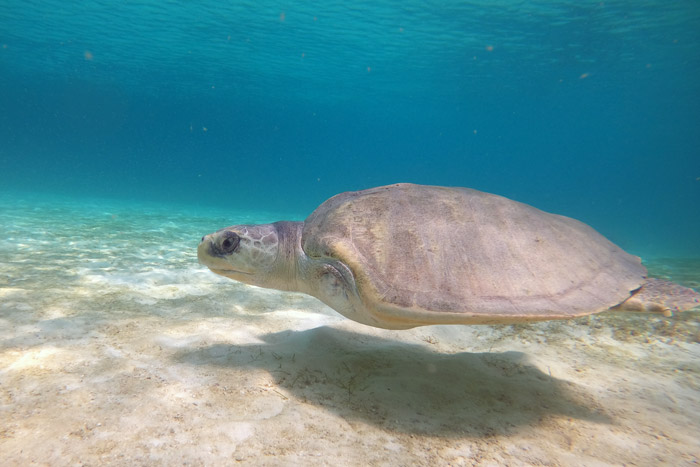 Lovely as ever, Heidi is always a strong eater so no change there. He has been on some excellent sea swims lately; he really loves them. It is really nice to see him in his element, foraging for corals and sponges on the seafloor, milling about amongst the sea grass and picking up overly large rocks and bits of coral.