Current Patients in Residence
Penny, Isla, Heidi,  Juanita, Nadia, Teddy, and Kamana
New Arrivals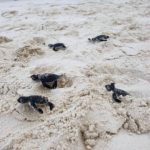 We welcomed several new turtle patients in October, including a green turtle hatchling from a nest that hatched on the island. Even though all the hatchlings from the nest became lost on the island, we were able to return them all, except one, to the ocean that same night.
Kokko
Kokko, one of the hatchlings, was attacked by a crab and had a deep wound to her back flipper. We took her to the Rescue Centre to treat her wound and give her antibiotics, however, she died a couple of days later. Hatchlings are very fragile. Even a small amount of blood loss is very significant to something that only weighs 25g!
Kamana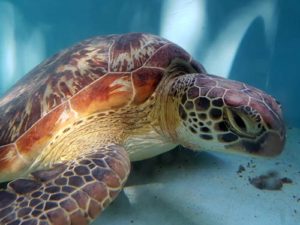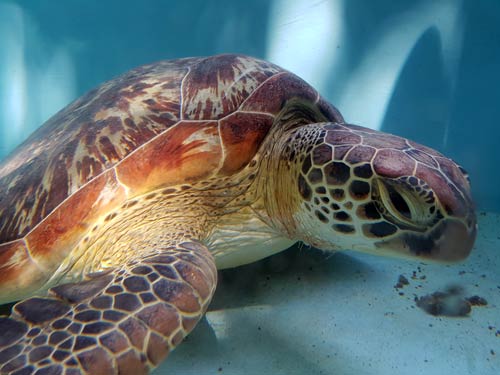 Kamana is a young female green turtle. She was found with a fishing hook deep in her neck near Four Seasons Landaa Giravaaru Resort in Baa Atoll.
Kamana is likely a victim of illegal hunting. The fishing hook entered from the outside and went deep into her neck. We performed emergency surgery the night she arrived to remove the hook. It was a difficult surgery as the hook was very deep, passing through two sides of her oesophagus. It was also lodged deep, close to important nerves and blood vessels.
She is recovering well in the Rescue Centre tanks, but she has not eaten anything since she arrived. We are collecting sea grass for her, offering her salad items from the kitchen, and even looking out for a jellyfish to see if this will tempt her! In addition, we covered over part of her tank to try and reduce stress levels in the hope she will be tempted to eat.
As she is not settling well into tanks, we are keen to release Kamana as soon as possible . Though her wound is looking good, her stitches are not quite ready to come out.
Kurt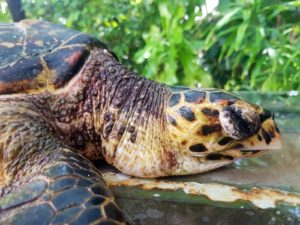 Kurt, a juvenile hawksbill turtle, was found close to Lux Resort in Ari Atoll, appearing to be "choking" underwater. He was so sick that he allowed a team of snorkelers to take him to the island and send him to us.
An x-ray showed that was suffering from pneumonia, stomatitis (mouth infection), conjunctivitis and widespread oedema (fluid build up under the skin). His shell was soft and he was generally very debilitated.
We gave Kurt a small sedation to examine his throat, however, there were no signs of anything stuck preventing him from breathing. Under sedation we could also examine Kurt's eyes properly: we removed a large piece of solid pus from his right eye. Due to Kurt's critical condition, and the likelihood that he would not eat, we also placed a feeding tube into his stomach.
Unfortunately, Kurt experienced bleeding problems after the feeding tube was placed, and his blood did not clot. We had to perform a second emergency surgery that evening to try and stem the bleeding. He also did not wake up properly from the sedation and was still sleepy 36 hours later. There was still a little bit of bleeding after the surgery, but not as much as before.
Kurt was unable to clot his blood even from a needle passing through his skin when we administered his various injections. He was breathing well and we treated him with various medications, but sadly Kurt passed away.
At post-mortem we found that Kurt had widespread fluid accumulation in his body and lungs, a bleeding disorder, which meant he could not clot his blood and was bleeding into his muscles and gut, a gut problem possibly caused by a parasite, and a liver issue. We did everything we could for this little turtle, but he was too sick to recover.
Teddy
Staff members at Six Senses Laamu Resort found Teddy with a deep cut in his neck and an eye infection. Teddy, a juvenile green turtle, was most likely injured as a hatchling by a natural predator, like a bird or a crab.
ORP staff at the resort gave Teddy basic medical care before transporting him to the Rescue Centre. When Teddy finally arrived, two speed boat journeys and two sea plane flights later, the neck wound had healed well. However, he was struggling to lift his head, which hinders his ability to breathe and swim normally.  We suspected that the injury damaged an important muscle.
After a couple of days at the Rescue Centre, Teddy's eye infection improved and he looked much better. We performed corrective surgery to repair and reattach the damaged neck muscle. He is so small (190 gr) that we used a cat vein cannula as an endotracheal tube to help him breath under anesthetic.
Now we wait and watch to see if the surgery was successful and he recovers successfully.
Released!
Chouchou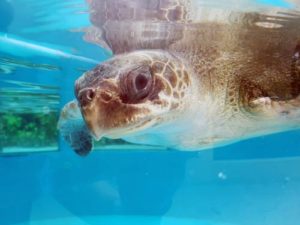 The story of Chouchou is a bit of a miracle story! She is a juvenile olive ridley turtle who was found entangled in ghost gear and plastic on a reef near Constance Moofushi Resort in Ari Atoll.
Chouchou was badly injured. The ghost net had nearly cut through one of her front flippers. In addition, she had a wound on one of her back flippers. After surgery to amputate the damaged flipper, Chouchou failed to recover normally from the anesthesia. She became very lifeless and lost her normal reflexes and ability to move. It was touch and go for 24 hours, during which time our vets had to help her breathe.
Once recovered from the anesthesia scare, she healed rapidly from the flipper amputation and overcame buoyancy syndrome in no time. She spent 48 days at the Rescue Centre and looked very happy to be back in the ocean.
The Resident Patients
Nadia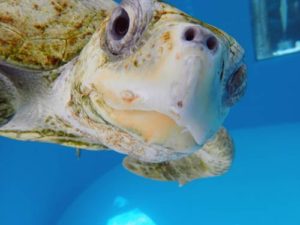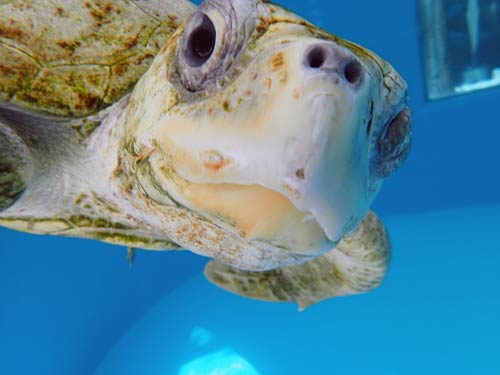 We are very excited that Nadia appears to have lost her buoyancy for the first time in 20 months! After suffering from buoyancy syndrome for almost 2 years, she suddenly dived down and started swimming along the bottom of her tank. Her buoyancy is still inconsistent; sometimes she appears to struggle to dive, but then a few hours later she is able to. We want to ensure she is fully recovered, comfortably resting at the bottom of the tank for a few days, before releasing her.
Heidi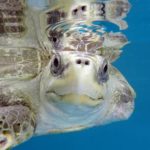 Heidi is much the same and is not using her front flipper yet.
Penny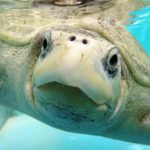 Penny is also the same, we are hoping she follows in Nadia's footsteps and starts diving soon.
Isla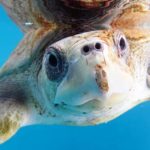 Isla is doing well but is still buoyant with no improvement recently.
Juanita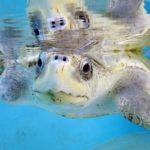 Juanita continues to be very buoyant and enjoys her meal times. She is, however, on a diet as she is a little overweight!