Current patients Marine Turtle Rescue Centre: Heidi, Arti, Kaushell, June, Laetitia, Fidji, Teddy, Bubbles, Bishy and Crash
Current patient Marine Turtle Rehabilitation Centre: Azura and Eve
Released
Beasty – Arrived 2nd December 2019, Released 6th January 2020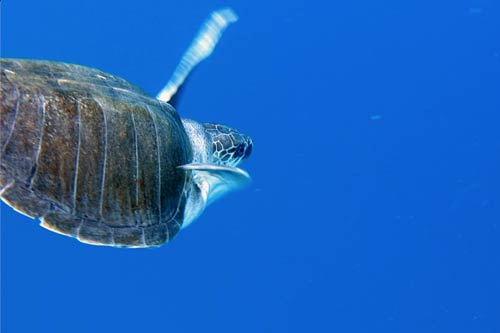 Beasty was was released along with Esther in a double release, accompanied by a boat-full of guests who wanted to see them off. Beasty didn't hang around – she went straight down into the deep, happy to be back home.
Esther – Arrived 8th December 2019, Released 6th January 2020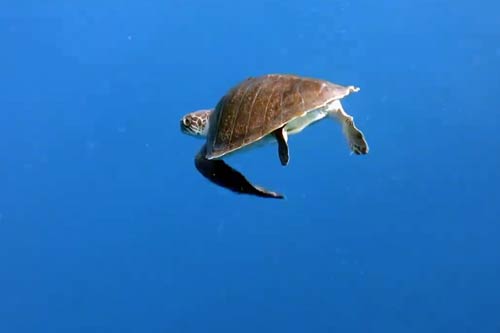 Esther was released along with Beasty. She also dived down straight away.
Transferred
Amal – Arrived 22nd November 2019, Transferred 6th January 2020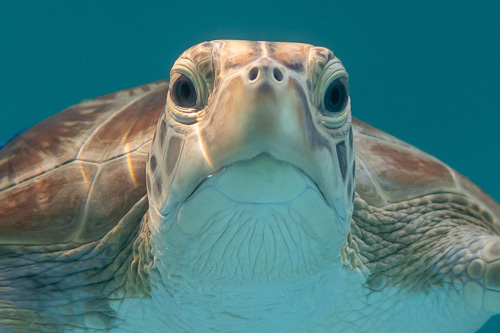 Amal was transferred back to Marine Savers at Four Seasons Landaa Giraavaru in Baa atoll for release onto her home reef. We'd like to think that she will miss her tank buddy Eve, but we have our doubts. She was released on 20th January 2020. Good luck Amal!
New Arrivals
Crash – Arrived 17th January 2020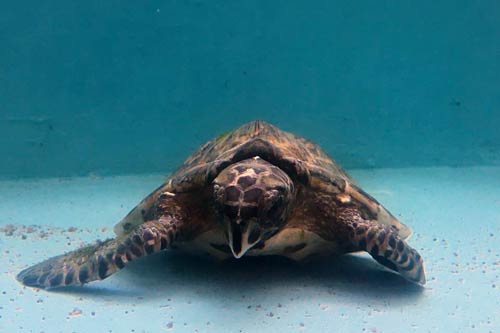 Crash is a tiny little hawksbill, weighing only 850 grams. She was found floating by a guest at Coco Palm Dhuni Kolhu, extremely week and emaciated. She has several wounds, including one at the base of her skull; her skull is actually protruding through her skin. She is also suffering an infection, as seen on the blood-work. We were not sure if she would make it through the first night, but she perked up a little after some fluid therapy. We have begun rehydration and hopefully she will eat soon, even though she is not keen on what we are offering. 
June – Arrived 23rd December 2019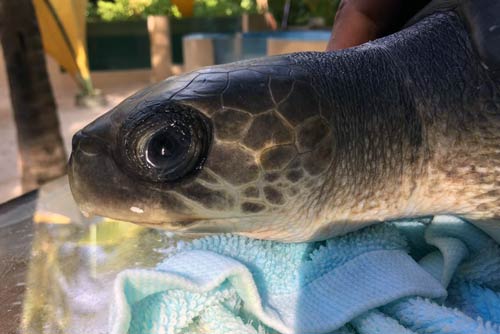 June, a juvenlile olive ridley turtle, was rescued from a ghost net in North Male Atoll and came to us via Cooco Palm Bodu Hiti. She arrived at the Rescue Centre by sea plane. She had injuries to 3 flippers.
Vet Jackie performed surgery on all 3 flippers and is hopeful that she has been able to save them. June was stable during surgery but a little slow to wake up from her anesthesia. She has recovered quite well, however. She is a tiny turtle with a massive personality! June has been eating well, and is continuing to heal from her injuries.
June dives right to the bottom of the big tank and is eating well. She had her stitches out this week and is getting ready to be released as soon as the last of her injuries heal.
Merry – Arrived 25th December, Deceased 28th December 2019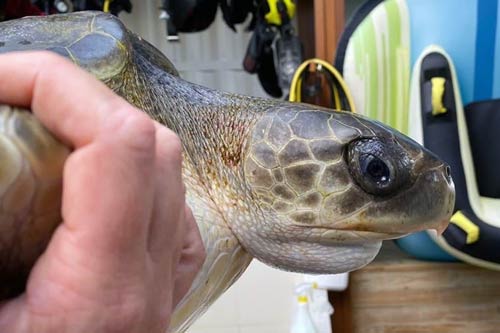 Merry, a juvenlile olive ridley turtle, was found floating in Baa Atoll by Westin Miriandhoo Resort. He had been struck by something hard and had a crack through his shell. He also suffered from buoyancy syndrome.
The radiographs showed he had a lot of air in his body that was compressing his organs and he was struggling to breathe. We tried decompression but the air filled up his body again very quickly, so we knew the lung tear must be substantial. Unfortunately, he passed away not long after arriving.
Xiko – Arrived O&O 25th December 2019, Deceased 5th January 2020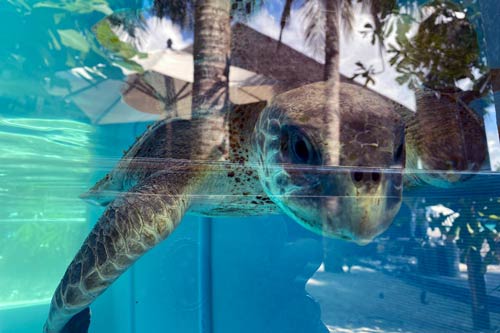 Ziko (pronounced as Cheeko) was spotted floating by a guest at One & Only Reethi Rah on Christmas Day. The guest informed the resort staff and our Sea Turtle Biologist and O&O's Marine Biologist went out and rescued the little guy.
When he arrived, Ziko was extremely malnourished and had very sunken-in eyes. He had also self-amputated his front left flipper, likely in a ghost net entanglement. The wound had healed, so Ziko was likely entangled for a long time.
Ziko had a very good appetite and appeared to be getting stronger every day. He did suffer from buoyancy syndrome, but was active and tried to dive all the time. Then he suddenly took a turn for the worse, refused to eat, and passed away. It turns out he had pneumonia.
Laetitia – Arrived 2nd January 2020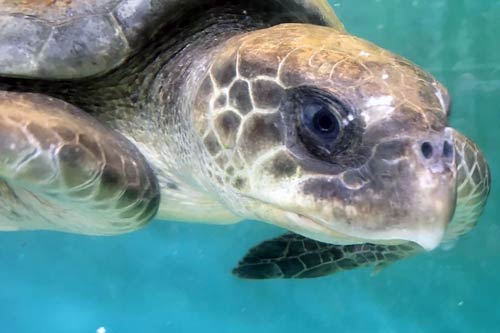 Laetitia is an a adult female olive ridley. She was found in a ghost net at Dharavandhoo in Baa Atoll that weighed almost 30 kg – nearly 6 kg more than her!
Laetitia was brought to us by speed boat from Soneva Fushi, who went out of their way to pick up Laetitia from the person who found her and transport her to us. Laetitia does not seem to have been entangled for a long time. She suffered one deep cut and a few superficial cuts and shell injuries where the net had rubbed. She does suffer from a mild form of buoyancy syndrome.
Laetitia is on anti-inflammatories and antibiotics and is having her wounds treated. She had surgery to have her wounds debrided and her nose repaired. A little bit of plastic surgery and now she looks a million bucks! Back in the big tank, she is enjoying the space and eating well. She will be released as soon as she her stitches come out.
Fidji – Arrived 6th January 2020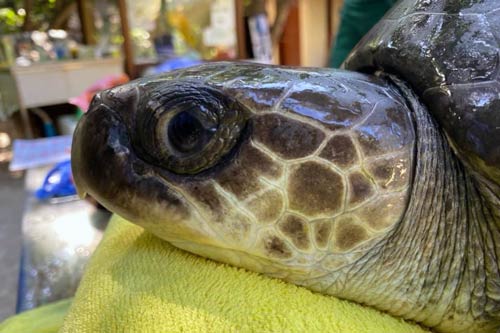 Fidji is a juvenile olive ridley turtle. He was rescued by Liquid Salt Divers, Dharavandhoo in Baa Atoll. He was entangled in a ghost net and trapped to a reef. Fidji had partly self amputated during his ghost net entanglement. When he arrived at the Rescue Centre, the front right humerus bone was exposed and the flipper missing.
Fidji had surgery on the 10th of January to remove the humerus and diseased tissue surrounding the bone. He made a speedy recovery from his surgery and is diving quite well. He is on a course of antibiotics to help him overcome an infection. Things are looking pretty good for him – is very feisty, enjoys his food and has recovered well from the surgery. 
Teddy – Arrived Arrived 8th January 2020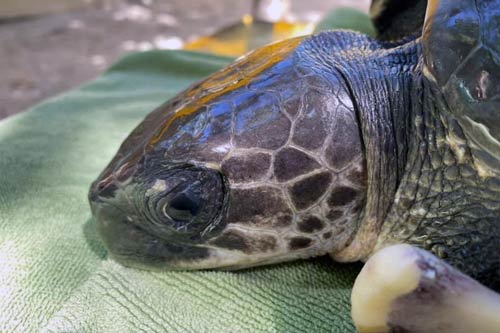 Teddy is a a small juvenile weighing only 4 kg. He was rescued from a ghost net in Baa Atoll by Seaside Finolhu. He had partially self-amputated in the ghost net. Vet Jackie performed surgery the day after he arrived to remove the exposed humerus bone and diseased tissue around the bone. The surgery went well.
Teddy is now on a course of antibiotics and is currently buoyant, but he is eating well. He should hopefully be diving soon. Unfortunately, his surgery site started to break down due to the lack of healthy skin. He will need a follow up procedure in the future. But he is bright and happy and continues on his antibiotics.
Bubbles – Arrived 8th January 2020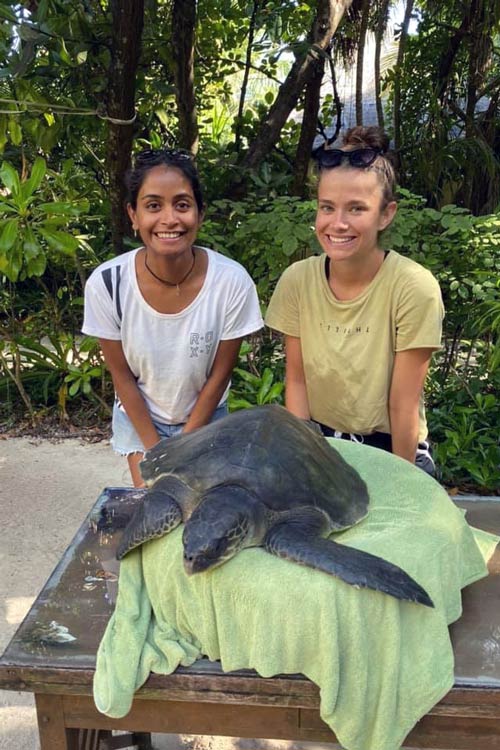 Bubbles is a juvenile olive ridley turtle who was rescued by Reethi Faru Resort in Raa Atoll – which is just north of Baa Atoll. The resort sent Bubbles to us by an emergency speedboat ambulance!
Bubbles was found entangled in a ghost net which cut into her front and back right flippers. She had a medical checkup and was started on antibiotics. She later underwent sedation to have her wounds treated and is now receiving ongoing wound care. She is eating and diving quite well, so hopefully she will be released soon.
Bubbles had a sedation and procedure to debride and try to repair some of her wounds. She is actually healing quite well, but with this procedure should hurry things along so she can be released sooner.
Bishy – Arrived 9th January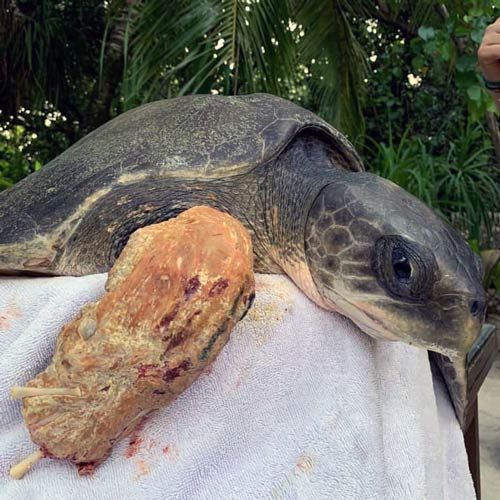 Bishy is an adult female olive ridley turtle. She was found in a very sorry state with her front right flipper severely decayed. She was brought to us by Soneva Jani Resort in Noonu Atoll.
Bishy was found entangled in a ghost net which cut into her front right flipper, leaving it lacking a blood supply so the limb died. She also had a deep laceration to the front left flipper and the back right flipper.
Surgery was performed on 11th January and the dead flipper was removed. The other front flipper was salvaged as best as possible and the back flipper was debrided and sutured.
She is also suffering from buoyancy syndrome but she has started to eat now. She does not like fish, but she loves prawns and likes calamari. She has long road to recovery as her many wounds require regular wound care, but at the moment she is cruising along ok.
Deceased
Shimmi – Arrived 23rd December 2019, Deceased 14th January 2020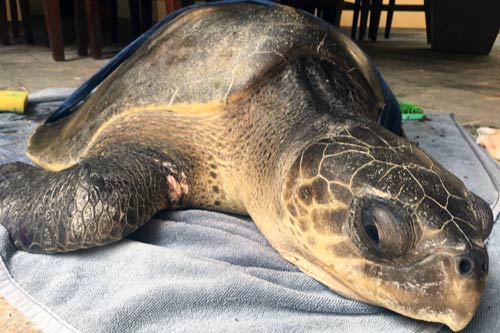 Shimmi was found entangled in a ghost net and suffered awful injuries to both flippers on her left side. The front flipper could not be saved and was amputated. The back one was partially amputated as she was already missing her foot. Her right front flipper was missing the tip as well, so looked quite short.
Shimmi had quite a rough start at the centre but she seemed to be quite a fighter. Everyday, she showed us more and more strength and resilience, regardless of what life threw at her. She got accustomed to life in the tank and ate quite well.
Unfortunately, she needed a second surgery to remove more of her back flipper and to tidy up the front flipper surgery site as this had broken down. She remained stable throughout the surgery, but she did not wake up from the anaesthetic. Vet Jackie helped her breathe throughout the night, but it seems that all her injuries and the surgery finally got too much for her.
An autopsy reveled that she suffered from blood poisoning, infection and pneumonia, brought on by the injuries she sustained whilst being entangled in the ghost net. We are devastated that she got help too late.
The Resident Patients
Kaushell – Arrived 30th October 2019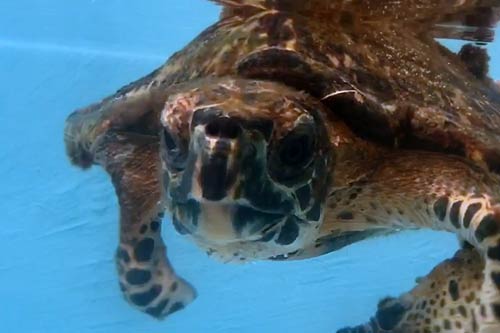 Kaushell continues to do well. She decided that she hates tuna for a while and she let us know this by spitting out her tuna without even attempting to eat it. She has now stopped spitting out her tuna, but even so we can tell she prefers her calamari. Often coming up to the glass to say hello, she is an inquisitive creature.
Azura – Arrived 2nd April 2019, Moved to O&O 16th October 2019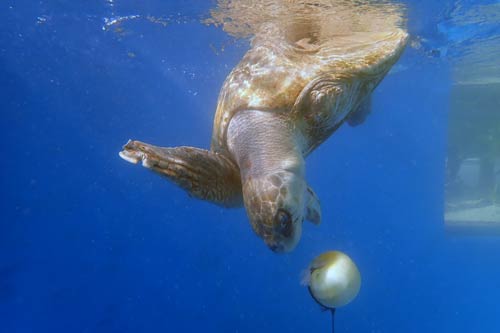 Azura has finished an antibiotic course for the bone infection in her flipper. Since her recovery from the infection she has been showing more and more progress with her diving during our lagoon sessions. She also has had a really healthy appetite!
To keep her motivated to dive in her tank, we attach food to a submerged buoy which she has to "hunt". And she really goes for it!
Arti – Arrived 27th February 2019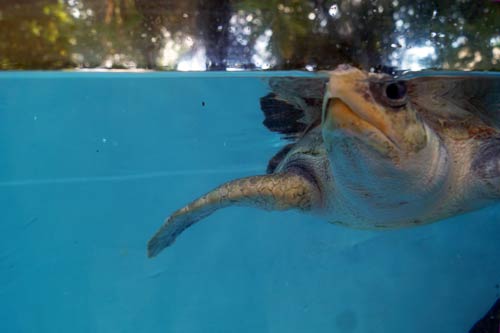 Arti is his amazing old self. He really enjoys himself in the sea on his oceans swims but is very happy to see Kaushell, his bestie, when he comes back to the Rescue Centre. Arti is a favourite among the guests. He is as curious as ever and we frequently catch him peering through the glass to see what we're up to.
Eve – Arrived 26th December 2019, Moved to O&O 15th January 2020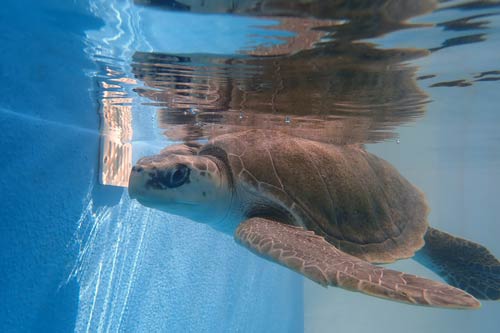 Eve has been well. She is on a diet and probably feels a little bit cheated, but has accepted it. And she has also been less fussy with her food lately – which means less wasted fish and cleaning for us.
She is getting physio for her flipper, and we're very happy to see her using the flipper more and more. She loves her muscle massage, and fell asleep during one session this week.
Eve was moved to the ORP Turtle Rehabilitation Centre at One & Only Reethi Rah on January 15 to free up space for critical patients at the Rescue Centre. She is sharing a tank with Azura, but we have to keep them separated. Eve will continue to receive physiotherapy daily to try to build up more muscle strength in her damaged flipper.
Heidi – Arrived 21st April 2018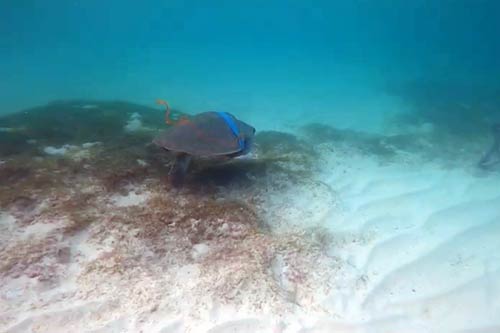 Heidi went for a swim in the lagoon this week and he had quite an amazing time! He was very excited and it was his best swim by far. He is still on his diet, and the exercise is doing him good.