We officially re-started our monitoring activities in Diani on February 1st! For the next 6 months, Biologist Leah Mainye will be coordinating the project on-site. Her job includes conducting surveys, expanding the area monitored and assisting with establishing new partnerships along Kenya's south coast. We are excited to have Leah back on the team, and have asked her to share her thoughts on returning to the project: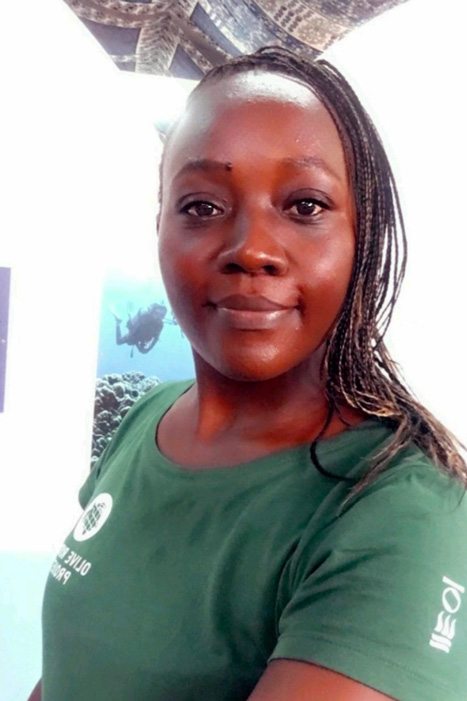 Coming back to ORP as a Project Coordinator was exciting on its own, but also overwhelming in a sense that new responsibilities were awaiting me, and much was expected of me. As a former In-Water Monitoring Assistant with ORP, my main duty was to conduct in-water surveys and assist with sea turtle photo-ID. As they say, "practice makes perfect", and I had mastered that skill. But after being off for more than six months, I wasn't sure of what to expect other than me trying to figure how to manage my time in the office and in the water. Back to diving again, getting to remember all the cleaning stations, the perfect spots for turtle, really excited me. But after all I was ready to take on this journey and with a good support system from the Project Manager, Dr. Joana Hancock, the transition was as smooth as could be.

Leah Mainye, Project Coordinator, Kenya
In addition to her main duties, Leah will also assist with sharing project news and conservation related information on ORP's and Marine Life Protectors's social media channels. This part of the job, she says, is helping her develop her skills to communicate conservation information to the general public. To learn more about how Leah became a marine biologist, read her blog entry from last year and it will show you how much love Leah has for the ocean and conservation
With Project Manager Dr. Joana Hancock still on site during the first week of the month, the team spent most of their time re-establishing contacts and defining work priorities. The rest of the month was dedicated to re-starting the reef monitoring, and our field work is slowly returning to a normal rhythm. We are delighted by the support we are getting to continue our work in Diani, especially from Diving the Crab  and its team, as well as the Marine Team from the Marine Education Centre and its volunteers, led by Jenni Choma, for allowing us to use the offices and joining efforts in the diving excursions.
The team is looking forward to the next months, where we hope to take advantage of the good diving conditions Diani offers!
Animal Protection Campaign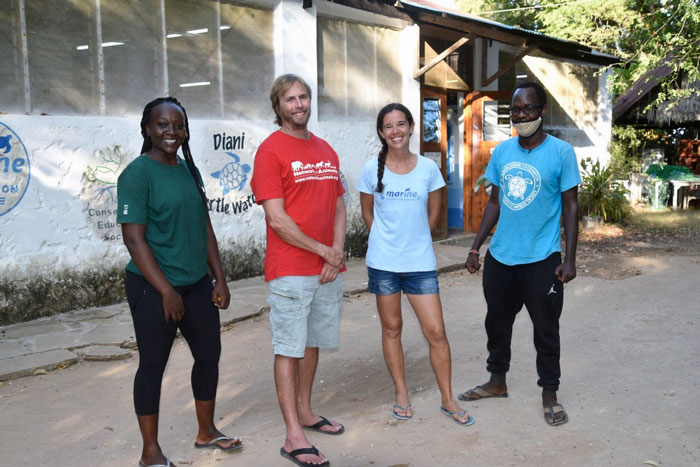 Together with the Marine Education Centre and Diani Turtle Watch, ORP were featured in a campaign for animal protection done by the Network for Animals and Politics for Animal Lobby. We are hopeful that through this, our voice as a turtle conservation organisation will be heard and the turtles will be protected from poachers and injuries due to net entanglement.
From left: Leah Mainye, ORP, Luke Barritt, Network for Animals, Jenni Choma, Marine Education Centre and Dempsey Mai, Diani Turtle Watch.
Turtle Photo-ID Project Update – February 2021
Turtle Sightings:
62 green turtles
7 hawksbill turtles
New Turtles Identified:
23 green turtles
1 hawksbill turtle
Top Sites For Turtle Sightings February 2021:
17 sightings at Milele
17 sightings at Galu
13 sightings at Kisima Mungu
Diani Turtle Population:

Galu
is home to 74 greens and 7 hawksbills
Milele
is home to 78 greens and 5 hawksbills
Kongo
is home to 78 greens and 7 hawksbills
Diani Turtle Sightings
Since 2018:
2,351 turtle sightings:
511 individual greens
63 individual hawksbills
In February we can report 69 sightings in Diani, which resulted in 7 new green and 1 new hawksbill turtles added to the database. This month we also expanded our monitoring to Chale Island, Papa Mashillingi and Waa dive sites, and we are pleased to announce that we have one new turtle from each site through the kind contributions of Julien Thomas, from Diving the Crab Dive Centre, and Denis Moser of DM Tours.
If you haven't done so yet, we invite you to read our short article in the African Conservation Telegraph about our project results and learn the importance of our work in Kenya.
Turtles of The Month
Sea Turtle Adoption Programme
As part of our Turtle Photo-ID programme, we offer adoptions of newly identified and still name-less sea turtles in Kenya. These turtles have been added to our database with only an identification code. When you adopt a turtle, you get to chose the name!
Your kind donation and symbolic turtle adoption will help us continue our sea turtle conservation work and research of the sea turtle population in Kenya. This research will, in turn, help us develop and evaluate conservation strategies aimed at saving sea turtles threatened by extinction.
Recently Sighted Adopted Sea Turtles
Thank you to all our adoptive parents – your support is very much appreciated!
Name And Adopt a Sea Turtle As a Gift or For Yourself
---
Partners & Collaborators
ORP Kenya is currently sponsored by Marine Life Protectors.
We would like to thank the Sands at Nomads for welcoming us back, and D.M. Tours and Denis Moser for supporting Dr Joana Hancock's trip and stay in Kenya.
---