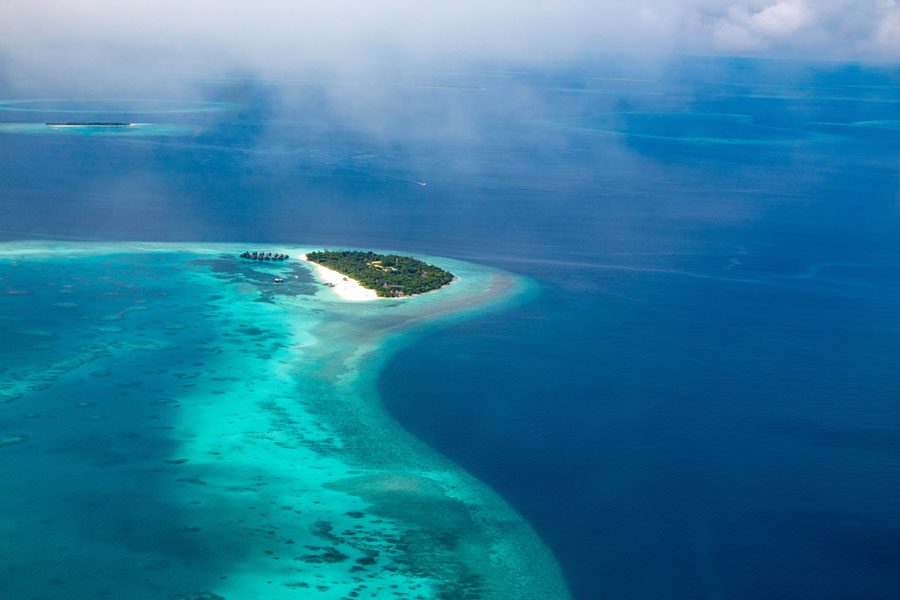 Our Visiting Vet Program has been a great success! In our first season, we welcomed five visiting vets to the Marine Turtle Rescue Centre. Our visiting vets brought new skills, medications and equipment that benefited our turtle patients and resident vets alike. In return, they got hands on experience working with wild sea turtles in a tropical location.
Our first Visting Vet was Sonya Miles from the UK, back in April. You can read about her experience here. We then welcomed Martina Konecny from Austria, followed by Shivananden Sawmy from Mauritius, Francesco Bengalia from Italy and, finally, Maria Livesey from the UK. We look forward to welcoming a new set of visiting vets next year. In the meantime, if you are wondering what being a Visiting Vet is like, here are Francesco and Maria's stories.
Francesco Benaglia – Veterinarian From Italy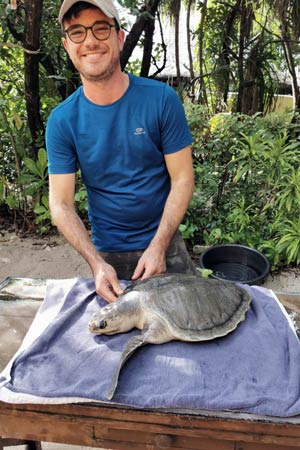 I had the great opportunity to join the ORP Visiting Veterinarian Program for two weeks and it was truly a memorable experience. I arrived in Malé on the 6th of October, from where a sea plane took me to Coco Palm Dhuni Kolhu. The views from the sea plane are really incredible! After landing Dr Jackie and the staff welcomed me and I went immediately to visit the Marine Turtle Rescue Centre.
The Centre was hosting five injured sea turtles at the time, and a small bird called "Gimpy ". The Vet Clinic is well furnished (x-rays, ultrasounds and surgery can be performed on the island), but I was more than happy to help Dr Jackie by bringing antibiotics, vitamins, pain killers, bandages, and other materials and medicines that sometimes can be very difficult to get. If I have the chance, I'd love to help the center in the future and try to organize more medical items like an endoscope and a ophtalmoscope.
During my staying I greatly improved my veterinary skills as I was always involved in all medical check-ups and treatments of the turtle patients. After work I was spending all the time snorkeling!
Non-Turtle And Turtle Patients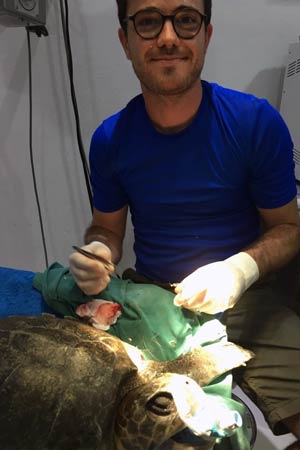 I remember especially the surgeries performed on Gimpy and Orla. Gimpy is a young white-breasted waterhen that suffered a very bad injury of his leg. Unfortunately, we had to be amputate the leg but he recovered very well from the surgery. He could returned to his family after two days of intensive care.
Orla is a beautiful juvenile olive ridley turtle that got trapped in a ghost net and arrived at the center 3 days before my departure. Both her front flippers were badly injured, and she was very weak. We stabilized her and performed x-rays and took blood samples and ultrasound. Luckily, there was no signs of bone infections or any other problems. The next day we put Orla under full anesthesia and sutured her wounds. She was still recovering at the Rescue Centre when I left, getting better and better every day.
It was very sad I had to leave, but I am already counting down the days until I can come back!! Thanks ORP!
Maria Livesey – Veterinary Surgeon From UK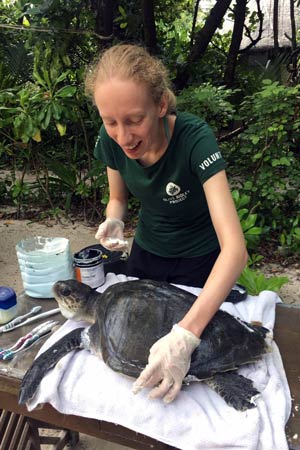 After a long plane journey to Malé, I got on a small seaplane to start my sea turtle adventure. As we flew over crystal clear sea and turquoise fringed atolls, my excitement and photo album grew! Once off the seaplane I was greeted by a young boy and employees in a boat to take me to the island. The young boy was a guest of the hotel who had come to help pick me up. He was very eager to show me how he could navigate us back and tell me all he knew about the turtles. I knew right then that everyone would make me feel at home.
Once we got to the island, I was greeted by Resident Vet Jackie and her intern, Hadhif. Both soon became good friends whom I watched sunsets with – and sang with on karaoke night!
Each day we had breakfast and dinner together from the guest buffet – which is amazing. I struggled to fit all the food I wanted to try on one plate every evening. Lunch was provided in the staff area; here I tried many lovely curries, sambal and cardamom tea. All the staff were lovely and I miss many of them. They made me feel particularly welcome during Diwali and let me try some homemade treats.
Work And Play As A Visiting Vet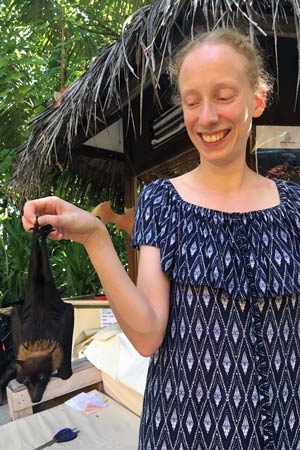 The days generally ran from 9 – 5pm, unless a patient needed extra care. Every day was exciting and interesting. During my stay I was given the responsibility of administering all inpatient medications and treatments. The clever turtles (especially K.G) knew exactly what my medication visits meant and promptly swam just out of reach! However, this meant I gained more experience in handling turtles safely and without causing undue stress. We also had an orphaned flying fox pup named Vlad that we took turns feeding in the evening (taking me back to my midnight orphaned lamb feeding days during university).
A severely emaciated and chronically debilitated juvenile Hawksbill turtle named Kaushell arrived whilst I was at the Rescue Centre. It was extremely rewarding to see a turtle go from almost unresponsive to swimming, diving and eating happily during my short stay. I gained a huge amount of experience in sea turtle critical care and triage.
During my time there I was lucky enough to release a turtle. Watching him swim away from the boat, healthy and happy reminded me exactly why I wanted to volunteer: To make a difference to our rapidly declining and endangered sea turtle populations, which as veterinarians we are in a unique position to make a direct impact.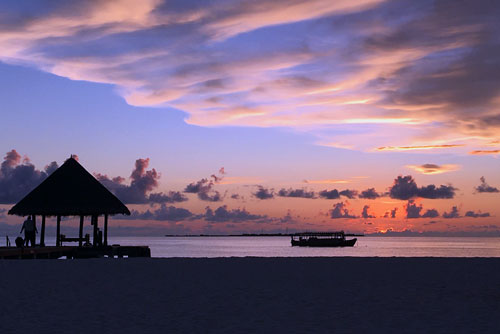 Every evening after a quick snorkel I would sit with Jackie, Hadhif and the volunteers and watch the sunset (sometimes with a well-deserved cocktail). I can't recommend this placement enough – it is a unique opportunity to work with sea turtles in the Maldives and gain hands-on experience in sea turtle medicine and conservation – all whilst making some lifelong friends, memories and new recipe ideas! Thanks ORP.