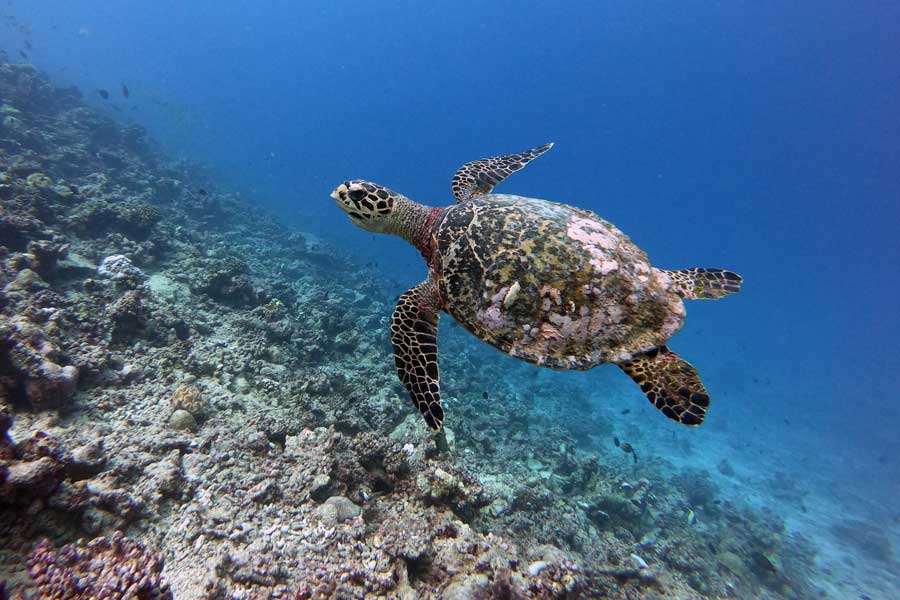 The whole experience was life changing, so much so that I have come home and resigned from my job of 28 years! It taught me that there is so much more to this life, and I intend to live it. We have a beautiful planet, and we need to fight to keep it, despite the odds!

Kim Simkins
They say things happen for a reason. 9 years ago, I came to the Maldives on holiday for the first time. I stepped off the seaplane, looked around at the crystal-clear water of a million shades of blue and the pristine white sand beaches, and declared that I had died and gone to heaven! I still have that same reaction every time I returns, and it feels like I have come home.
The Defining Ghost Gear Encounter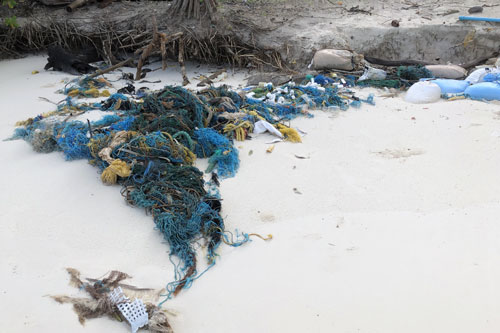 Three years ago, I walked along the beach at sunrise with a friend after a stormy night and spotted a large ghost net caught on the house reef with movement within it. Having abandoned common sense and stripped off to my underwear (much to my friend's disbelief!), I swam out and discovered two turtles caught up within the mesh. I freed one out on the reef, but the other was so entangled and weak, it could barely keep its head above the water to breathe. A monumental battle then ensued to drag the net back to the shore and keep the turtle breathing. I was determined it would not die on my watch! Other hotel guests rallied to help, and we eventually freed the net from the reef. We dragged it back to the beach, cut the turtle free, dressed the wounds with iodine and let it recover some strength before we released it back to the sea. Something changed in my life on that day as I watched it swim back into the ocean!
After some research, I learnt that it is mainly olive ridley turtles that become victims of these drifting ghost nets due to their migration patterns across open water. At that point, I became fascinated by sea turtles and am now known as the crazy turtle lady!
From Cow Wrestling Vet To Turtle Researcher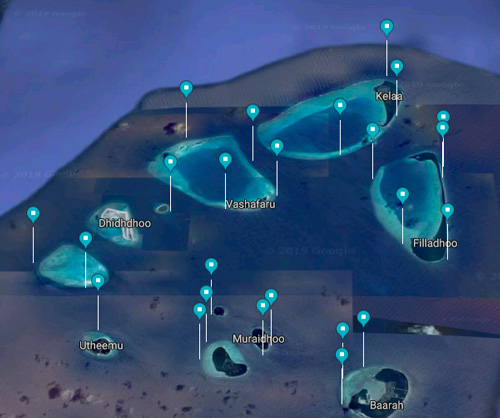 As a vet for 28 years, I was now determined to help save these amazing creatures, and by a weird twist of fate, discovered that one of my employees at the time knew someone working for The Olive Ridley Project. I made further enquiries, and a friend persuaded me that I should ask for a sabbatical from wrestling with cows, and head off with her to the Northern-most tip of the Maldives to volunteer to do a research expedition with ORP.
The research expedition was based in the Haa Alif atoll of the Maldives, a black hole in terms of previous research data. The project was designed to help fill the void of scientific knowledge in the area, and to understand the turtle populations and their behaviour in order to help conserve these wonderful and endangered animals.
A 3 Week Turtle Adventure in Maldives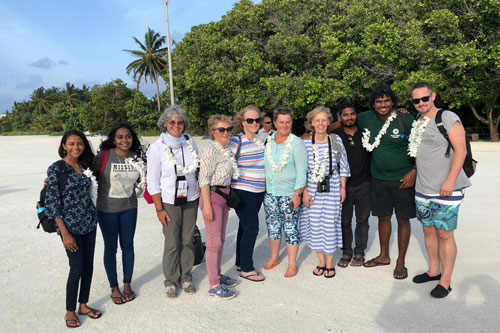 So, on the 1st July 2019 I arrived in Male airport with 2 friends and met up with 3 other volunteers from the USA to begin our 3-week turtle adventure. We met our leaders and were guided to the domestic terminal where we were somewhat perturbed to be weighed alongside our luggage! But having seen the small propeller plane we were travelling on, it finally all made sense! Our 3rd flight delivered us to the tiny airport of Hanimaadhoo and we transferred onto a speedboat for the last 30mins to our final destination.
After a gruelling 26hrs of travelling, we finally arrived at the local island of Kelaa. We received a warm welcome from the local community with garlands of flowers and were transferred alongside our luggage on top of a pick-up truck to our accommodation courtesy of Holiday Home Kelaa.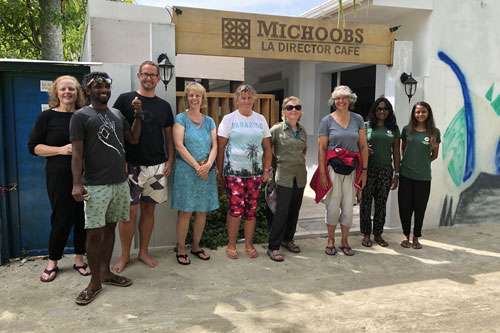 Our accommodation was a pleasant surprise, I had visions of a dormitory in a mosquito infested hut with no running water! We actually stayed in lovely air-conditioned rooms with hot showers and were treated to exceptional hospitality and some great food, courtesy of Michoob's, La Director Café.
An Action Packed Research Expedition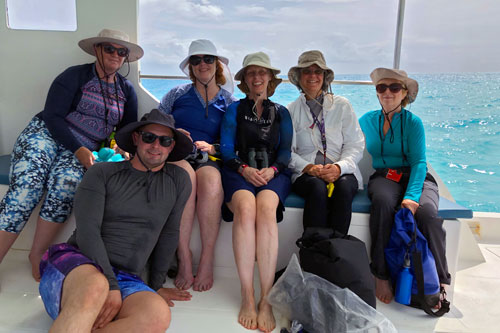 The research expedition was action packed. Our first day introduced us to the island, a real taste of the proper Maldivian culture. We were impressed how welcome we were made to feel, we visited the school and met the local council and IDEAS who partner ORP in helping to run this expedition. It is so refreshingly laid back and unspoilt compared to our hectic lives in the UK.
We set off on our wonderful expedition boat (The Manta Ray), with our capable Captain and his cheerful and incredibly efficient mate, and had a practise survey line to learn how to spot turtles and record relevant sightings information before the really serious work started the following day.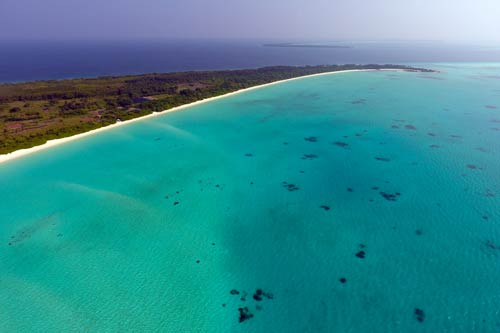 The main sandy beach and lagoon were fantastic, I walked 1.5miles each way along the beautiful white sand and blue lagoon before breakfast every day, all the way to the southernmost tip of the island and back. Baby sharks, stingrays, hermit crabs and even dolphins to keep me company along the way!
The Problem Of Marine Debris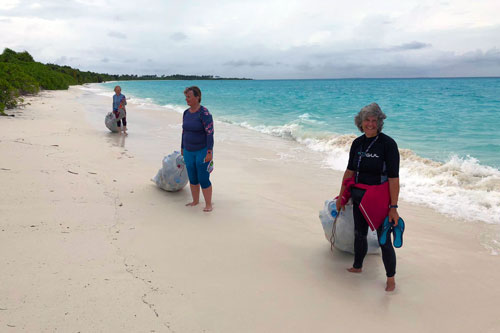 We soon realised that the problem of plastic and rubbish was a huge one, and we used our beach walks to help clean up the island during our time there. It was also great to be able to get involved with the local community on an official beach clean-up on our day off. 50 willing volunteers helped to clear one small part of the rocky coral beach, and collected 350kg of rubbish in little over 45minutes. It was literally a drop in the ocean compared to the scale of the problem, but we were proud to be able to help the local people make a difference to their beautiful island.
Turtle Photo ID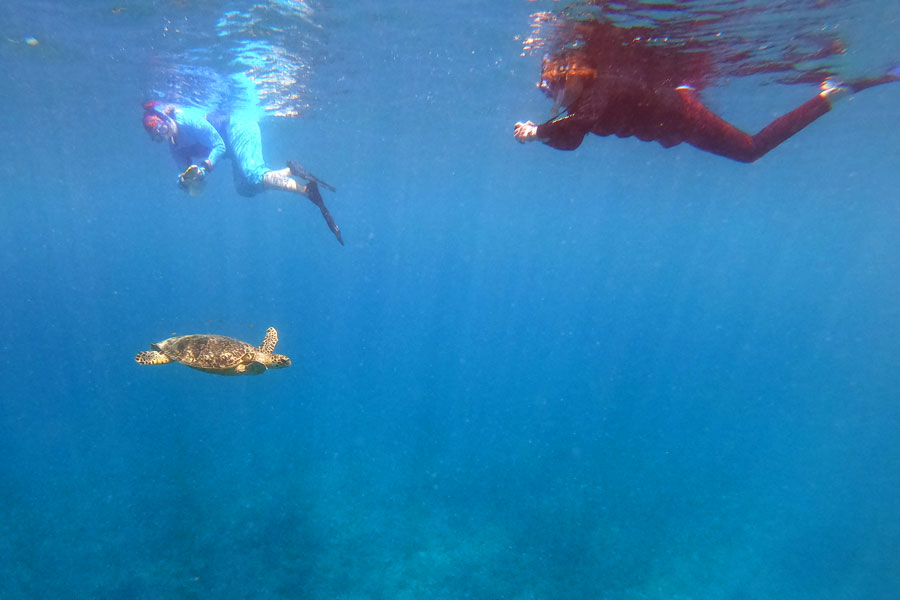 Each day we went out on the Manta Ray to survey different local reefs. Our job was to spot any turtles (green and hawksbill) so the research expedition leaders could photograph their faces, and then in the evening we could upload these pictures and look to see if we could recognise these turtles by their unique facial markings. It was hoped to discover how many turtles were living around the area and see whether they were permanent residents or moving between islands. We also recorded numbers and size of any megafauna such as dolphins, sharks and rays, of which we saw lots of different species. This information was also uploaded to databases to help understand local population dynamics.
Ghost Gear Recovery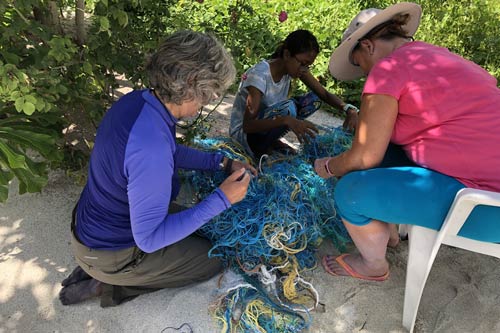 We also recovered any ghost nets we found along the way, luckily not finding any fauna trapped in them. By identifying and cataloguing the nets found, it is hoped to establish where they are coming from so a strategy can be developed to prevent the problem.
Exploring Maldives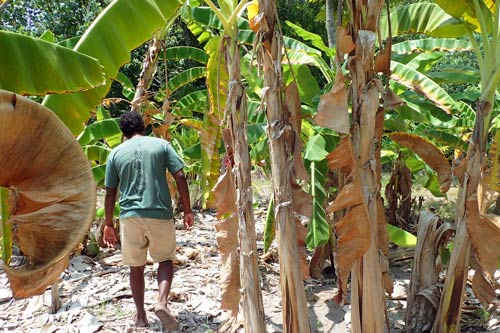 We loved exploring the rest of the island, interacting with the locals, and learning about the local culture and agricultural practises. We were also not averse to reverting to our childhood exploring the rockpools at low tides and admiring the shells and corals along the beaches. In addition we compiled a list of fish species seen in the area (294 species in total), it was amazing to see how different islands supported different species and populations and to compare that to what we had seen in the more Southern Atolls. The incredibly vibrant and beautiful Blue Tang was my favourite, my first sighting in 9 years!
We spent a lot of our time snorkelling in the water exploring lots of different reefs. We covered approx. 26.5km of reef during our stay. It was interesting to see how different they all are and also quite sobering to see the devastating effects of global warming at first hand. Coral bleaching is a serious consequence of rising sea temperatures, and it was clear the devastating impact this is having on all the ecosystems in the area.
Monsoon Sets In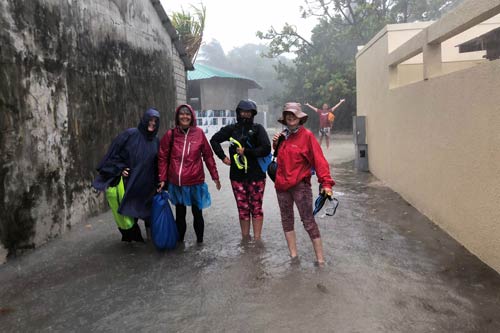 We also experienced the full force of the monsoon in our last week on the island which seriously curtailed our boat surveys, but even the weather couldn't dampen our spirits in such a beautiful place. We splashed and paddled our way through the streets to breakfast, embracing the amazing force of the natural environment. It gave a good opportunity for further beach clean-ups, so time wasn't wasted even when we couldn't get out on the boat!
Walking the beach by the light of the milky way on the last night, with glowing plankton specs on the water's edge was a wonderful experience. And despite the rain, the sea temperature never dropped below 29degrees, so who cares if you are wet?! Even wind and rain wasn't going to stop me enjoying my beautiful barefoot beach walks in a morning!
A Life Changing Experience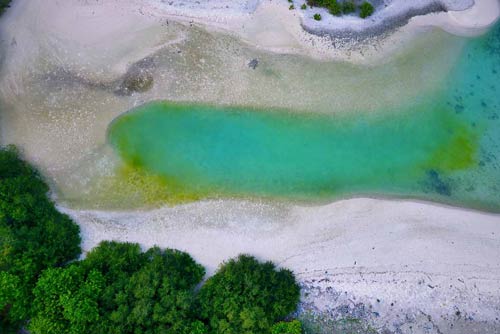 It was an incredible 3 weeks, learning new skills, meeting some wonderful people and interacting with the local community. Kelaa is a very special place, I learnt so much about the country, the wildlife and also about myself during this time. The whole experience was life changing, so much so that I have come home and resigned from my job of 28 years! It taught me that there is so much more to this life, and I intend to live it. We have a beautiful planet, and we need to fight to keep it, despite the odds!
I also intend to return to the Maldives to follow my passion for turtles and for the sea. It really does feel like my spiritual home…….
Just Join The Research Expedition!
Anyone who has doubts that they can do this research expedition should think again. I learnt to throw myself into deep, and sometimes rough water. In overcoming some personal fears, swimming bravely into the unknown, I did not only not drown, but I had the most amazingly fulfilling experience. I pushed myself beyond my comfort zone that I have lived in for so long, met some amazing and inspirational people, and have reignited my passion for life……..
So, all I can say is just do it! Join the research expedition and volunteer with ORP, you won't be disappointed!