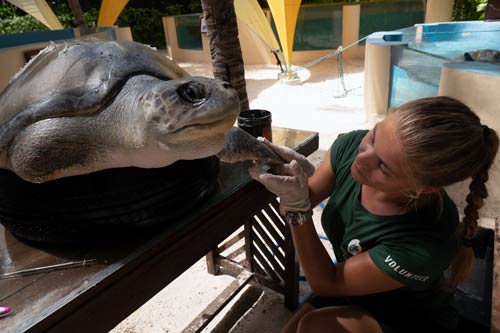 Kim Hildebrandt, the 2019 Rolex Scholar of the Our World-Underwater Scholarship Society, is a 3rd year Veterinary Medicine student from Germany. She spent two weeks at the Olive Ridley Project Marine Turtle Rescue Centre in the Maldives in July 2019. She found it to be an eye-opening experience and a fantastic opportunity to gain insight in this niche field within Veterinary Medicine.
The Rolex Scholarship
The Rolex Scholarship is a year-long scholarship for young students who are passionate about the underwater world, and gives me the opportunity to join projects, institutions, organisations or people, whose work I find inspiring, in order to learn from them and gain valuable practical experience.
As a veterinary student and an enthusiastic scuba diver, I am particularly interested in the rescue and rehabilitation of marine animals, and the Olive Ridley Project's Rescue Centre was therefore the perfect facility to experience what work in this field is like. The Rescue Centre is quite unique: it is a well-equipped veterinary clinic and rehabilitation centre specifically for sea turtles; it has an on-site veterinarian; and it is located in an area where there is a strong need for such, due to the frequency and severity of injuries in sea turtles. This presented as a promising learning environment and a place well worth supporting as a Rolex Scholar.
Assisting the Vet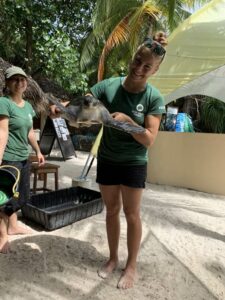 During my stay with the Olive Ridley Project I assisted the onsite veterinarian, Dr Jackie Reed, in the daily running of the Rescue Centre for two weeks. This consisted caring for the patients, including assisting with their treatments, educational activities and monitoring of hatching events. I was taught many clinical and practical skills. I also improved upon my existing knowledge on sea turtle ecology, conservation and medicine.
The daily routine consisted of the treatment with antibiotic injections, feeding of the turtles, cleaning of the tanks and education of the visitors which came to watch the turtle feeding at the centre. Weekly, the turtles are weighed to adjust their diet. Fortnightly they are also cleaned from algae growing on their scutes (on their carapace) and scales with brushes and toothbrushes, a job which normally cleaner fish would do in the ocean.
I was able to follow many interesting veterinary procedures, and at times participate myself under close supervision. Procedures included wound treatment, antibiotic injections, physio- and laser therapy to regain range of motion in extremities with scar tissue, radiographs to diagnose osteomyelitis, and diagnostic histology of blood and tissue smears to check for anaemia or hypoproteinaemia.
An Eye-Opening Experience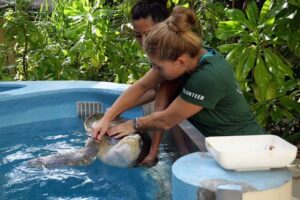 By being so involved I got to learn about the differences in the anatomy, physiology and pathology of reptiles compared to mammals, which was a fantastic opportunity to gain insight in this niche field within veterinary medicine. As with all vet schools throughout the world, Germany focuses mainly on the study of mammals. It was also a very eye-opening experience to see how the entanglement in ghost nets harms sea turtles, and at the same time it is fascinating how well they can heal and cope with the handicap of a missing flipper, for example.
Public Outreach
Another very new aspect for me was the public outreach within the resort, Coco Palm Dhuni Kolhu, by which we tried to educate and inspire people about the importance of sea turtle conservation, how to live sustainably and ghost net prevention and removal. We organised a new event "Turtle Tuesday", for which we developed fun games, quizzes and colouring events for both children and adults, and in the evening I also held a presentation on sea turtle conservation and the Olive Ridley Project´s work for the resort guests.
Turtle Nest Hatching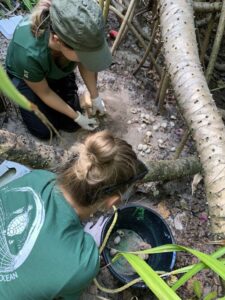 I was also lucky to witness a green sea turtle nest hatching one (sleepless) night. We had seen a hole develop at the nesting site about two days before the actual hatching, which indicated movement under the sand. One baby turtle hatched at sunset, while the others waited until the moon was above the nest, before they started to clumsily make their way to the ocean. Two days after the hatching we dug up the nest to check how many hatchlings had left their empty egg shells, how many were premature and how many eggs were non-viable. And fortunately, we found two more healthy hatchlings in the sand that we could then release to the ocean.
Beneficial Fun & New Friends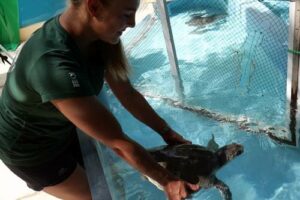 I've really enjoyed the two weeks that I have spent in the Rescue Centre with the Olive Ridley Project. It was a lot of fun and a really valuable experience. I also got to share this wonderful fortnight with two other volunteers from different countries, and we've really become close friends. The knowledge I've gained about sea turtles, their treatment and conservation, as well as the skills in the handling of them, will help me a lot in my future endeavours, possibly as a marine wildlife vet.
I would like to thank the Olive Ridley Project and Coco Palm Dhuni Kolhu so much for this opportunity and hope that all the turtle patients I got to know personally will make a quick recovery and will be released to their home soon.
Volunteer With ORP
Have you been inspired by Rolex Scholar Kim's experience to volunteer at the Olive Ridley Project Marine Turtle Rescue Centre? Our volunteer program runs throughout the year and no previous experience is required.