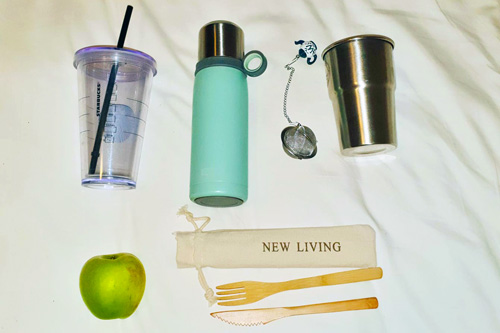 We understand that not everyone has the time, patience, or money to go plastic free. In the final article in our blog series on how to reduce your plastic waste, we give you the top five easiest, one-time changes you can make. Making small changes like these is effective and contagious: using reusable in front of friends and colleagues starts conversations and has ripple effects. Its also a little bit addictive – once you notice the plastic in ordinary items you start to make changes throughout your life! Read the other articles on how to reduce your plastic waste here.
1. Get A Reusable Water Bottle
No matter where you are going, always bring a refillable water bottle. In the UK, cafés and restaurants are legally required to give you free tap water. In many countries, free water dispensers are available in malls and public areas, as well as in airports. Refilling your own water bottle saves money and plastic – a win win! This will be a one time small expense, saving a ton of plastic!
If you prefer to drink only bottled water, buy charcoal to clean your tap water to the same standard as bottled water. These sticks last for 6 months, and to 'refresh' them, you boil them for 10 minutes. They do come wrapped in plastic, but if you use bottled water all the time, it is still reducing your single use plastic consumption.
2. Bring Your Own Bag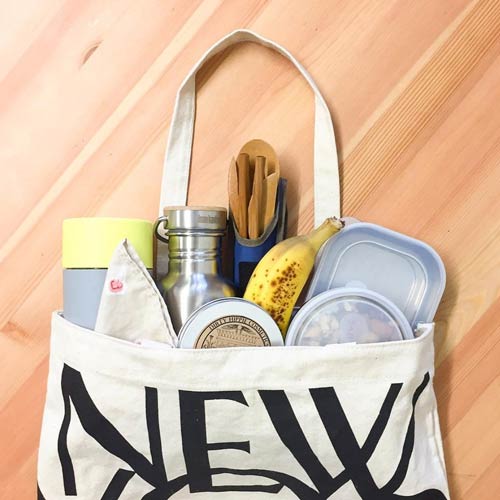 Always keep a couple of folded up canvas bags in your backpack, bag or car (so you don't forget them). This means that if you must buy something unexpected, you don't have to use plastic bags to carry the items home. Canvas bags are often given away for free at stall and events. Keep a stash of them at home (and bring them when you do your weekly food shopping too). They don't need to be fancy tote bags, they can be reused plastic bags, bags for life, even the cheap £1 fold-up bags you can buy at checkouts. It all makes a difference!
Visiting a local farmers markets is a great way to both support local businesses and buy loose vegetables and fruits not wrapped in plastic. Bring your own 'bag for life' or tote bag and your produce will be plastic free. Cloth produce bags are great for storing your produce, especially if you want to keep things separate to ensure they're not squashed. Bringing a cardboard box is another very cost effective and efficient method of carrying your produce home.
Alternatively, if you have scrap cotton at home, you can easily make your own cloth produce bag for next to nothing. If you're not good with a needle, you can even make cotton produce bags out of old t-shirts: All you need are scissors! This is a great way to upcycle too and takes only around 5 minutes.
3. Get A Refillable Coffee Cup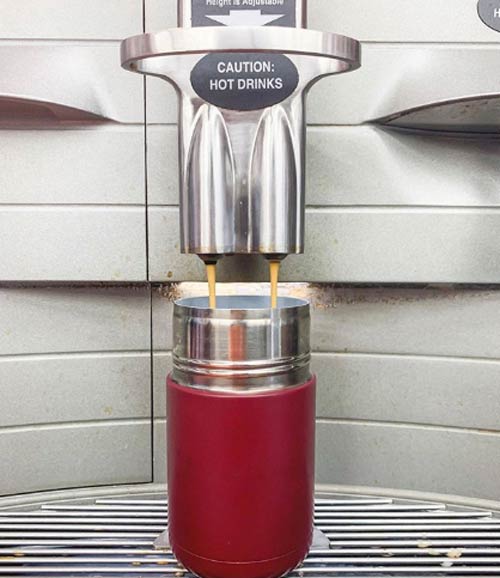 If you are a coffee or smoothie lover, having a flask or reusable coffee cup is a great idea. Some coffee shops even give you a discount if you bring your own cup! There are many 'fashionable' alternatives to single use coffee cups. Some are even made from recycled take- away coffee cups!
There are no spill coffee cups available too, and tumblers, if you prefer cold drinks like smoothies and ice coffees. Companies such as Chillies, Klean Kanteen, and Hydroflask offer products that keep your drinks hot for 12 hours or cold for 24 hours. These options are pricey, and it is not necessary to buy these to be sustainable, but if you like to keep your cold drinks cold and your hot drinks hot, these bottles are ideal. As is often the case, you also get what you pay for; the more expensive ones are great quality and will last a long time. Many of the brands even make it possible to just buy the lid or just the bottle if you lose one or the other.
It is often possible to buy coffee cups from your local cafes and coffee shops too. These are usually cheaper than the ones shown here. Although they will not have the same insulation technology, they do the job of cutting down plastic!
4. Reusable Menstrual Products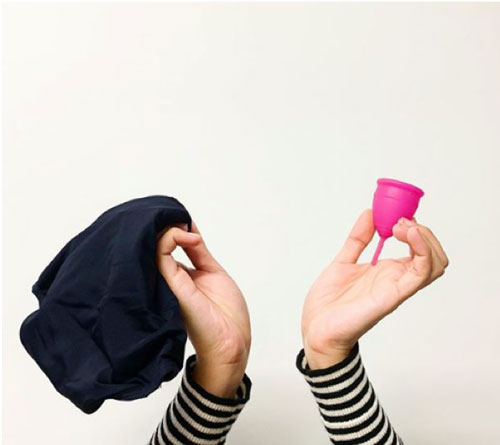 Sanitary products along with their packaging generates more than 200,000 tonnes of waste per year and they all contain plastic. Sanitary pads are around 90% plastic, so reducing this is a huge step to reducing your impact!
Many women who have tried reusable menstrual products are completely converted. It can be an expensive when you first purchase them but it feels cleaner, its more comfortable, doesn't take up room in your bag and there's no need to buy sanitary products every month!
There are three options out there now:
Menstrual Cups: Mooncups, OrganiCup, The DivaCup – there are several brands out there. A menstrual cup is a silicon cup that collects the blood, and you wash it and reuse it. It is recommended that you buy two cups, and to sterilize each between uses to reduce the chances of Toxic Shock Syndrome (TSS). You can buy them in the supermarkets and in retailers such as Boots. They are expensive at first, but will save you money and you won't have to remember to restock. Menstrual cups are as effective as sanitary pads and tampons.
Cotton Sanitary Pads: There are so many options online, with so many reviews. These are made of fabric, and you wash between uses. They are more comfortable, more absorbent and affordable.
Padded Underwear: SheThinx are the leading brand in menstrual underwear, with lots of variety for colours and absorbency. There are other brands out there such as Modibodi, Lunapads. They are expensive, there are cheaper options on eBay but the quality is not the same. They do not leak and are quick to absorb, and can even be worn as normal underwear.
5. Purchase a Wash Bag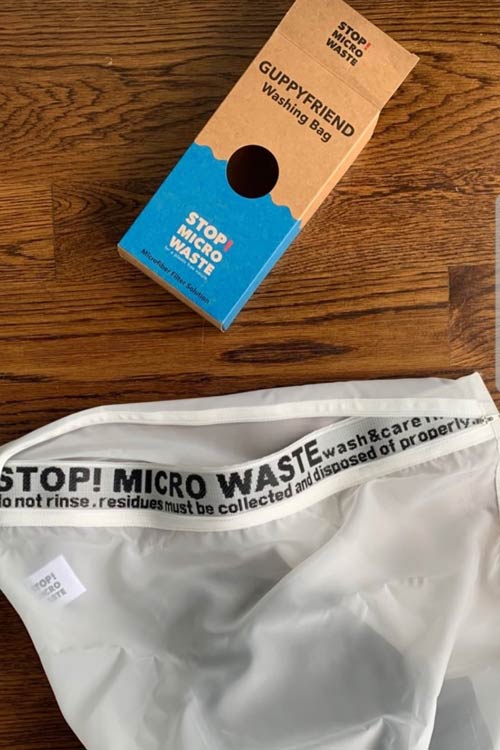 Although the Guppy Bag is expensive at £25, we have put it in our Top 5 because it is a one time purchase that prevents microplastics in our oceans. It means you don't have to change your shopping habits or buy clothes out of your budget to keep plastic out of the water. Place the clothes containing plastic inside the Guppy Bag and it will collect the microfibers that were removed in the washing process. It also helps your clothes last longer and it is 100% recyclable. Its easy and effective!
What were you favourite choices of our Plastic Free Blogs? Do you think our suggestions were useful? We would love to hear your thoughts and start more conservations on reducing our impact. Contact us on Facebook or Instagram. And remember, every little helps!
Disclaimer
References in this article to any specific commercial products by trade name, trademark, manufacturer, or otherwise, does not necessarily constitute or imply its endorsement, recommendation, or favouring by the Olive Ridley Project. The views and opinions of authors expressed herein do not necessarily state or reflect those of the Olive Ridley Project and shall not be used for advertising or product endorsement purposes.