Job Vacancy in Pakistan for a Part-time Project Coordinator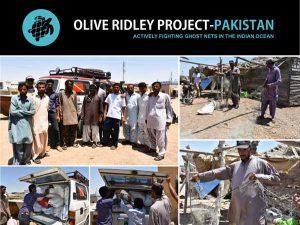 Position: Project Coordinator
Start date: 1st May 2018
Duration: 1 year with possibility to extend
Salary: 250 USD per month (2 days per week – 16hr)
There will be an 8-week probationary period, followed by a performance review. Performance reviews will take place every 6 months afterwards.
The Organisation
The Olive Ridley Project (ORP) is dedicated to removing and reducing the number of derelict fishing nets in the Indian Ocean and to protecting vulnerable marine turtles that fall victim to this ghost gear and habitat destruction. We achieve this by training volunteers to remove derelict fishing gear, safely rescue trapped animals, recording important information about the gear and animals entangled in it and working alongside fisher to find solutions to ghost gear issues and environmental protection. Furthermore, we conduct research using Photo-ID methods to look at population stability, nesting activity and spatial distribution nationwide in the Maldives. We have one of the largest turtle-ID databases in the world with just over 13,000 observations and work with an international team of experts to better develop and standardize the method.
Job Description
Responsibilities will include but are not limited to:
Management of in field supervisor at Rehmangoth fishing community
Oversee artisan project – ghost gear to bracelets
Oversee data collection
Establish new partnerships and collaborations
Continue and manage educational activities
Requirements
The successful candidate will possess the following qualifications, experience, and skills:
Fluent in spoken and written English and Urdu
Excellent communication skills
Ability to work independently and as part of a team
Knowledge of, and a passion for, the marine environment and conservation
Knowledge of sustainable waste management.
Assets
Experience working in a remote location with limited resources
Experience handling medium sized data-sets, Excel, PowerPoint, etc.
Marine biologist
Grant writing
Please send a CV and cover letter to Martin Stelfox at martin@oliveridleyproject.org before 15th April 2018