Exciting Opportunity to Work for the Olive Ridley Project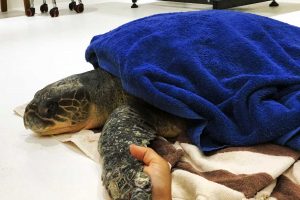 Position: Paid Internship (Maldivian nationals)
Start date: 8th August 2018
Duration: 3 Months with the possibility of extending
Location: Baa Atoll, Maldives

Learn About Sea Turtle Care and Conservation, Veterinary Medicine and Sea Turtle Surgery.
We are looking for an intern to assist our vet at the ORP Marine Turtle Rescue Centre at Coco Palm Dhuni Kolhu in Baa Atoll. The successful candidate will have a passion for marine life, especially for sea turtles, and for conservation. He or she will be of Maldivian nationality and above the age of 18. In addition, being enthusiastic, hard-working, and keen to learn about sea turtle biology and care hands-on are a big bonus.
We provide accommodation, meals and a monthly stipend to the successful candidate.
To apply for this position, please email our sea turtle vet on vet@oliveridleyproject.org with your CV and a brief explanation of why you think you are suitable for this role. You can also use the same email if you would like more information about this opportunity.
The Organisation
The Olive Ridley Project (ORP) is dedicated to removing and reducing the number of derelict fishing nets in the Indian Ocean and to protecting vulnerable marine turtles that fall victim to this ghost gear and habitat destruction. We achieve this by training volunteers to remove derelict fishing gear, safely rescue trapped animals, recording important information about the gear and animals entangled in it and working alongside fisher to find solutions to ghost gear issues and environmental protection.
Marine turtles caught in ghost gear frequently suffer devastating injuries as a result.
The ORP Marine Turtle Rescue Centre provides veterinarian care and rehabilitation to injured marine turtles rescued across the Maldives.
Furthermore, we conduct research using Photo-ID methods to look at population stability, nesting activity and spatial distribution nationwide in the Maldives. We have one of the largest turtle-ID databases in the world with just over 13,000 observations and work with an international team of experts to better develop and standardize the method.