Turtle Patient 215: Niyami, Adult Olive Ridley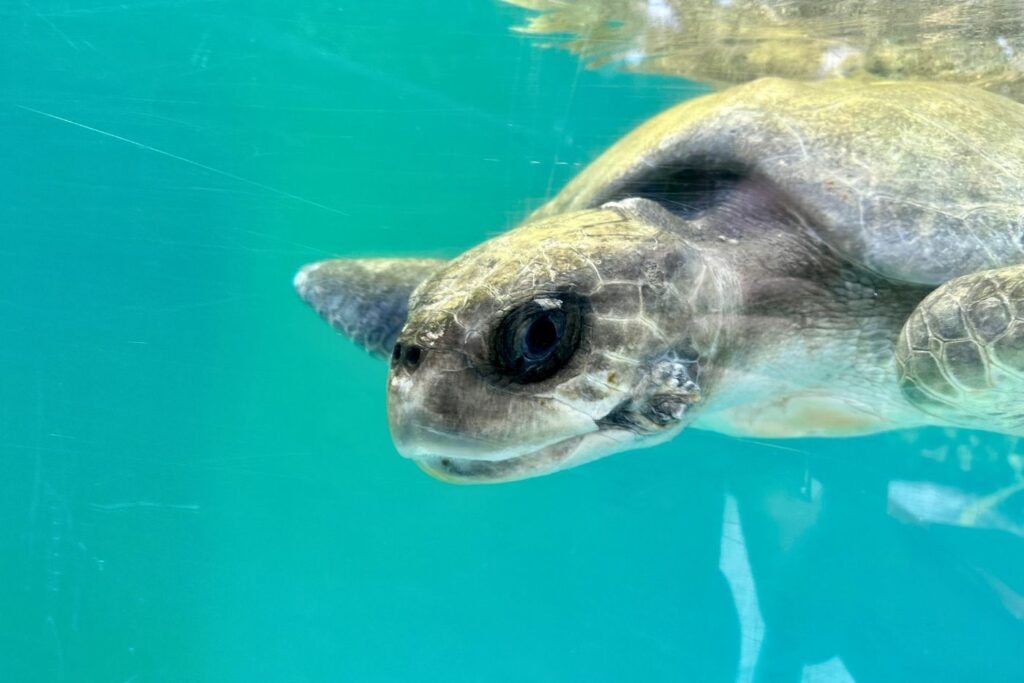 Niyami was found entangled in a ghost net by the staff at Niyama Private Islands Maldives in Dhaalu Atoll.
The Vitals
Intake Date: 15 June 2023
Patient Number: 215
Rescue Location: Dhaalu Atoll
Reason: Found entangled
Transport Method: Speedboat & seaplanes
Status: Deceased 11 July 2023
Species: Olive ridley
Scientific Name: Lepidochelys olivacea
Sex: Male
Age: Adult
Length: 62.4 cm
Weight: 24.85 kg
The Adoptive Parents
Niyami has kindly been adopted by Melody Loudin, Jannis & Iina, Gabi, and Ines.
Niyami's Story
Niyami, which in Dhivehi means "Navigator", is an adult male olive ridley. He was found entangled in a ghost net by the staff at Niyama Private Islands Maldives in Dhaalu Atoll. In order to bring him all the way to our Rescue Centre, we had to get him on two seaplanes, kindly supported by Manta Air, and then by a speedboat, generously offered by Reethi Beach Resort Maldives.
Niyami is underweight and has quite deep ligature injuries to both his front flippers and his left hind flipper, with an exposed fracture on the latter. There are also extensive abrasions on his carapace and plastron due to the ghost nets rubbing over it for days. His mouth also had serious injuries due to the net piercing through his cheeks. His blood work and X-rays show signs of infection, so the veterinary team has started him on supportive therapy and pain relief. We will soon stabilise him before surgery to clean and debride his wounds.
Niyami will be resting in our ICU tank for the first few days but, as of now he is able to move all flippers fine and swim well.
Niyami has deep ligature injuries to both front flippers and to his left rear flipper (with an exposed fracture on this one). Niyami is fighting a serious infection and has a long way ahead of him but the veterinary team has been tailoring his medical treatment and keeping close monitoring. He has already undergone two surgeries and started diving and resting on the bottom.
12 July 2023
Niyami underwent two surgeries and was put on a tailored medical treatment plan under close monitoring. Unfortunately, even though he was quite active in the tank and showed increased interest in his food, Niyami's overall condition deteriorated rapidly. His blood work revealed a worsening infection, which over the course of the last week became overwhelming. As a result of his widespread blood infection, Niyami did not survive despite our best efforts.