Turtle Patient 220: Kurangi, Juvenile Olive Ridley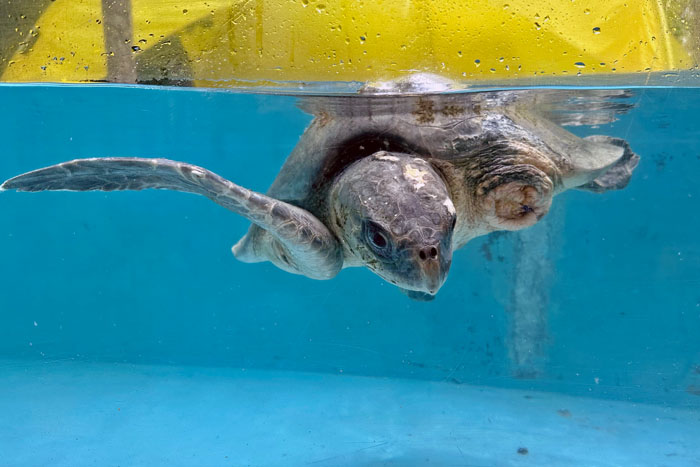 Kurangi was found entangled in a ghost net by the staff at Fairmont Maldives – Sirru Fen Fushi in Shaviyani Atoll
The Vitals
Intake Date: 29 August 2023
Patient Number: 220
Rescue Location: Shaviyani Atoll
Reason: Found entangled
Transport Method: Speedboat & seaplanes
Status: Current patient
Species: Olive ridley
Scientific Name: Lepidochelys olivacea
Sex: Unknown
Age: Juvenile
Length: 54.3 cm
Weight: 13.9 kg
The Adoptive Parents
Kurangi has been kindly adopted by Laura Hiscock, Vincent Macaluso, Rachael & Ross and by Ryan.
Kurangi's Story
Kurangi, which is the Dhivehi word for the lesser noddy (a seabird), is a juvenile olive ridley. She was found entangled in a ghost net by the staff at Fairmont Maldives – Sirru Fen Fushi where, fortunately, we have our sea turtle biologists, Neus, based. Neus guide the rescue and called the veterinary team for assistance. After a couple of seaplanes and speedboat rides, Kurangi finally arrived at the Rescue Centre.
Both her front flippers had been entangled. Unfortunately, the left one was so severely injured it required amputation. Kurangi also has several abrasions over her head and carapace due to prolonged exposure to debris during entanglement. Her blood work revealed she is anaemic and has an infection, so the veterinary team is monitoring her closely and treating her accordingly.
Kurangi recovered well from her surgery but is staying in our ICU tank for now. She has been eating really well and is feeling much more comfortable.
Adopt Kurangi
When you symbolically adopt one of our turtle patients you will receive:
A personalised adoption certificate with the history of your adopted turtle patient
A fact sheet about the species of sea turtle
Updates on how your adopted turtle's recovery is going (if you wish)
Notification in the case of a release
We ask for a minimum one time gift donation of £75 to adopt a turtle patient. You can also choose to make a monthly donation.
Once we receive confirmation of the donation and your adoption form (please make sure the names on the donation and adoption forms match), we will issue the adoption certificate with details about the turtle patient to you or the gift recipient. Please allow 7 days for the issuing of the certificate.
By adopting one of our turtle patients, you will contribute towards the cost of our patients' veterinary care, medications, and transport. You will also help fund our core charitable objectives to protect sea turtles and their habitats through rescue and rehabilitation, scientific research, and education and outreach.