ORP's First Sea Turtle Research Expedition –
A Great Success
Our first sea turtle research expedition in Haa Alif Atoll last November was a great success. The ORP team and volunteers surveyed 25 sites and recorded a total of 91 turtle sightings. In addition, we encountered sharks, dolphins, rays, and many tropical fish. Unfortunately, we also added 37 ghost gear incidents with a total of 114 nets to the record.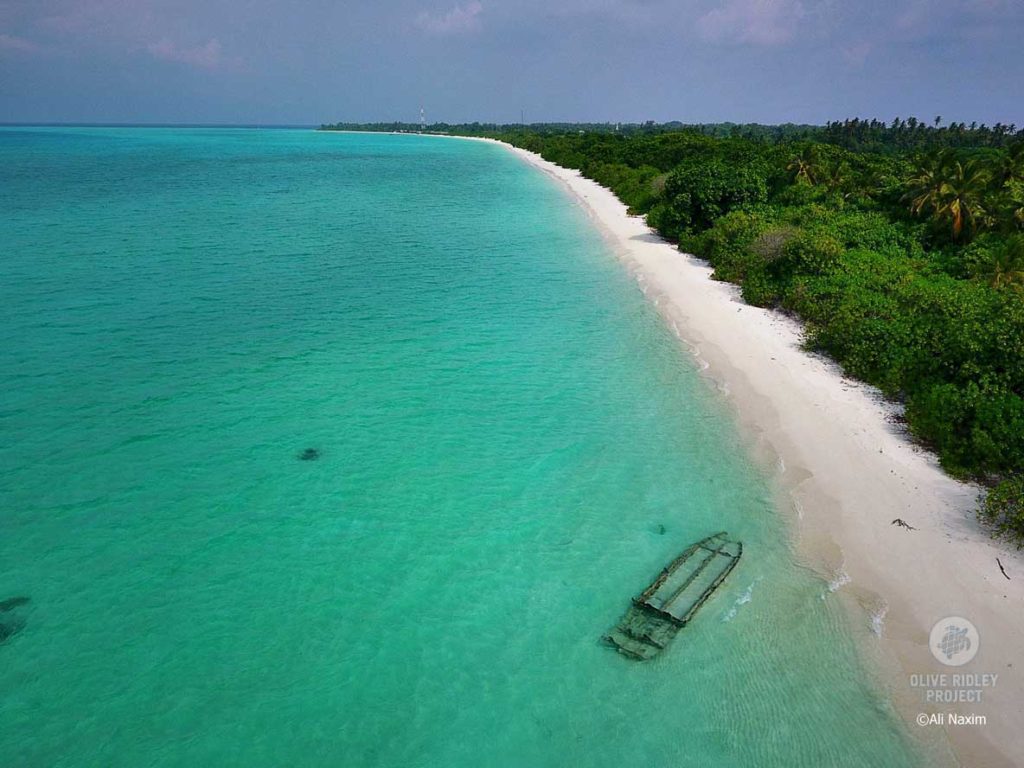 Our first two volunteers, Helen and Amy, both happen to be veterinary nurses from the UK. They had a long journey on international and domestic flights, followed by a speed boat ride, to reach the remote Ha.Kelaa Island. However, the sight of Ha.Kelaa's two km long white sandy beach, turquoise lagoon, and breezy palm trees soon made them forget about the tiring travels. At Ha.Kelaa Harbour, staff from Summer House guesthouse welcomed them with local flowers arrangements and refreshing coconut water before escorting Helen and Amy to their home in Maldives.
The Aims of the Expedition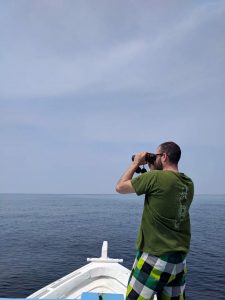 The aims of the ORP sea turtle research expedition in Haa Alif Atoll are to study the area to find out the size of the turtle population and whether and where the turtles nest; record other mega-fauna sightings; find and retrieve any ghost nets; and rescue any entangled turtles or other wildlife.
Another important aspect of the expedition is to build good relationships with the locals to promote conservation of sea turtles and other marine life, and to improve the island's waste management system. To achieve this we drive community projects, working with the local school, our local partner IDEAS, and with members of the community.
Life as a Volunteer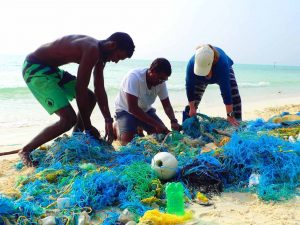 After a thorough introduction to the expedition's aims and ORP's work, Helen and Amy quickly got into the swing of things. They split their time between surveying 2-3 sites per day from the boat (each survey lasting 60minutes), doing data entry of their sightings, and trying to remove a mammoth ghost net off the beach. Besides this, they carried out beach surveys, beach cleaning, turtle nesting surveys, and community outreach activities such as teaching a group of school children to snorkel.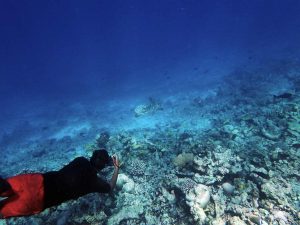 Helen's favourite activity was going out to look for turtles. We use a method called Photo-ID to identify individual turtles. Every turtle's facial scales are unique – just like a finger print. We take photos of each side of their head as well as their shell, and catalogue the information in our Turtle Photo-ID Database. Turtles are not always obliging though, and, as Helen found out, they often swim off before you can even get a good look at them.
Turtle Encounters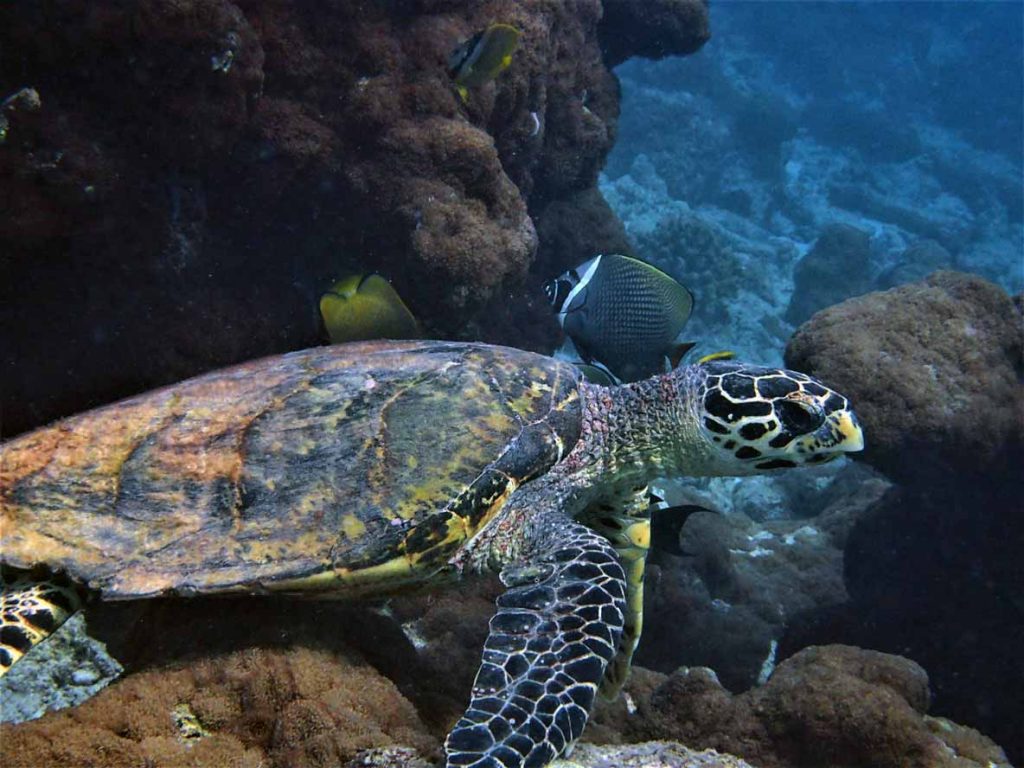 During the November expedition, we spent a total of 16 days on the boat doing site surveys. We surveyed 25 sites in total and recorded 91 turtle encounters:
65 hawksbill turtles, the most abundant turtle species in the Maldives
24 green turtles
2 unknown species
We successfully identified 27 turtles: 23 hawksbills and 4 green turtles.
In addition, we also carried out six nesting surveys. We found five nests, which had all been poached.
Night Nesting Surveys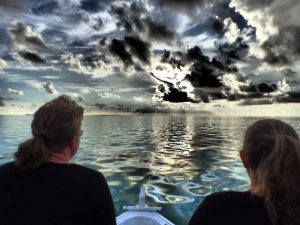 One particular night nesting survey will stay with Amy forever:
"One evening we took the boat to a neighbouring uninhabited island to perform a night nesting survey. We sailed into the most fabulous sunset to reach a tiny island. We performed an initial walk round while we still had some light. As it became dark, I realised just how many more stars you can see here than at home, and we saw three shooting stars over the course of about an hour.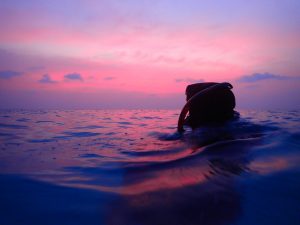 We ate dinner, lovingly prepared by the people at the guesthouse, under the stars. Afterwards we periodically patrolled the island to check for nesting turtles. We didn't find any turtles unfortunately, but we did find hundreds of crabs bombing around the beach and a magical occurrence called bioluminescence! If you haven't heard of it, look it up. The sand lit up where our feet touched it, as did the water. The little crabs looked like they were powered by fairy dust. On the boat trip back, the bioluminescence was so bright that it looked like the underside of the boat was lit up with lights, and then a dolphin came to play and rode our bow wave."
Other Megafauna Encounters
● Blacktip Reef Shark: 15
● Whitetip Reef Shark: 12
● Grey Reef Shark: 10
● Nurse Shark: 5
● Bottlenose Dolphin: 05 pods (Est >50 Dolphins)
● Spinner Dolphins: 06 pods (Est > 70 Dolphins)
● Manta Rays (Alfredi): 06
● Eagle Rays: 12
● Feather Tail Stingrays: 5
● Porcupine Stingray: 1
● White Tail Stingray: 1
Experience the "Real" Maldives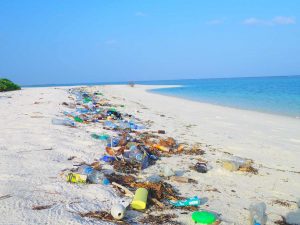 Coming to the Maldives in this sort of capacity truly gives you the opportunity to see the 'real' Maldives. It is a chance to interact with Maldivians and see first-hand the problems they are facing. Helen was rather shocked to see the amount marine waste, particularly plastic, that are swept onto the beaches by the currents, and to learn about the challenges of waste management on such a small island.
When they first arrived, Amy and Helen were a bit of a curiosity on the island. However, the islanders quickly got used to the two of them, who were soon greeted with smiles and hellos wherever they went. For Amy's birthday, the islanders even put on a fabulous feast on the beach with local children dancing, playing music and singing.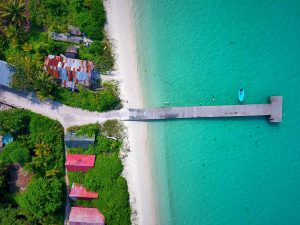 The ORP sea turtle research expedition is not for those who want to lounge around in the sun for a month, but both Helen and Amy agree that it is so much better than that!
It is a brilliant way to see this remote little corner of the Maldives, experience some wondrous things such as swimming with dolphins and manta rays, and more importantly, do something good for the planet.
Tips From Amy and Helen for Those Joining the ORP Excursion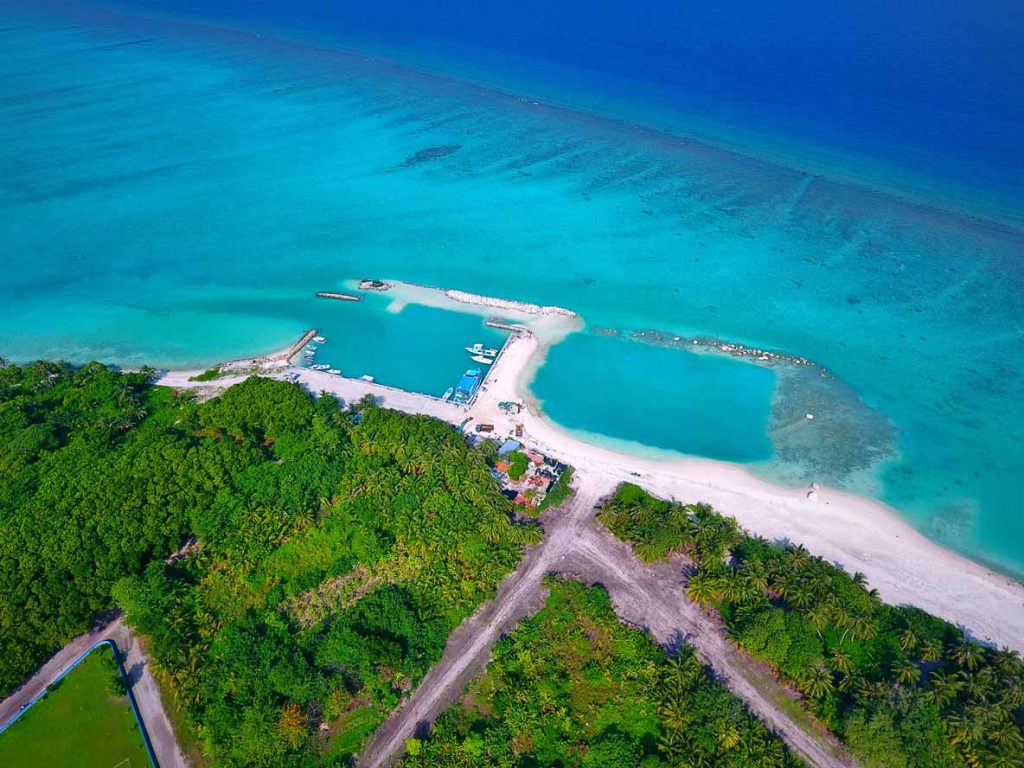 Kelaa Island is very remote and although it has a few basic shops including a pharmacy, however, neither Helen nor Amy could ever figure out the opening hours! They suggest that you get what you need when you see that the shops are open and bring as many essentials as your luggage allowance permits you when you arrive.
Bring a camera (waterproof, or with a waterproof housing) and your dive/snorkel equipment
Make sure your reef-safe sunscreen is water resistant for AT LEAST 60 minutes
Bring rehydration salts to add to your water
Practice free diving (useful for taking good turtle ID pictures)
Swim leggings and long sleeved rash vests with UV protection are useful for being in the water and on the beach where it is very hot
Bring a dive knife if you have one and/or a sturdy pair of scissors for hacking at nets
Bring strong mosquito repellent, a hat and a reusable water container
You can bring American dollars but remember to change a bit of it into the local currency when you get to Male airport
The guesthouse has WiFi
A Maldivian SIM card from Male airport usually offers better 3G/4G signal than we do at home, even when out on the boat
They use standard English 3 pin plug sockets
Standard footwear is flip-flops, but neoprene beach shoes are very useful
Ladies, do not bother to bring any 'nice' shoes, there really is no point.
If you need or want anything, ask Shameel, Moosa or the people at the guesthouse
And most importantly… bring Snickers bars for Shameel and Moosa!
Enjoy and remember to send plenty of pictures home to make everybody super jealous!
Join the ORP Expedition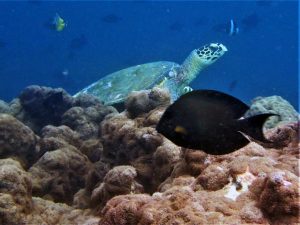 The opportunity to volunteer with the ORP Sea Turtle Research Expedition in the Maldives is open to anyone adventurous interested in sea turtle research. We do ask that volunteers are 18+, able swimmers/snorkelers and have a passion for sea turtles and research. Your 'home base' is a tropical island, and therefore quite isolated. If you do not think you are particularly adventurous, then this expedition may not be for you. Click here to find out more about the ORP sea turtle research expedition in Haa Alif Atoll and how you can join us.