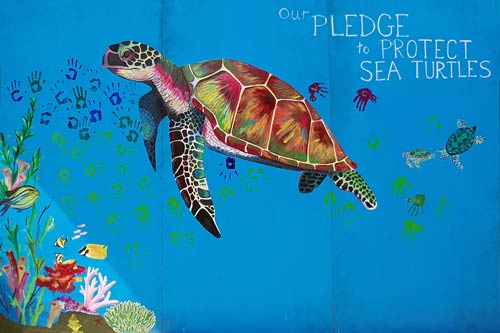 Dr. Claire Lomas created Vaavoshi Turtle Festival to bring together the islands and communities in Baa Atoll with environmentalists and visitors from around Maldives to raise awareness of sea turtle conservation and celebrate our beautiful ocean. It was Dr. Claire's long time dream and a fitting farewell before her departure from Baa Atoll and Maldives. Here is her account of the day.
Early Morning Festival Preparations
Saturday June 22nd – the day was finally here! After months of preparation for the first ever turtle festival in Baa Atoll, and a busy week leading up to the event, we were excited and apprehensive. The day before we had a long journey to pick up the sound system from Eydhafushi, courtesy of Baa Atoll Council. On festival day we awoke before the sun and made our way to Hithaadhoo Island.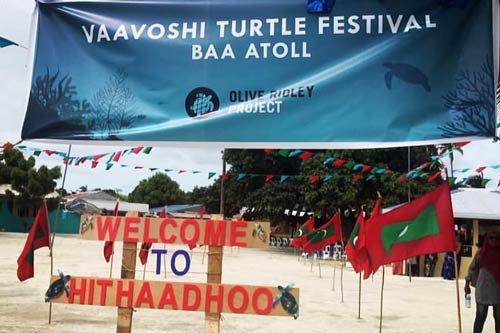 When we arrived at Hithaadhoo, the Council and local community had been busy. They had lavishly decorated the island with colourful flags and bunting to line the walk to the festival site at Hithaadhoo School. We reached the school as the sun rose and found engineers from Coco Palm Dhuni Kolhu and parents and teachers busy preparing the festival grounds. Soon after, Soneva Fushi Resort arrived with water dispensers and water for festival attendees, provided by Vitric; an NGO in Maldives on a mission to eliminate single use plastic bottles. It was the aim of the Vaavoshi Turtle Festival to avoid producing lots of waste and discarded plastic. Other resorts and NGOs started arriving to set up their stalls.
Vaavoshi Turtle Festival Activities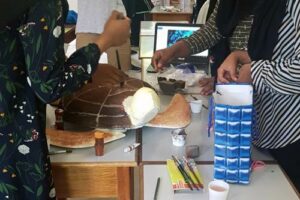 In all, 22 stalls participated in the Turtle Festival. Each stall had a unique theme and activity, highlighting a different aspect of marine conservation. So there were many varied games and activities for visitors to get involved in. In addition, there were artistic sand sculpture turtles demonstrating turtle nesting, plastic displays and much more. Participants could also experience face painting and underwater virtual reality!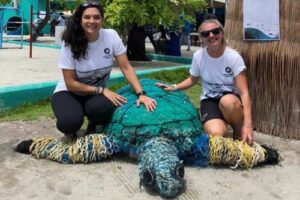 The festival grounds also had multiple art installations. A large sea turtle mural (painted by Dr. Lomas) encouraged visitors to pledge to protect sea turtles by adding their hand print. An ocean wave made out of recycled ghost gear and plastics with a surfboard in the tube of the wave provided a photo backdrop. And we also had our very own festival mascot – a sea turtle made from ghost gear!
All festival participants received a coconut refreshment welcome drink as they arrived. Visitors could also rest in our break room with free tea and coffee all day, comfy bean bags and watch movie screenings of Blue Planet.
Spreading The Knowledge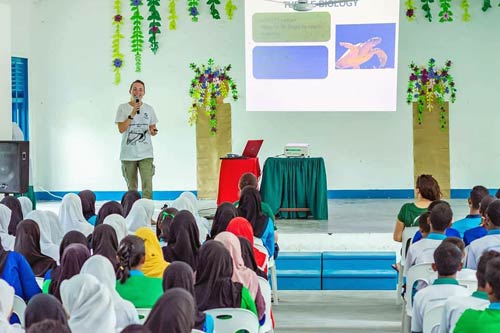 Globally, sea turtles are at risk of extinction due to human activities such as poaching, plastic pollution, fishing nets and habitat destruction. Many of these factors are a problem in Baa Atoll, Maldives. One way to tackle the issues is through education and raising awareness.
Educational presentations were therefore a key part of the festival program. The morning sessions focused on sea turtles. As the first speaker of the day, I talked about the basics of sea turtle biology, marine conservation, and the work being carried out by Olive Ridley Project. The following talk was by Marine Savers, who spoke about their work in sea turtle conservation. The final morning session presentation was by EPA, on the current laws regarding the protective status of sea turtles in Maldives.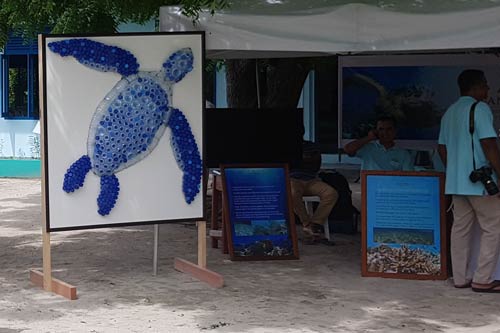 The theme for the afternoon presentations was plastic pollution. We had talks from three organisations currently working in the field: Parley is a key organisation in Maldives tackling plastic pollution; Zero Waste Maldives promotes sustainable living and presented their current work on microplastics in Maldives; and speakers from Soneva Fushi Resort gave a presentation about their current zero waste project.
The final presentations of the day were given by Baa Atoll Biosphere Reserve, who work to maintain the natural ecosystems in Baa Atoll, and Manta Trust, who's work aids the conservation of manta rays and their habitats.
Turtle Art Competitions & Live Music Entertainment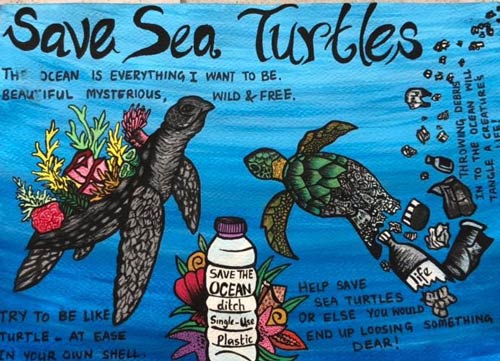 Vaavoshi Turtle Festival aimed to provide visitors with a large amount of information on sea turtle and marine conservation and how we can all help. However, the day was also a fun celebration with music and entertainment. We had artwork competitions for the school students; a school group competition on recycled art with the theme of sea turtles; a photography competition; and a painting competition. We had so many beautiful and varied entries and judging was exceptionally difficult. The top three entries received prizes and certificates.
The first live music performance was by the local Boduberu group from Hithaadhoo. Their sensational music and rhythms were even able to bring on a brief rain shower! Fortunately, the rain quickly subsided and we were blessed with sunshine.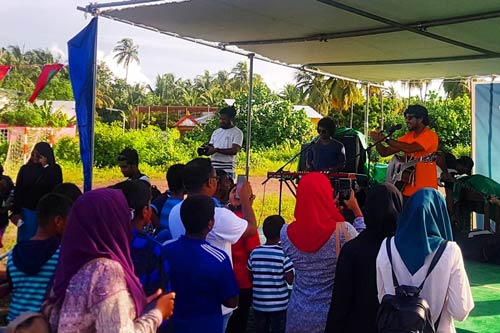 Area 51 Circus from Finolhu Resort performed around the festival grounds and interacted with visitors. On stage we had performances from the wonderful Hammodh and band, and by Equatic Vibe. Hamoodh's exceptional voice landed him in Maldivian Idol Season 2 and we were privileged to have him perform at the Turtle Festival. Equatic Vibe closed the festival with their vibrant songs, which brought an energetic and joyful end to our first ever turtle festival.
Turtle Rescue Centre Detour
8 schools from around Baa Atoll attended the event with over 200 students enjoying the festival. This was made possible by the resorts in Baa Atoll who came together to provide transportation for them. We also had 70 visitors from Male. They braved a long choppy speedboat journey to attend, courtesy of MTCC Ferry Link.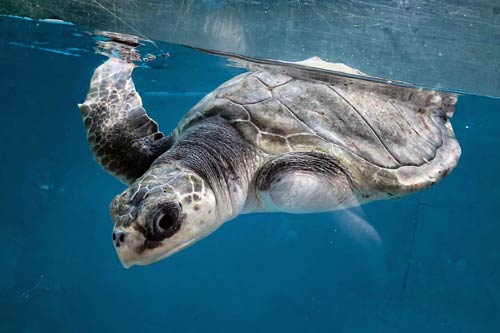 Before arriving at the festival, the students were taken to the Olive Ridley Project Marine Turtle Rescue Centre at Coco Palm Dhuni Kolhu. Here they took a tour of the Rescue Centre and met our turtle patients. Most of the turtle patients at our Rescue Centre are injured due to ghost gear and many have amputated limbs. The students had the opportunity to see olive ridley turtles up close and learn about the struggles they face in the wild. Olive ridley in the Dhivehi language is 'Vaavoshi' and inspired the name for our festival.
A Big Thank You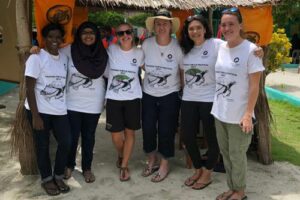 We would like to thank our partner resort Coco Palm Dhuni Kolhu for working with us to be able to create this event. CPDK's support includes building the stage and creating the festival site, providing us many boats in preparation for the day, staff to help out and much more.
We would also like to thank the resorts of Baa Atoll for their support of this festival. Without them the event would not have been possible. Their support included transporting school children and building exceptional stalls:
A big thank you to Baa Atoll Council for loaning us the sound system for the stage and a technician.
Many thanks to Fourth Element Ocean Positive, Dive Ocean, Reefscapers, Manta Trust and Finolhu Resort for providing the competition prizes.
And, of course, thank you to all the attending organisations who created wonderful stalls and helped educate visitors.
A final thank you to Hithaadhoo School and Council for enthusiastically working with us and preparing the island for the festival.