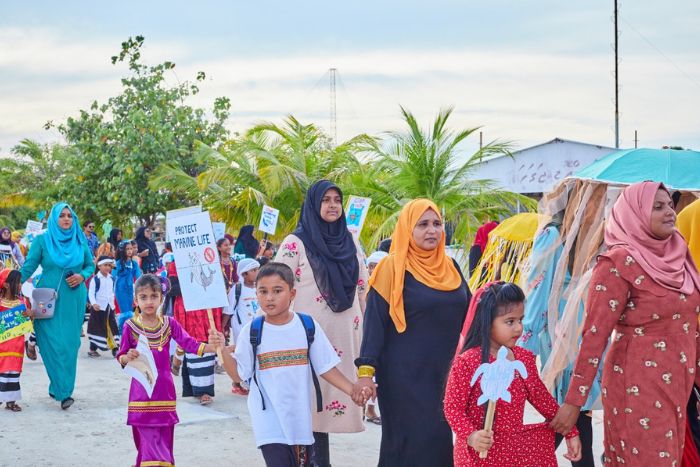 On 29th October 2022, Olive Ridley Project hosted the Maldives's first multi-atoll sea turtle festival. The Vaavoshi Festival, vaavoshi meaning 'olive ridley' in Dhivehi, was a celebration of sea turtles and marine habitats held simultaneously across eight atolls. The aim of the festival was to spread awareness about key marine habitats and ecosystems, the critical role that sea turtles play in maintaining these habitats, and the threats faced by marine life in the country. The festival reached 2177 students nationwide, and engaged over 1606 members of the community.
The support for Vaavoshi Festival 2022 was phenomenal – and we hope it will inspire younger generations to become more conscious of their actions and how they can contribute to protection of sea life, as well as pursue education and career opportunities in marine sciences and conservation. Additionally, the festival also addressed cultural attitudes towards sea turtles by clearing misconceptions regarding the species and their conservation status.
Here is a short summary of our festivals – from north to south.
Noonu – Lhohee School Festival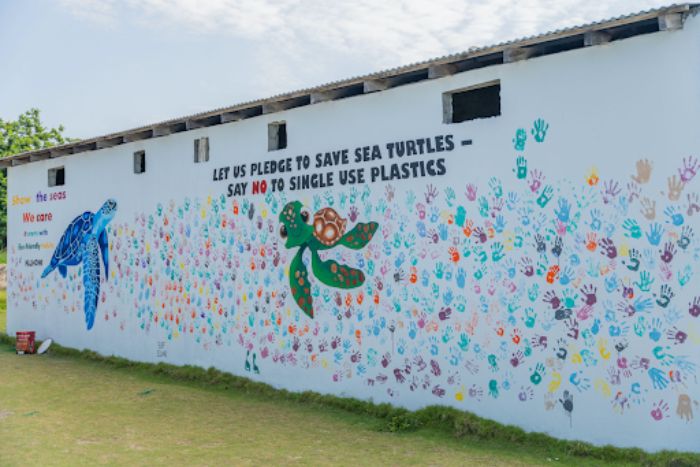 Nearly 200 students participated in the festival hosted by Lhohee School. The school was the last to join the multi-atoll festival, but showed dedication and commitment in delivering the goals of the event. Students prepared their poster materials for the competition beforehand, and also created informational videos on sea turtles for a video competition. In addition to an engaging debate, the school also created a 'pledge wall' as their wall mural activity. Thank you Lhohee School for your hard work.
Raa – Fainu School Festival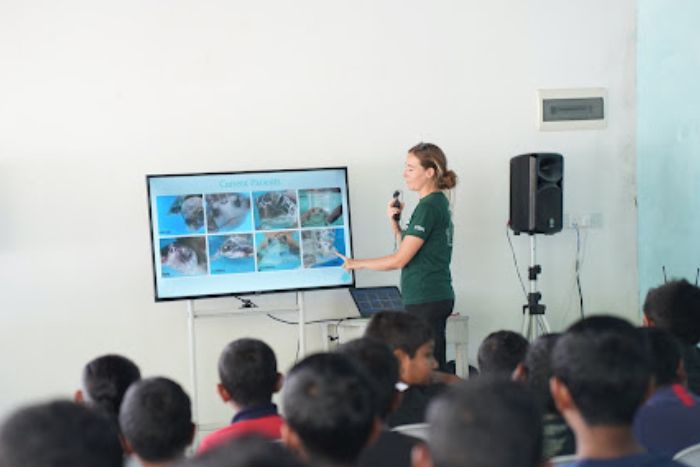 Fainu School's festival was the smallest in terms of student population, but by no means any lesser! The school hosted an amazing sand-sculpture competition and a poster competition, and the students were very engaged in the stalls set-up by our participating organisations! We also had a lot of great engagement during the marine presentations. Thank you Fainu School!
Baa – Goidhoo School Festival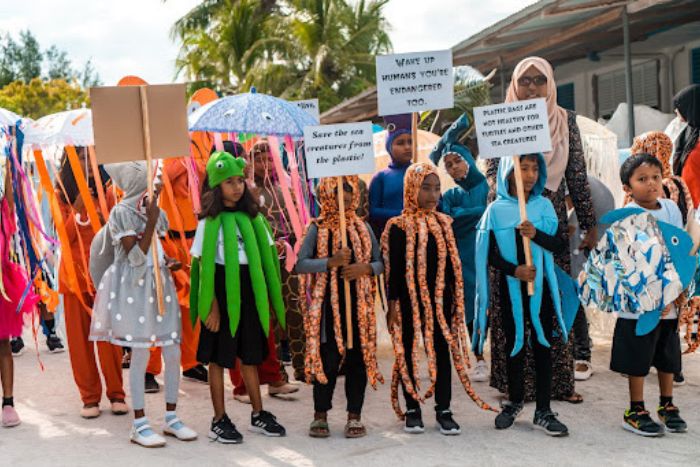 Goidhoo's community was fully onboard for the festivities, with past and current students and parents heavily involved in the organizing team. In addition to the poster competition, Goidhoo School also hosted its own waste sculpture competition using recycled materials. The school hosted colorful performances and also had a vibrant Vaavoshi Parade, an activity where students called for protection of sea turtles and marine habitats. The event's chief guest was Enas Mohamed Riyaz (Tonti), Senior Environmental Analyst at EPA Maldives. Thank you Goidhoo School!
Lhaviyani – Lh. Atoll Education Centre Festival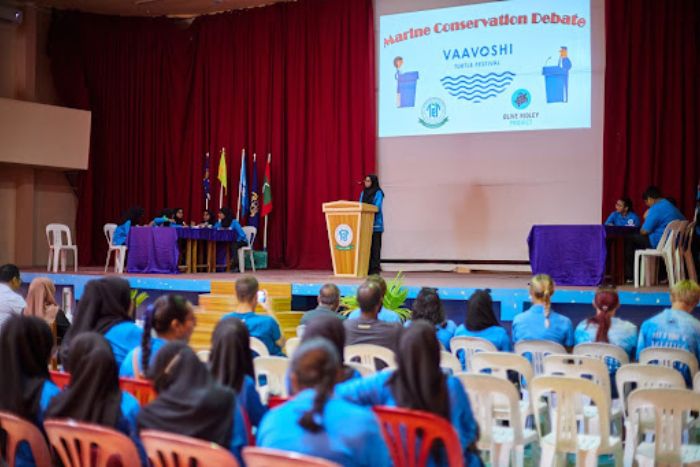 Our only half-day festival was held at Lh. Hinnavaru, but it was still an event jam-packed with activities! Over 300 students from Lh. Atoll Education Centre participated in the activities, which included very creative videos about conservation and a heated debate – where students looked at both sides of a topic, engaged in critical thinking, and showcased their public speaking skills. The Vaavoshi Parade was led by chief guest Mohamed Ahmed (Kanma), co-founder of Naifaru Juvenile and Atoll Marine Centre working in sea turtle conservation.
North Malé – Huraa School Festival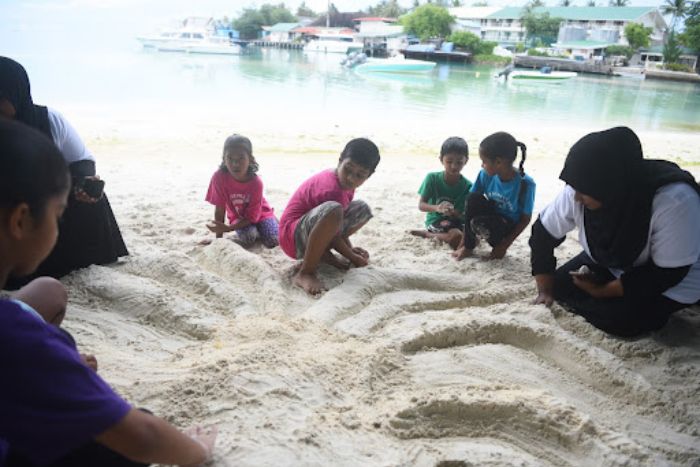 Huraa's festival was an outdoors event, hosted at the beach under the shelter of large trees. Participants included Reefscapers Maldives, marine biologists from Oblu Sangeli resort and Noo Raajje (a partnership between Maldivian government and Blue Prosperity Coalition to protect ocean's resources), and alumni ORP interns. The students' sand sculpture competition and beach clean-up was a massive success. The student's wall mural, completed within a day, was also amazing – thank you Huraa School!
South Malé – Maafushi School Festival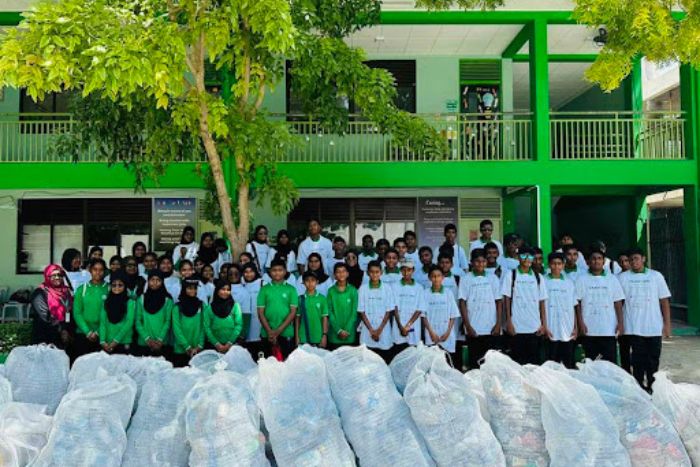 Over 400 students and an additional 100 community members participated in Maafushi School's festival, which was featured on CNN's Call to Earth Day. The festivities included a hectic beach clean-up, information stalls by Maldives Whale Shark Research Programme, ORP, and Secret Paradise Maldives. The event's chief guest was EPA Maldives Director General Dr. Ibrahim Naeem. The highlight of the festival was the Vaavoshi Parade – where children and people of all ages donned costumes to celebrate marine life and helped highlight the threats they face. Thank you Maafushi School!
Vaavu – Keyodhoo School Festival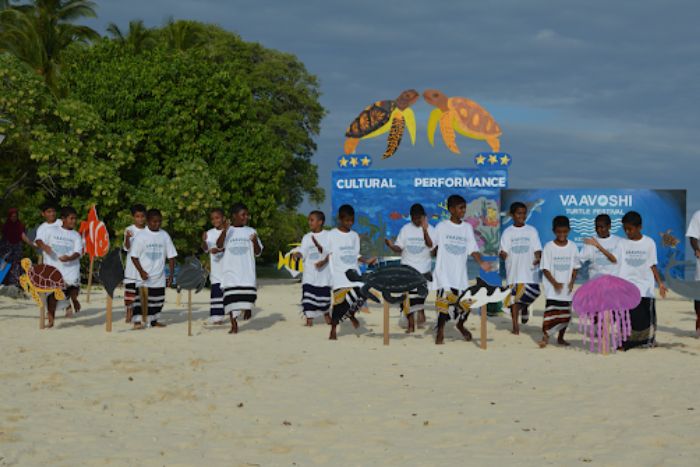 Keyoodhoo School's festivities were vibrant, bright – and most of all, cultural! The school and community had created 2 original boduberu (traditional Maldivian music) songs about sea turtles and the threats they face. They also hosted a boduberu song and dance of the country's most famous song about nesting turtles – Araa velaa. The students put on performances, there were competitions, and overall a lot of questions and eagerness to learn about turtles. Thank you Keyodhoo School!
Addu – Feydhoo School Festival
In the opening ceremony of Feydhoo School, chief guest British High Commissioner to the Maldives H. E. Caron Röhsler delivered the message, "Environmental protection is the most important work any of us can do." The festival highlighted the importance of student and community action to address the threats to marine habitats, especially human-induced ones. The students presented key insights to these threats during their Environmental Conference, and participants from Addu Nature Park and Noo Raajje highlighted conservation actions. The younger students put on an impressive fashion show with recycled materials. The school also had an opening song dedicated to the festival. Thank you Feydhoo School!
Gratitude
Additional contributions, including prizes donated to children, were provided by Thakethi, Mula Maldives, Novelty Bookshop, MyWonderbox, Toddy Inc., Oevaali Artshop, and Fuloaku. Additional support to the festival was provided by The Bilimbi guesthouse in K. Huraa, Triton Hotels in K. Maafushi, and digital partner Dhiraagu.
Thank you to Nihthu, Yamin Mahir, Dhinglish, Sosal, Visit Maldives and ExpressNewsMV for event coverage.
A special thank-you to our festival participants, including: EPA Maldives, Atoll Marine Centre, Secret Paradise Maldives, Maldives Whale Shark Research Programme, Reefscapers Maldives, Manta Trust, Velaa Coral Project, Noo Raajje, Addu Nature Park Rangers, Addu Dive, Intercontinental Maamunagau marine biology team, Soneva Jani marine biology team, Oblu Sangeli marine biology team, Crossroads Maldives marine biology team, and ProDivers.
Thank you also to Maldives Police Service, Addu City Council, Maafushi Council, Huraa Council, Keyodhoo Council, Lhohi Council, Fainu Council, Hinnavaru Council, and Goidhoo Council.
Our warmest gratitude to our chief guests, British High Commissioner to the Maldives H. E. Caron Röhsler, EPA Maldives Director General Ibrahim Naeem, EPA's Senior Environmental Analyst Enas Mohamed Riyaz, and Naifaru Juvenile and Atoll Marine Centre's co-founder Mohamed Ahmed (Kanma).
Our sincerest thanks to ORP alumni and volunteer Kaia Ali for coordinating the Vaavoshi Festival in South Male' atoll. And lastly, thank you to the Ministry of Education for allowing us to host this festival in the country, and to the school management, staff, parents, and students that took on the Vaavoshi Festival 2022 and made it their own!