The North-East monsoon season in Maldives is peak season for ghost nets drifting into to Maldives, and along with them, entangled marine life. The team at One & Only Reethi Rah recently removed a monster ghost net in North Male Atoll, estimated to weigh between 200 and 300 kg.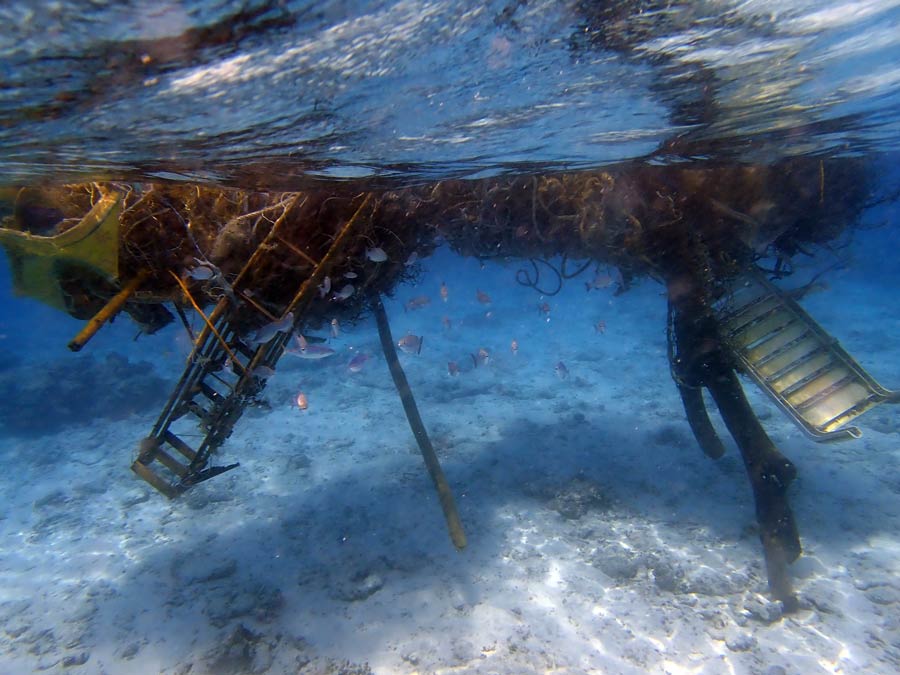 The boat crew at One & Only Reethi Rah first spotted the moster ghost net near one of the resort's common dive sites called 'Madivaru Corner'. It was at approximately 3 m depth. First they searched through the net to ensure there was no marine life entangled. They then tried to remove it from the ocean, but the net was too large and heavy.
It eventually took 5 people to retrieve the ghost net, including Sea Turtle Biologist Laura Whiteley, One & Only Reethi Rah boat crew Abdulla Shajan, Mohamed Ababakuru, and Ibrahim Iuthsham, and volunteer Kasper Frederiksen. The net was even larger than first expected. The team tied a rope around the net and pulled it back to the resort by speed boat. Then they used a crane to move it out of the ocean.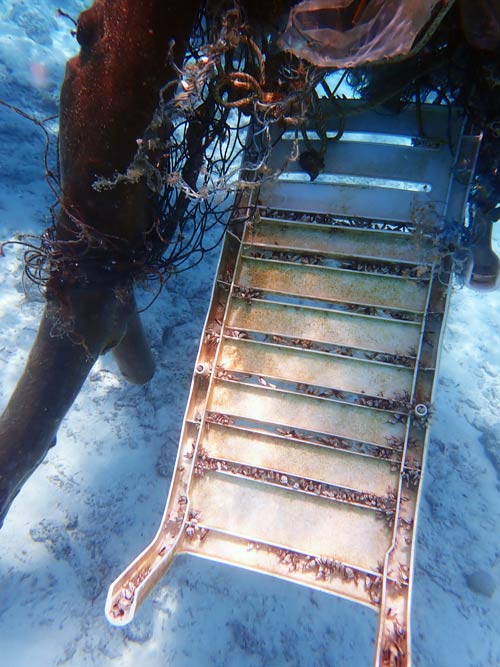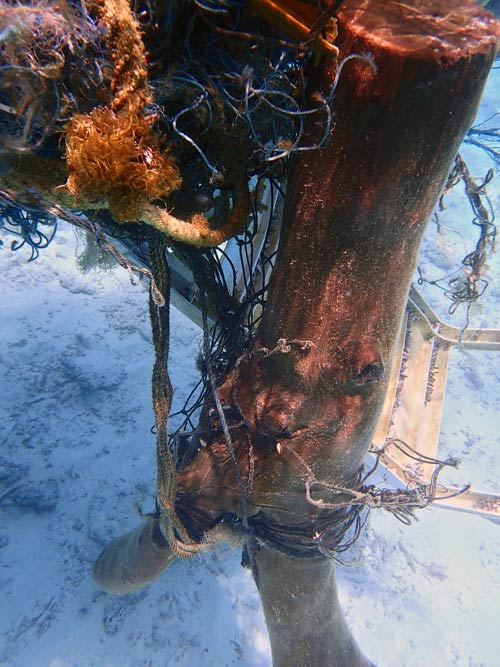 Weighing approximately 200 -300 kg, this deadly monster of ghost gear not only contained synthetic nets and ropes; it also had a plastic deck chair, a staircase, and a whole tree entangled in it! It is likely this net has been 'ghost fishing' for many years, sweeping up everything in its path. Fortunately, no turtles or other marine life were found entangled in the net.
Ghost Net Analysis
There were 8 different types of synthetic nets in this particular conglomerate of ghost gear. The ORP team will record the colour, mesh size, twine size and how many strands the net comprises. This information can assist us in tracing the location where the net was first manufactured and, possibly, where it originated. The aim of out ghost gear research is to increase awareness about the impacts of ghost gear where they originate. We work with local fishers around the Indian Ocean to reduce ghost nets entering the ocean in the first place, as well as to find ways of recovering and reusing discarded fishing nets
A crane was needed to lift the ghost net out of the ocean

ORP Founder and CEO, Martin Stelfox, getting to work on the ghost net with volunteer Kasper Frederiksen

ORP Sea Turtle Biologist, Laura Whiteley, and ORP Senior Scientist, Dr Jillian Hudgins, relieved that the killer monster is out of the ocean
The ORP team at One & Only Reethi Rah remain committed to actively removing ghost nets from the ocean. We also focus on educating locals and tourists about the threats ghost gear poses to sea turtles. Our Sea Turtle Biologist kept samples of this monster ghost net so that we can show guests and local communities what the nets that we frequently see look like, and how damaging they can be.
It is our responsibility to protect our oceans. We urge you to please take any ghost nets you find out of the ocean and away from the beaches. You will help save our marine life.