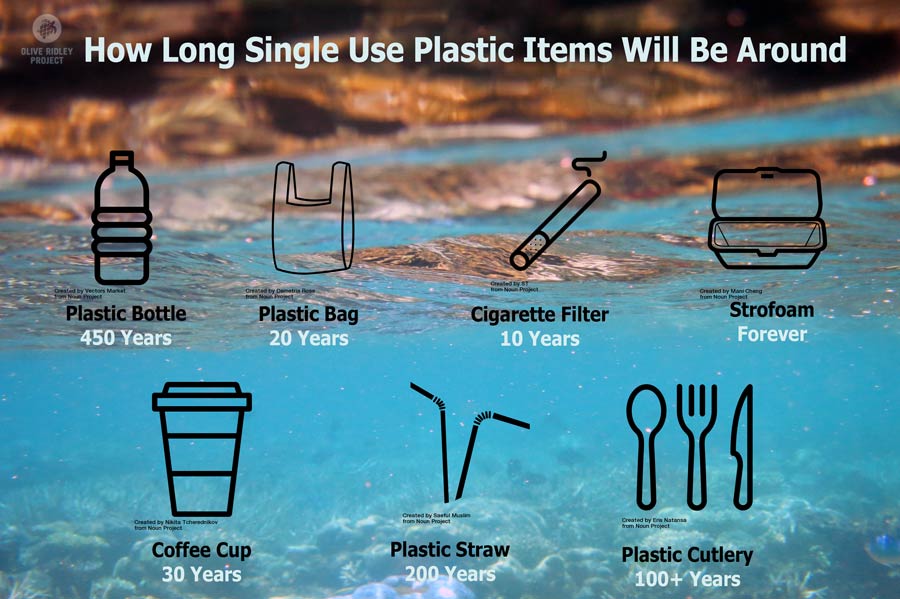 We are doing a series of blogs with tips on how to reduce your plastic waste. Some of the tips are not for everyone; the alternatives can initially be more expensive, but they may also save you money in the long run. This first article provides tips on how to avoid single use plastic when eating and drinking on the go.
Many Western countries, like the UK, have great waste management schemes. They are so good that you have no idea how much plastic you have used or what happened to your plastic when you discarded it. Out of sight and out of mind, maybe, but it hasn't gone away. Plastic will still end up in a landfill somewhere. It is often easier to see the impacts of single use plastic when you travel to places with less efficient waste management systems: Discarded single use plastic can be found littering streets, parks, beaches, and the ocean.
A study published in 2015 estimates that eight million metric tons of plastic waste end up in the ocean every year. Most of the plastic waste consists of everyday items such as bottles, bags, wrappers, balloons, and straws. Sea turtles often mistake plastic bags for jellyfish, one of their prey items.
Single Use Plastic Items Examples
Straws
Plastic Bags
Plastic Cup Lids
Cigarette Butts
Water and Soda Bottles
Take Away Food Packaging
Plastic Cutlery
Styrofoam Containers
1. Carry A Backpack
Our number one tip for how to avoid single use plastic on the go is to carry a backpack or medium sized handbag wherever you go. Many of the suggestions on this blog will involve bringing our own belongings so as not to use a vendor's product. A back pack means you can carry everything comfortably as well as having room to carry extra shopping if you buy something unexpected.
2. Bring A Refillable Water Bottle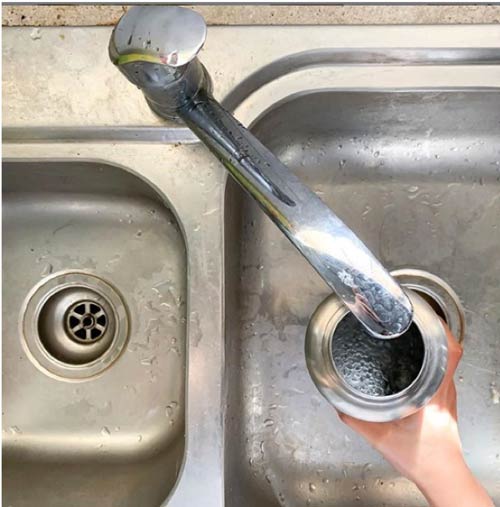 No matter where you are going, always bring a refillable water bottle. In the UK, cafés and restaurants are legally required to give you free tap water. In many countries, free water dispensers are available in malls and public areas, as well as in air ports. Refilling your own water bottle saves money and plastic – a win win!
If you drink only bottled water, you can buy charcoal to clean your tap water to the same standard as bottled water. These sticks last for 6 months, and to 'refresh' them, you boil them for 10 minutes. These will come wrapped in plastic, but if you use bottled water all the time, it is still reducing your single use plastic consumption.
3. Bring Your Own Canvas/Reusable Bags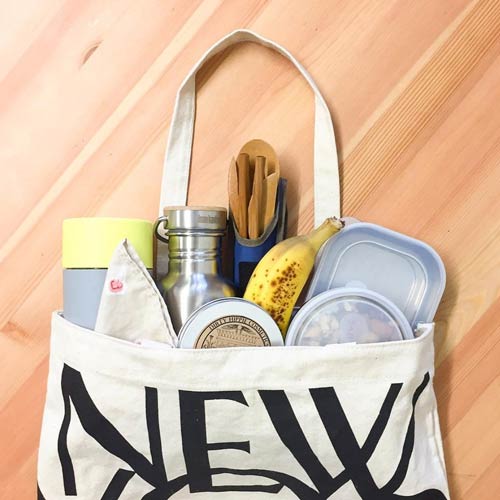 Another easy way to avoid using single use plastic is to always keep a couple of folded up canvas bags in your backpack (so you don't forget them). This means that if you must buy something unexpected, you don't have to use plastic bags to carry the items home. Canvas bags are often given away for free at stall and events, so keep a stash of them at home (and bring them when you do your weekly food shopping too).
4. Plastic Straw Replacements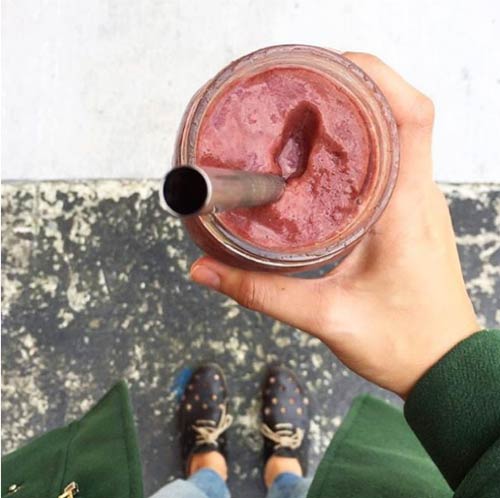 The best thing is to skip the straw all together. If you really must have a straw with your drink, there are alternatives to plastic and paper. Bamboo and metal straws are available on eBay and Amazon for very cheap. They often come with a straw cleaner, which is an easy way to keep them fresh. Drinks somehow taste better through a bamboo straw, and it can be a conversation starter at the table addressing single use plastic.
5. Bring Your Own Cutlery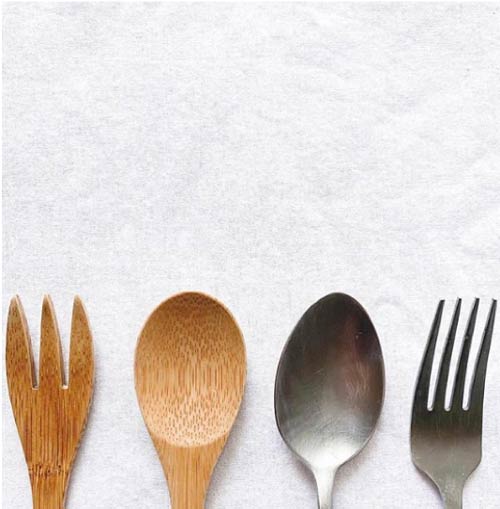 Cutlery is another thing to keep in your back pack. You never know what amazing street food you're going to find when travelling, so having your own cutlery in your bag means you can skip the plastic. You may want to bring the metal ones from home, but if you don't want the extra weight in your bag, you can purchase bamboo cutlery. These are lightweight, easy to clean, and cheap to buy. It is also great for taking on flights as security won't allow metal cutlery in your hand luggage.
6. Find Some Package Free Stores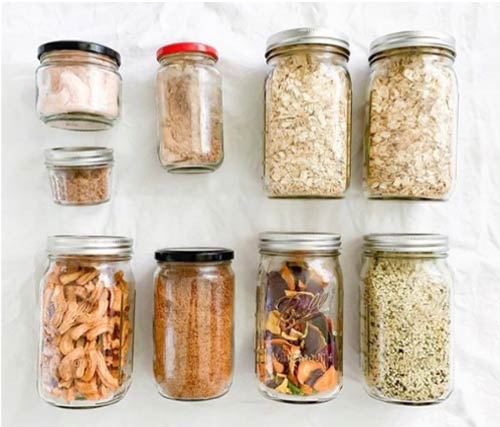 Within the UK, USA, and Australia, package free stores are becoming more and more popular. You bring your own glass jars or bags to buy rice, nuts, pasta, flour, washing up liquid, detergent etc. The prices may not always match branded equivalents, but its an easy way to reduce your plastic and support small local businesses.
Weekend markets are popular in many places all over the world. Here you can buy loose vegetables, fruit, bread and pasteries. The prices generally match supermarket prices, and if you go at the end of the day you may be able to grab some real bargains! It is just a little extra time out of your day. And don't forget to bring your canvas bag!
7. Bring Your Own Food Container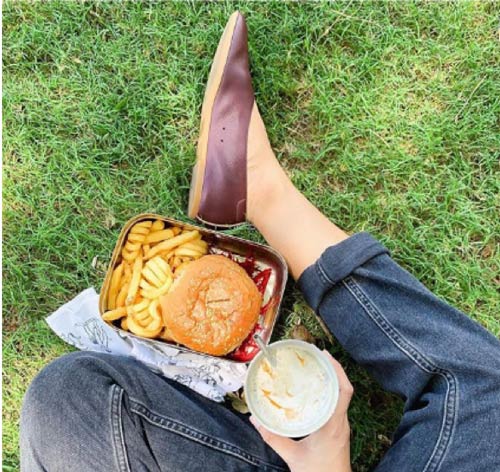 Reducing your Styrofoam consumption is also important. Styrofoam degrades slowly and breaks into tiny balls that small animals ingest and may potentially choke on. If you're eating takeout food, have leftovers from a meal out, or if you're going to a food stall, bringing your own container helps reduce the waste – although this can take up a lot of room in your back pack. The easiest and most sustainable option is to use what you already have at home, which is probably a Tupperware box! But if not, here are a few options which don't include a whole Tupperware box:
Stainless Steel Box: Elephant Box produces stainless steel boxes at different sizes, so a box doesn't necessarily have to take up your whole bag. But they aren't the most affordable option.
Bamboo Fibre: Bamboo fibre boxes are like plastic ones. They're lightweight and they're biodegradable.
Both options can be found on eBay/Amazon too.
8. Use Reusable Coffee Cups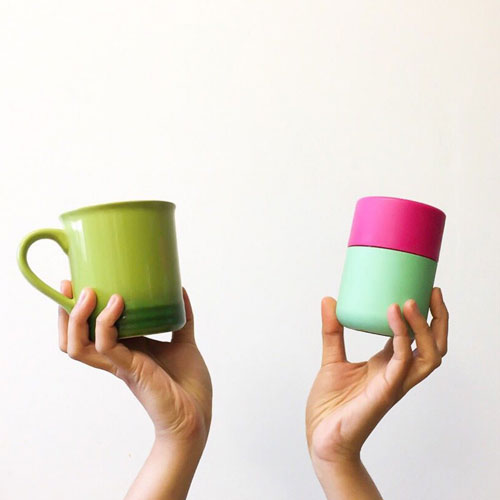 Even if you are a coffee or smoothie lover, there are ways to avoid using single use plastic cups and lids. Having a flask or reusable coffee cup is a great idea if you're a coffee addict. Some coffee shops even give you a discount if you bring your own cup! There are many 'fashionable' alternatives to single use coffee cups. Some are even made from recycled take away coffee cups!
There are no spill coffee cups available too, and tumblers, if you prefer cold drinks like smoothies and ice coffees. Companies such as Chillies, Klean Kanteen, and Hydroflask offer products that keep your drinks hot for 12 hours and your drinks cold for 24 hours. These options are pricey, and it is not necessary to buy these to be sustainable, but if you like to keep your cold drinks cold and your hot drinks hot, these bottles are ideal. As is often the case, you also get what you pay for; the more expensive ones are great quality and will last a long time. Many of the brands even make it possible to just buy the lid or just the bottle if you lose one or the other.
9. Use What You Already Have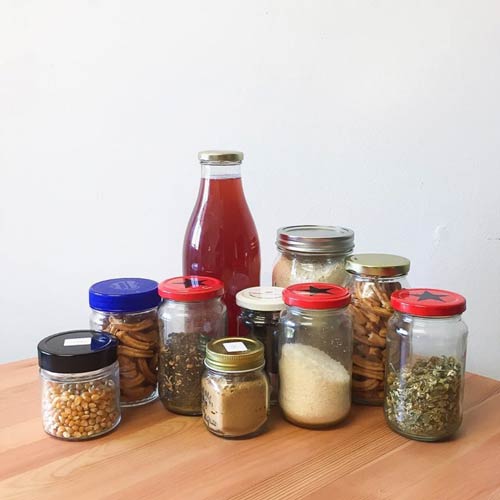 Of course, the most sustainable thing you can do is to use what you already have! Even if it is plastic. Reusing your already bought plastic is more environmentally friendly than buying something new. Buying a new fancy water bottle or metal Tupperware box is great, but if you don't have the budget, using your old sports bottle and stained Tupperware box is the better option. Zero waste isn't always as aesthetically pleasing as it looks on Instagram!
Disclaimer
References in this article to any specific commercial products by trade name, trademark, manufacturer, or otherwise, does not necessarily constitute or imply its endorsement, recommendation, or favouring by the Olive Ridley Project. The views and opinions of authors expressed herein do not necessarily state or reflect those of the Olive Ridley Project and shall not be used for advertising or product endorsement purposes.