The Olive Ridley Project (ORP) team has just returned from the 35th International Sea Turtle Symposium (ISTS) held in Dalaman, Turkey. We were happy to meet people from all over the world who are involved in the protection of sea turtles through research, rehabilitation and community outreach. However, it was evident that there is still a lot of work to be done.
Sea turtles face a number of natural hazards, but anthropogenic threats (human-related), such as bycatch, pollution, poaching and ghost nets pose even greater risks to all species. We were surprised to find that the dangers of ghost gear to turtles didn't seem to be a well research subject, although we did see entanglement encounters presented from other places in the world.
ORP's founder, Martin Stelfox, gave a short presentation of ghost gear and their effects on sea turtles at the Indian Ocean – South-East Asian Marine Turtle Memorandum of Understanding (IOSEA) regional workshop, which included representatives for countries around the Indian Ocean. Further, ORP presented a poster entitled "High Number of Olive Ridley Turtles (Lepidochelys olivacea) Entangled in Ghost Nets in the Central Indian Ocean" on its first year findings in a poster session spanning the event.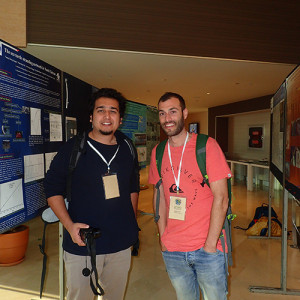 In the process of building a stronger team across the Indian Ocean, ORP reached out to a few Indian Ocean representatives at the conference. Our team will include members from WWF Pakistan and India to discuss the implementation of ghost gear research projects in those areas. Our hope is that if we "act locally, but think globally" we can reduce the problem of ghost nets and prevent the large amount of turtles being caught in them. Currently, students from St. Joseph's College are volunteering with Dr. Annie Kurian from Terra Marine Research Institute (TeMI) in fishing villages in the Mangalore-Kundapur region in India. We are also planning a research trip in conjunction with WWF Pakistan to work with fishing and diving communities in Karachi, Pakistan in the fall. (We'll update you with more details of those projects in the coming weeks!)
At the conference, we attended workshops and poster presentations on how other projects and communities are approaching threats to sea turtles in their local areas. From community building and educational programs to rigorous research and rehabilitation techniques, the team was inspired with new ways to approach and create awareness about ghost nets and turtle interactions.
Dr. Jillian Hudgins, ORP's Senior Project Scientist, went off-site for a visit the Dekamer Turtle Rescue Center near Iztuzu Beach on the south west coast of Turkey. Equipped with an x-ray and blood analysis capabilities, the center helps injured turtles rescued in the area, of which most are adult loggerheads that have been victims of boat strikes and bycatch. Touring the facility, we got some ideas for our own rescue center opening soon at Coco Palm Dhuni Kolhu Resort in the Maldives.
The ISTS organized workshops on several first aid procedures including the proper way of removing circle hooks, J hooks, and lines that have been ingested by turtles, necropsy techniques for determining the cause of death, stomach content analysis, decompression sickness diagnosis, and bio-logging, or satellite tag attachments, techniques.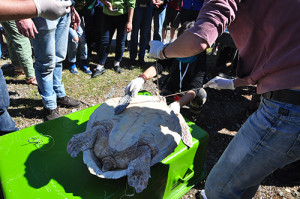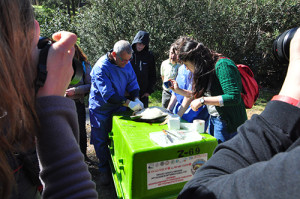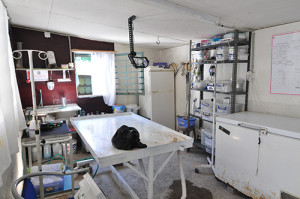 The Olive Ridley Project has a lot going on in the next few months. We're working towards building a turtle rescue center at Coco Palm Dhuni Kolhu Resort, conducting more workshops for diving and fishing communities, expanding our educational programs, implementing an arts project and extending our reach to the larger Indian Ocean. We hope that you'll get involved by removing nets and recording data, following our projects online and donating here:
Lastly, we'd like to thank all of our citizen scientist for removing ghost gear, untangling turtles and submitting data!