Turtle Patient 190: Uno, Juvenile Olive Ridley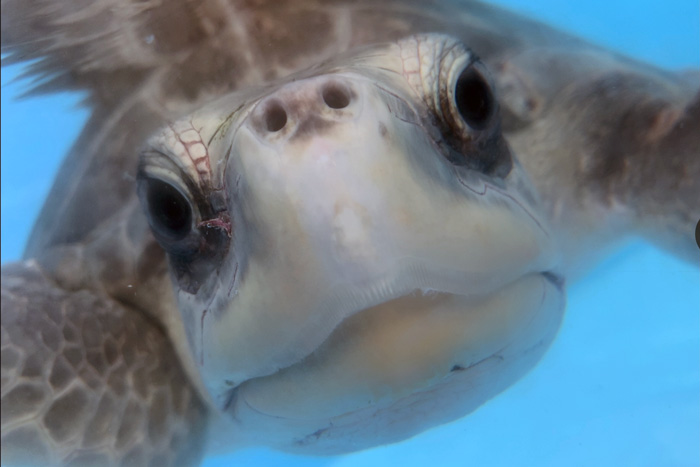 Uno is a juvenile olive ridley who was found floating by a fisherman from Maalhos in Baa Atoll.
The Vitals
Intake Date: 28 June 2022
Patient Number: 190
Rescue Location: Baa Atoll
Reason: Found floating
Transport Method: Speedboat
Status: Current patient
Species: Olive ridley
Scientific Name: Lepidochelys olivacea
Sex: Unknown
Age: Juvenile
Length: 40 cm
Weight: 6.7 kg
The Adoptive Parents
Uno has kindly been adopted for Brad by Kendall Fossand, Markus & Elena, Fleck & Reimer-Fleck, for Connor & Callum by Rona Bond, by Jennifer Augstein, and for Happy bu Charmain.
Uno's Story
When Uno was rescued, he had abrasions on his carapace, a deep laceration at his front right flipper, a shallower laceration to his front left and was missing the end of his back left flipper. The wounds were fresh when he was found but no signs of a net. There was also bone exposure at the front right flipper.
We have placed Uno on a course of antibiotics to avoid infection of his wounds. X-rays indicate that surgical intervention is not warranted at this point.
3 July 2022
X-rays strongly suggest that Uno has a bone infection covering almost the entire width of the humerus of the affected flipper. He is currently placedon a course of antibiotics and special care will be taken when handling him, especially with the high risk of fracture at the affected flipper.
10 July 2022
Although both of Uno's front flippers are functional, his right front flipper is abnormally oriented both at rest and when he is using it. A repeat X-ray 2 week post-rescue did not reveal changes as compared to the ones taken when he first arrived. More regular repeat X-rays will be taken to reassess his right humerus and to guide his treatment plan in the following months.
17 July 2022
Uno continues to use both front flippers well despite the abnormal orientation and range of motion on the right side. He had no issue diving for his food and has an excellent appetite!
24 July 2022
The range of motion Uno's right front flipper is still abnormal. Despite this, he is using both front flippers well and dives actively for his food!
31 July 2022
Uno is both resting at the bottom of his tank and diving for food. We will repeat his diagnostics next week to reassess his right front flipper and to organize the next plan for him.