Turtle Patient 186: Pepe, Sub-Adult Olive Ridley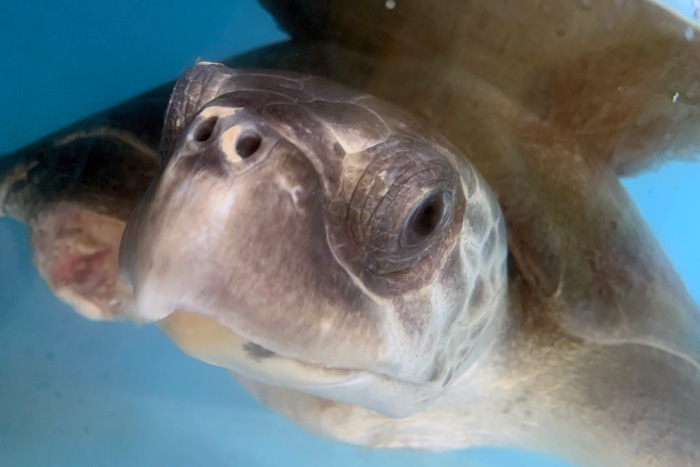 Pepe is a sub-adult olive ridley who was rescued from a ghost net at Maayafushi Resort Ari Atoll on May 13, 2022.
The Vitals
Intake Date: 13 May 2022
Patient Number: 186
Rescue Location: Ari Atoll
Reason: Found entangled
Transport Method: Seaplane
Status: Current patient
Species: Olive ridley
Scientific Name: Lepidochelys olivacea
Sex: Unknown
Age: Sub-Adult
Length: 54.5 cm
Weight: 12.2 kg
The Adoptive Parents
Pepe has kindly been adopted by Nathalie Popovic, and by Jaja & Loulou Fadie Lemaire.
Pepe's Story
Pepe was found in a ghost net that had entanglement at her front right flipper and neck. Upon arrival at the Rescue Centre, her flipper was hanging off her right shoulder by a 2 cm piece of soft tissue that could be easily trimmed off. This left behind an open wound at the stump with a small exposed bone of a radius of approximately 1.5 cm. Fortunately, the entanglement wound at her neck was superficial.
We have put Pepe on antibiotics and pain relief and we are planning to run some diagnostics this week to further investigate the stump and her health status. She started eating prawns on her second day with us.
22 May 2022
The exposed bone at Pepe's right fore stump was trimmed off with local anesthesia under the supervision of Dr Max. She tolerated the procedure well and has been eating fine. She is still having some buoyancy issues, however.
29 May 2022
Pepe's appetite has been slow but she does finish her food eventually. The middle of the wound bed at the right fore stump feels hard on touch; this is likely due to remnant exposed bones post-trimming last week. She is under monitoring for her buoyancy issue.
5 June 2022
Pepe has gradually started to eat well after we adjusted her diet plan. She has an infection in her right front flipper stump. We are taking special care to ensure tank hygiene and have increased the frequency of wound cleaning to stay on top of the infection.
12 June 2022
Pepe's appetite has been great lately. Her carapace is submerged deeper in the water now and she is much more active than before. We even saw her attempting to dive! The parasites on her carapace are also gone.
19 June 2022
Pepe has been spending time in the small tank over the last week and has seen diving to the bottom for food. She is getting better at diving with each successful attempt. We will soon move her to the medium tank soon and watch for improvement in diving. She is otherwise eating very well, her wounds appeared to be healing fine too.
26 June 2022
Pepe was placed in the medium tank this week but she has made no attempts to dive yet. Her repeat X-rays showed no abnormality or deterioration, but an elevation in white blood cell count was detected in her recent blood-work. We will be making necessary changes in her treatment plan and monitor her progress closely. Her wounds are healing well.