Turtle Patient 216: Mariyam, Juvenile Green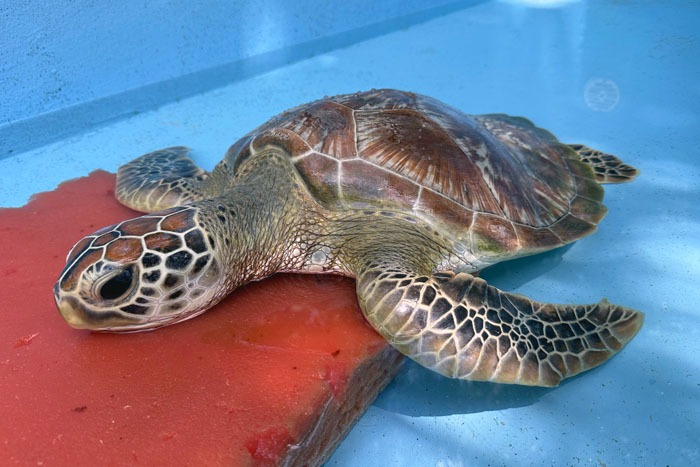 Mariyam was was found floating and very weak in a lagoon at Hithadhoo island, in Addu atoll, the furthest south atoll of the Maldives.
The Vitals
Intake Date: 31 July 2023
Patient Number: 216
Rescue Location: Addu Atoll
Reason: Found floating
Transport Method: Domestic Flight & Sea Plane
Status: Deceased 10 August 2023
Species: Green
Scientific Name: Chelonia mydas
Sex: Unknown
Age: Juvenile
Length: 48 cm
Weight: 10 kg
The Adoptive Parents
Mariyam has been adopted by Vincent Macaluso and by Paige Beuning.
Mariyam' Story
Mariyam had a very long journey to overcome, first by domestic flight, crossing the equator, and the by seaplane to reach the Rescue Centre. She is underweight and her X-rays showed she hasn't been eating much for a long time. The blood work revealed an infection to which the vet team has started treatment for. Mariyam is still very critical so we are keeping continuous monitoring.
10 August 2023
Mariyam spent a little over one week at the Rescue Centre. From her arrival, she was minimally responsive to her surroundings and had been receiving critical care therapy daily to treat her condition. We suspect she may have been exposed to an environmental toxin that affected her nervous system and prevented her from responding to treatment.
The veterinary team monitored her closely day and night but unfortunately, Mariyam passed away in the early morning of August 10th despite our team's best efforts. On post-mortem, we confirmed she was a female.