Turtle Patient 219: Kambili, Juvenile Hakwbsill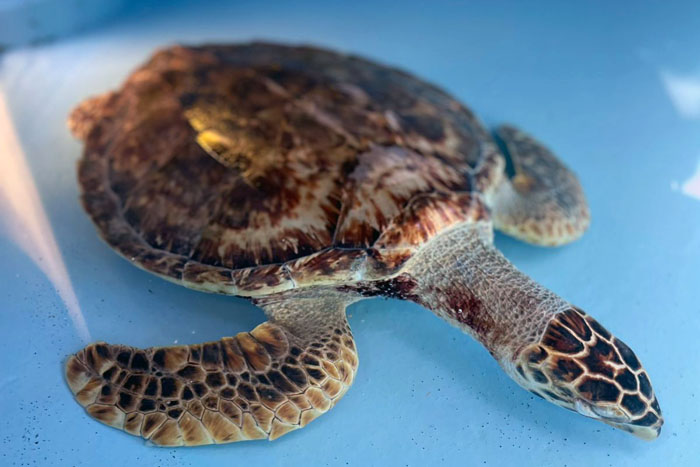 Kambili was found floating and weak by Sendi and his grandson at Fulhadoo island in Baa Atoll.
The Vitals
Intake Date: 24 August 2023
Patient Number: 219
Rescue Location: Baa Atoll
Reason: Found floating
Transport Method: Speedboat
Status: Deceased 27 August 2023
Species: Hawksbill
Scientific Name: Eretmochelys imbricata
Sex: Unknown
Age: Juvenile
Length: 65.6 cm
Weight: 4.65 kg
Kambili's Story
Kambili, which in Dhivehi means white-breasted waterhen, was a juvenile hawksbill turtle. She was found by Sendi and his grandson, who immediately called us for assistance. With the help of Nizam, Goidhoo's school principal, they swiftly arranged a speedboat to bring her over to the Rescue Centre.
Upon arrival she presented as quite depressed and unresponsive. Her X-rays revealed that she had ingested a hook that lodged itself in the oesophagus at the base of the heart. In addition, we found that she had ingested other foreign bodies too and on her second night, she passed a very large plastic sheet the size of her carapace (40x33cm)!
Unfortunately, despite critical care and emergency surgery to remove the hook, her injuries were too severe and Kambili passed away three days after being admitted to the Rescue Centre.