Turtle Patient 189: Gus, Juvenile Green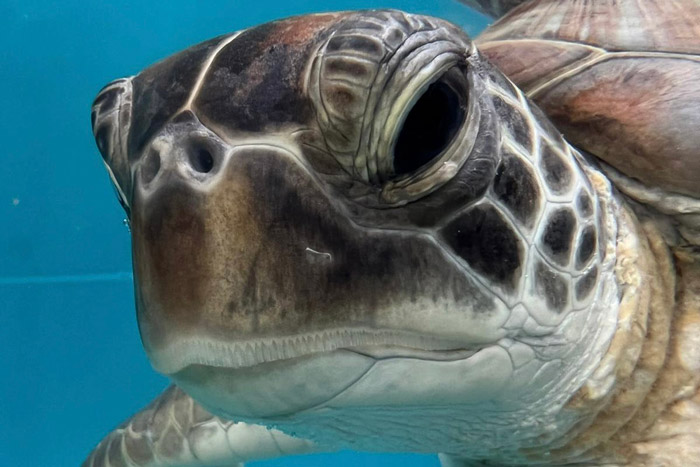 Gus is a juvenile green turtle that was found entangled in a ghost net at Conrad Rangali South Ari Atoll. He suffered entanglement wounds at both front flippers with bone exposure of the humerus on the left front flipper.
The Vitals
Intake Date: 30 May 2022
Patient Number: 189
Rescue Location: South Ari Atoll
Reason: Found entangled
Transport Method: Sea Plane
Status: Released 05 December 2022
Species: Green
Scientific Name: Chelonia mydas
Sex: Unknown
Age: Juvenile
Length: 42 cm
Weight: 6.16 kg
The Adoptive Parents
Gus has kindly been adopted by Marcel Wiezorek, Maddi Paull, Marc & Anna Juckschat, Tyler Carrara, Lorna & Chris Owen, Chris & Jessi, by The Wonder Bio, Alexey and Darina Mishchenko, Maik Fredrich, for Nicole by Frank, by Michael Bradley, Sarah Hieden, Lubin, Juliette, Gaëlle, Liliane, Brian & Jean-Paul, Alexander, for Maria by Christopher Bark, for Harper by Lucy, for Tito by Maddalena De Bernardi, Alyssa, by Claudia & Florian, for Bernd & Sally by Birgit, by Sissy, Erin, Ollie & Baby, for Charlie by Loraine, by Chris Smith, for Conner by William Wiggins, for Ella Claire by Lori, an by Alexander.
Gus' Story
Gus was found entangled in a ghost net with entanglement wounds at both front flippers with bone exposure of the humerus on the left front flipper. In addition, one scute on his carapace that was almost ripped off, cracked and missing edges.
Unfortunately, the left flipper could not be saved and we has to amputate it a few days after he arrived. The surgery went well; anesthesia was smooth and recovery was uneventful. He started nibbling a piece of seagrass on the very next day and after a few days of supportive care, he is now eating and diving.
Two days after surgery, however, Gus started pooping plastic and other marine debris. He is staying motionless on the surface and definitely not feeling well. But he did finished his daily feed intake when we fed him by hand.
12 June 2022
Gus continued to defecate more plastic approx 4-5 days after the surgery. However, he was gradually gaining energy with improved appetite over time. When we placed him in the large tank he became much livelier and curious, unlike how he usually behaved in small tank. We also saw him dive to the bottom for seagrass when placed in the small tank.
19 June 2022
Gus has shown great improvement over the last week. In addition to seagrass, he is now eating prawns and tuna. He is trying to dive in the small tanks and is more active in the larger tank. The skin sutures at his surgical site came off this week but underlying sutures is intact. We will continue his treatment course and monitor his progress closely.
26 June 2022
All the stitches in Gus' surgical site came off this week and the underlying muscle layers appears fresh and healthy. We will provide frequent wound care and continuously monitor for signs of infection and progress of wound healing.
3 July 2022
After the stitches came off earlier, Gus' wounds remained deep in the muscle layer but fortunately, the wound bed looked healthy and clean. Bandages have been placed to reduce risk of wound contamination and to allow topical creams to stay on the wounds for maximal absorption.
10 July 2022
Gus' wounds are healing well with no sign of infection so far. He is actively swimming and finishes his seagrass, tuna, and shrimp meals within minutes!
17 July 2022
Gus is using his remaining three flippers well and was seen diving and resting at the bottom of the medium tank this week!
24 July 2022
Gus's wounds remain open but the wound size is closing. Gus dives and eats well as usual.
31 July 2022
Gus loves his seagrass meals and dives to the bottom of the medium tank to get every bit of it! However, there is an obvious abnormality in buoyancy control as he is positively buoyant most of the time when at rest. We will continue to encourage him to dive during feeding and hopefully he'll get used to diving regularly.
7 August 2022
Gus is more active than before and still enjoys his seagrass meals. His repeat X-rays and blood-work findings showed good results. We will continue his treatment plan and monitor his wounds closely over time.
14 August 2022
Gus has excellent buoyancy control and never fails to finish his meals. He underwent a full surgical debridement under anesthesia this week. His wounds are still deep but much more narrowed. At this rate of healing, his wounds will close very soon and hopefully he will be ready for release within the next two months.
21 August 2022
Although Gus' surgical site remains deep, it has reduced further in diameter over the past few days with no sign of infection or inflammation. Gus is otherwise diving well with great buoyancy control. He particularly enjoys to eat seagrass left at the bottom of his tank.
28 August 2022
Gus is enjoying life in his tank upgrade to a medium tank. This really encourages him to show off his diving skills. His new seagrass feeding method is working really well and he is very active. We will continue to monitor his bone infection and we hope it won't be long before it clears and he heads back home to the real seagrass meadows.
4 September 2022
Gus is doing excellently; he is due for repeat X-rays soon to check the progress of his bone healing. His flipper amputation site, although it initially had complications, is now healing extremely well and his other wounds have completely closed. He remains a firm seagrass lover and we increased his food amount this week which we are sure he will be happy about.
11 September 2022
Gus' repeat X-rays this week showed more changes in the bones at his left rear flipper and the stump at the left front appears to be healing well when examined during wound debridement sessions. We will continue his course of medications and do fortnightly repeat diagnostics to monitor his progress closely. He dives gracefully with excellent buoyancy control for his seagrass meals and uses all remaining three flippers well.
18 September 2022
Gus dives and enjoys his meals as usual. His wounds are healing well. We will repeat his diagnostics soon to assess the healing progress.
25 September 2022
Gus' wounds are healing very well after several rounds of deep wound cleaning. He also dives and enjoys his meals. Gus is currently on a course of antifungal medication, which is scheduled to complete in late November this year. If his repeat X-rays continue to show positive results after the end of the course of medications, we expect to release him by the end of this year.
2 October 2022
Gus continues to eat and dive well. Although the repeat X-rays of his left knee joint show signs of persistent infection, twe did not detect any deterioration over the past couple of weeks. The treatment plan for Gus will continue and hopefully, he can be released after the end of course of medications in November.
9 October 2022
Gus' wounds have healed incredibly well. The wound at his surgical site has reduced significantly over time. We are hopeful that he can be released this year, as long as his left knee joint infection continues to respond to the treatment plan, which includes regular wound care and debridement, and heals completely.
16 October 2022
Gus continues to be active and bright in his tank and his appetite is great. He gained a little weight over the last few weeks so we have increased his food allowance – he is very happy with this. His bone infection is still present and we are continuing treatment for this.
23 October 2022
Gus continues to do well. The infection in his back flipper is not getting worse, so we hope that he can finish his treatment and potentially be released in the near future. He is diving well, gaining weight and his appetite is always 100%.
30 October 2022
The repeat X-rays and bloodwork we performed for Gus this week revealed promising results. At this rate, Gus will highly likely be released by the end of November or early December this year (depending on the results of his pre-release diagnostics and follow-up assessment). He has otherwise adapted well with the use of his remaining three flippers, diving confidently to get his meals at the bottom of his tank during feeding time.
6 November 2022
Gus continues to show us his excellent diving skills and there is absolutely no concern with his appetite. We will repeat his diagnostics when his course of medication ends and we hope this brings good news and we can start planning his release in the next couple of months…fingers crossed.
13 November 2022
Gus received some encouraging news this week! His X-rays show that the infection in his back left is not worsening and his blood work also came back normal. This brings us on track to release him next month. His appetite continues to be excellent and he has been enjoying scrubbing himself on the tank brushes.
20 November 2022
Gus finished all his medications this week. After a few more X-ray and blood work check-ups in the next couple of weeks, we should be aiming to release him in the first week of December! He's super feisty and swimming really nicely, so we think he's very ready to head home!
27 November 2022
Gus is enjoying an ad lib amount of sea grass now in preparation for his return to the sea in a few weeks' time. He's strong and healthy and just requires normal X-rays and blood tests to be cleared for release.
4 December 2022
Gus had his pre-release health check. Bloods and X-rays were taken and all showed no sign of infection and, thankfully, he therefore received a clean bill of health. We plan to release him tomorrow.
5 December 2022
Gus was successfully released today.
26 April 2023
Gus has been re-sighted several times in March and April near Coco Palm Dhuni Kolhu and a nearby island! Interestingly, he is very weary of humans and is super fast under water.