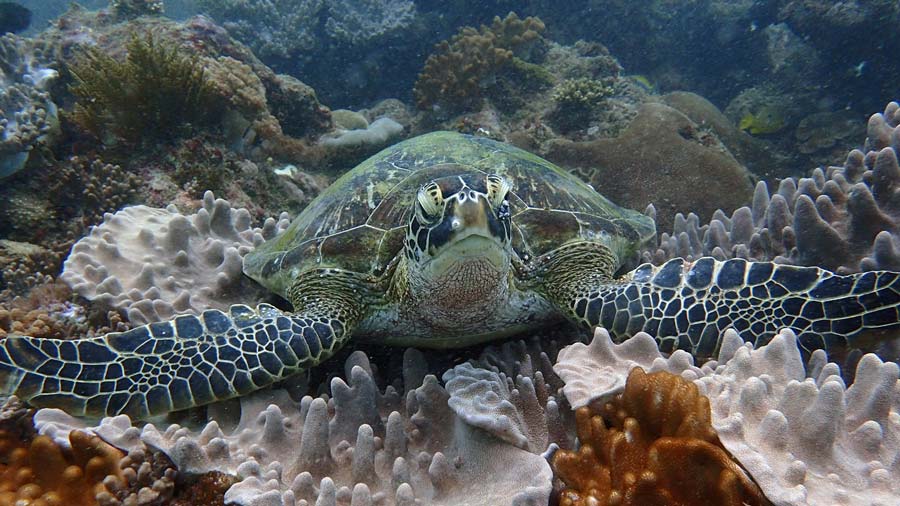 Sea Turtle Photo-ID Update July – September 2021
Summer months in Kenya mean very unstable weather and poor diving conditions and we therefore take a month's break from underwater activities. Still, we managed to survey eight of the the thirteen dive sites we normally monitor. We also completed one guided snorkelling activity.
Our surveys yielded a total of 102 green and fourteen hawksbill turtle sightings during the last three months. These included 24 new turtles added to the database: 21 greens and 3 hawksbills.
116 Turtle Sightings:
102 green turtles
14 hawksbill turtles
24 New Turtles Identified:
21 green turtles
3 hawksbill turtles
Top Sites For Turtle Sightings
July – September 2021:
35 sightings at Milele
25 sightings at Galu
18 sightings at Kisima Mungu
Diani, Kenya
Turtle Population:
Galu
is home to 80 greens and 8 hawksbills
Milele
is home to 87 greens and 5 hawksbills
Kongo
is home to 86 greens and 5 hawksbills
Diani Turtle Sightings
Since 2018:
2,670 turtle sightings:
546 individual greens
71individual hawksbills
Read more of the work we are doing in Kenya and why it is important in this short article in the African Conservation Telegraph.
Turtles of the Month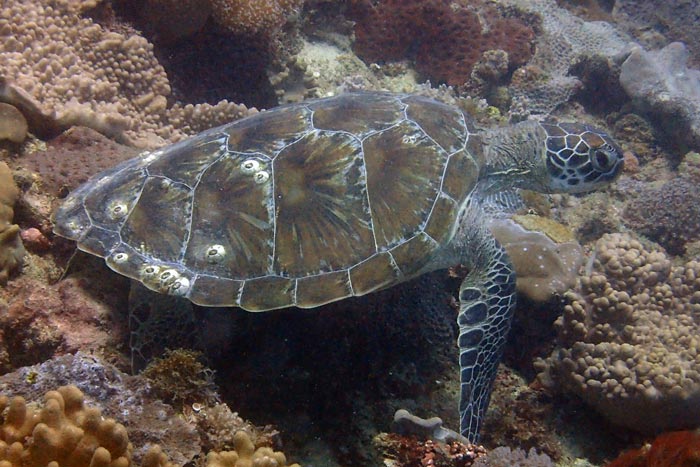 G353 had been seen only once before in November of 2019 on Kisima Mungu reef. A big surprise and excitement for us, as Leah Mainye captured it, after 2 years. What a great comeback!
Education and Outreach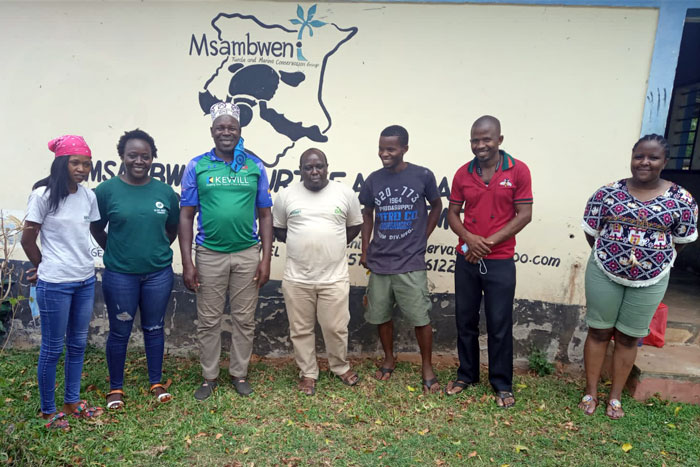 During this period of less underwater activity we focused our time on various education and outreach initiatives. We met with several collaborators to discuss ways to promote engagement, education and awareness programs on sea turtle conservation in the area and form new areas of collaboration. Among these:
A public consultation meeting with local stakeholders about a project to restore a self-sustaining and functioning coral reef ecosystem with involvement of the local communities along Diani Beach. The project was presented by Reefolution Foundation-Swahili Beach Hotel.
A training workshop organised by Kenya Wildlife Services (KWS) in collaboration with local conservation teams about data analysis and report writing towards the compilation of the National Wildlife Census report in Kenya.
A meeting organised by the African Network for Animal Welfare (ANAW-Kenya), Shimoni Turtle Watch, KWS, Msambweni Turtle Group and other local Turtle Conservation Groups to discuss sea turtle conservation on the south coast.
Sea Turtle Adoption Programme
As part of our Sea Turtle Photo-ID programme, we offer adoptions of newly identified and still name-less sea turtles in Kenya. These turtles have been added to our database with only an identification code. When you adopt a turtle, you get to chose the name!
Your kind donation and symbolic turtle adoption will help us continue our sea turtle conservation work and research of the sea turtle population in Kenya. This research will, in turn, help us develop and evaluate conservation strategies aimed at saving sea turtles threatened by extinction.
Thank you to all our adoptive parents – your support is very much appreciated!
Name And Adopt a Sea Turtle As a Gift or For Yourself
---
Partners & Collaborators
ORP Kenya is currently funded by Marine Life Protectors.
We would like to thank the Sands at Nomads and the Diani's Marine Education Centre for welcoming us back, and to Diving the Crab Dive Centre for all the great logistical support. Also a special thanks to Denis Moser from D.M.Tours, Ewout, and Diani Turtle Watch for all the great photo submissions!
---