March was a successful and special month for ORP Kenya. We conducted more sea turtle photo-ID surveys than in February, we had very good diving conditions, and we spotted several more hawksbill turtles. But perhaps most exciting is the fact that we re-sighted several turtles that have not been seen for the past two years!
We also had the opportunity to participate in several events that allowed us to show our work and discuss ideas about improving the conservation status of the sea turtles along the South Coast of Kenya. Read below for more details!
Turtle Photo-ID Project Update – March 2021
117 Turtle Sightings:
111 green turtles
16 hawksbill turtles
17 New Turtles Identified:
16 green turtles
1 hawksbill turtle
Top Sites For Turtle Sightings February 2021:
48 sightings at Galu
30 sightings at Milele
18 sightings at Kisima Mungu
Diani, Kenya
Turtle Population:
Galu
is home to 77 greens and 8 hawksbills
Milele
is home to 84 greens and 5 hawksbills
Kongo
is home to 85 greens and 7 hawksbills
Diani Turtle Sightings
Since 2018:
2,478 turtle sightings:
521 individual greens
65 individual hawksbills
Our March turtle photo-ID surveys resulted in 117 sightings, of which 16 were new greens and 1 was a new hawksbill turtle. Our database now stands at a total of 521 green and 62 hawksbill turtles. Read more of the work we are doing in Kenya and why it is important in this short article in the African Conservation Telegraph.
Meet Cheech: Green Turtle #500 Added to the Diani Beach Photo-ID Database!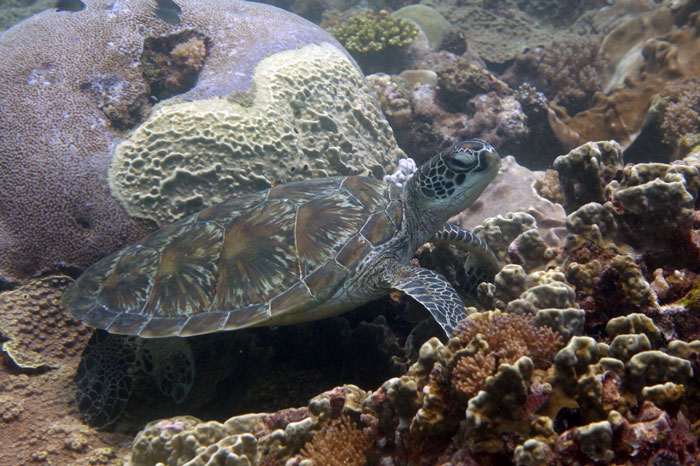 To celebrate the 500th turtle added to our database, we held a naming competition for G500 from Galu reef on social media in March. The winner was Alan Thomas Joshy, who suggested the most liked name: Cheech. Congratulations Alan! Alan's prize was, of course, a gift adoption of Cheech.
World Seagrass Day 1st March
Do you know why sea grass is an important and a vital ecosystem for marine life? And what the relationship is between green turtles and sea grass?
Apart from sea grass acting as a carbon sink, providing sources of food, shelter and nursery areas for many organisms, they also support a number of endangered species such as dugongs, sea turtles and sea horses. When green sea turtles graze on sea grass, they help to maintain healthy sea grass beds. Without this constant grazing, sea grass beds would become overgrown and suffocate itself.
The sea grass beds along the south coast of Kenya cover an area of about 317km². ORP has been meeting with the Kenyan Marine and Fisheries Research Institute (KMFRI) to define some research priorities to enlighten us about the importance of sea turtles for this very important ecosystem. Keep an eye on this newsletter for news about this exciting collaboration soon!
In March We Celebrated Women's Month!
With celebrations of women taking place all over the world, our team was not left behind. Along with the strong women at the Marine Education Centre, where our offices are based, we market Women's Month in different ways. Our Project Coordinator, Leah Mainye, attended the WIOMSA-WiMs zoom meeting held on the 19th of March, where the main agenda was to discuss matters relating women in Marine Science in Kenya. Issues raised included how to create networks and promote members work in different organizations, as well as ways to create awareness and learn from each other in marine conservation.
While the majority of the turtles in Diani beach are juveniles, and for this reason we do not know their gender (sexual features are only noticeable in adults), we do have some adult females that steal the attention from divers whenever they are spotted on our reefs! Meet two of our famous female turtles spotted in Diani: Green turtle G081, a.k.a Mama Kisima from Kisima Mungu reef, and Hawksbill turtle H004, a.k.a Carin from Galu reef. These turtles are the future of the species, and their sighting is always appreciated since they are all endangered!
Kenya Wildlife Service (KWS) Board of Trustees Meeting
ORP Kenya was fortunate enough to attend the first ever KWS Board of Trustees Meeting for South Coast Community Based Organisations held in Shimoni. We had the opportunity to introduce our work to the local communities and other stakeholders, and to discuss ways by which we can create more collaborations and expand our sea turtle conservation work in the future. The meeting was an eye opener as the Board of Trustees got to ask what we need as groups and about our plans in near future, and we all agreed that there's need for coordination from all groups working in conservation in order to achieve our goals.
Turtles of the Month
G178 had been seen only once before in February of 2019 on Milele reef. It was a surprise to us that, after 2 years, this shy turtle was beautifully captured by Jenni Choma on the same reef. What a great comeback!
Sea Turtle Adoption Programme
As part of our Turtle Photo-ID programme, we offer adoptions of newly identified and still name-less sea turtles in Kenya. These turtles have been added to our database with only an identification code. When you adopt a turtle, you get to chose the name!
Your kind donation and symbolic turtle adoption will help us continue our sea turtle conservation work and research of the sea turtle population in Kenya. This research will, in turn, help us develop and evaluate conservation strategies aimed at saving sea turtles threatened by extinction.
Recently Sighted Adopted Sea Turtles
Thank you to all our adoptive parents – your support is very much appreciated!
Name And Adopt a Sea Turtle As a Gift or For Yourself
---
Partners & Collaborators
ORP Kenya is currently sponsored by Marine Life Protectors.
We would like to thank the Sands at Nomads for welcoming us back, and D.M. Tours and Denis Moser for supporting Dr Joana Hancock's trip and stay in Kenya.
---