A Holiday Volunteering With Turtles
Dr Stewart Bedford was looking for a different kind of holiday and decided that volunteering with turtles and the Olive Ridley Project (ORP) at the Marine Turtle Rescue Centre in the Maldives would fit the bill. He was not disappointed:
"For the first two days I was in a daze – nothing seemed real. Arriving on a seaplane at a tiny tropical island surrounded by deserted beaches and turquoise seas, I was greeted by Claire the vet. Claire took me to a site where, right in the middle of the island and covered by palm trees, was the turtle rescue centre.
Each turtle was at a different stage of recovery from surgery and occupied its own tank. Each had its own story, but almost always that of being caught in ghost nets (disused fishing nets that litter the oceans) that over several weeks have slowly cut through limbs or necks. Almost all had surgery to close the wounds or, very often, to amputate a flipper.
Unimaginable Suffering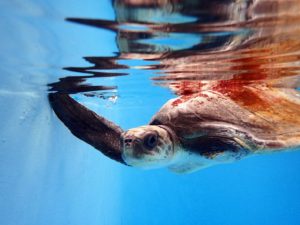 The suffering that each turtle has endured is unimaginable. To see them gradually get stronger is incredible. Each has a different personality, yet they are all so beautiful and gentle. And it is unbelievable how well they can cope with a missing flipper, to the point where they can still survive in the wild. The release of baby turtle Hope, that is what all the hard work at the centre is for.
Prevention Better Than Cure
Claire's work here is incredible. Sadly for every turtle she treats, there's many more that don't make it to her. Ultimately, prevention is always better than cure. The only way to stop injuring turtles like this, is to stop ghost nets. Teaching fishermen to dispose of them properly is one way. We can all help to discourage their use by always choosing line caught tuna."
Dr Stewart Bedford MRCVS