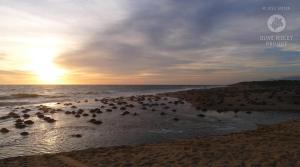 The Olive Ridley Sea Turtle has a very special nesting behavior. Once a year thousands of females congregate in preparation for a mass nesting event known as an Arribada – this is derived from the spanish word meaning "arrival". This spectacular behavior can be observed in very few places in the world, but one of those places is in an area called Orissa situated on the east coast of India. Between the months of December to March females migrate huge distances between feeding and breeding grounds and have been known to cross entire oceans to lay their eggs. Unfortunately, this puts them at great risk of encountering many fishing nets along the way, including those no longer in use. Inactive nets that remain in the ocean are called ghost nets. While drifting they catch and kill many marine species in a process referred to as ghost fishing. Inquisitive turtles are particularly vulnerable to becoming entangled in ghost nets, because they try to use the net as a resting platform or are attracted to prey such as fish or jellies that are already entangled in the net.
The North East Monsoon (December – March) in the Maldives is the time of year when many Olive Ridleys are reported entangled to the Olive Ridley Project. It is not uncommon to have reports of multiple turtles trapped in a single net. When we were told this story, we were not surprised, but the images truly shocked us.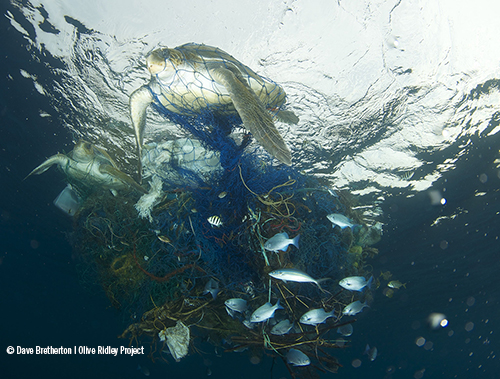 On 7th March 2012, Prodivers Maldives found a ghost net floating on the surface of the ocean in Lhaviyani Atoll, Maldives. Upon closer inspection, they noticed two entangled turtles. The team quickly jumped into the water to release them but were shocked at what they discovered. It became immediately clear that their were more than two turtles entangled in this net, in fact a total of five Olive Ridleys were trapped in this one net. Thinking on their toes, the team took as many pictures as possible whilst rescuing the turtles. This is a great way to show people what is really happening in our oceans. Even protected species are not safe from ghost nets.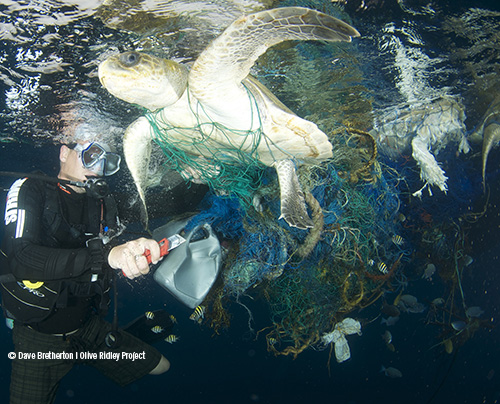 This giant conglomerate of many types of nets tangled together is typical to find in the Maldives during the NE Monsoon.
The turtle (LEFT) was found just in time. Having the net wrapped around it's head like this would have prevented it from feeding and probably made breathing difficult.
.
.
.
.
.
.
.
.
.
.
.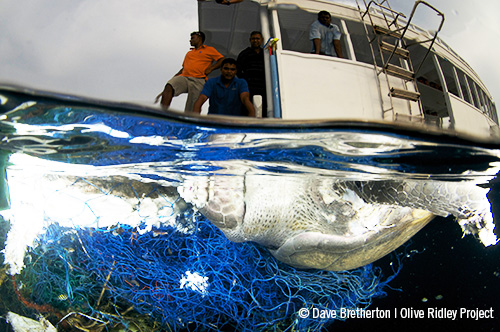 All three Olive Ridleys were released back into the ocean, however two more Olive Ridley were found entangled in the net in deeper water. Unfortunatly it was too late for these two turtles who met their fate entangled in the ghost net. It is likely that both turtles could not reach the surface and died from drowning, we dare not think how many other turtles, right now, are suffering in this way.
For the Olive Ridley and many other species of turtle, ghost nets can dictate weather they live or die. An increase in population and demand for fish, combined with advancements in technology to find fish, give the Olive Ridley very little room to coexist with the increasing fishing pressure. For now removal, awareness and more research is needed if we are to combat this increasing problem globally. Thanks to the Prodivers Maldives team for their quick response releasing the entangled turtles alive. Great work from Dave Bretherton for thinking on his feet and documenting the whole process for the world to see.
Written by: Dr. Jillian Hudgins and Martin Stelfox
.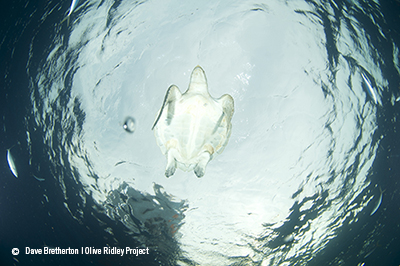 If you would like to see a video of two Olive Ridleys being released by the Olive Ridley Project, please click here.