Sea Turtle Biologist and Educator, Maldives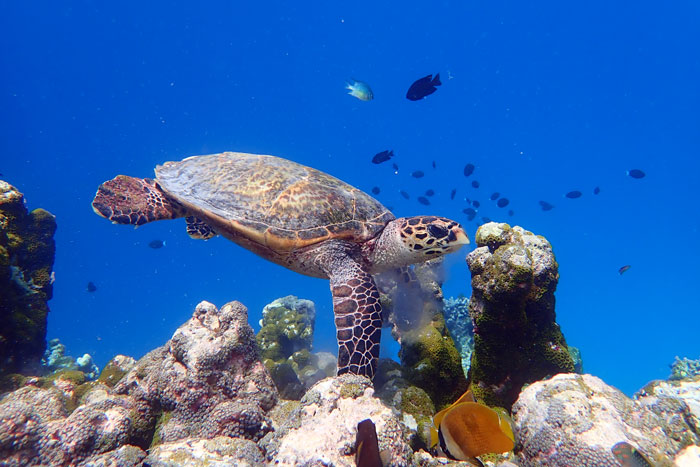 Job Reference: OAO002
Position: Sea Turtle Biologist & Guest Educator, Maldives
Start date: ASAP
Duration: 1 year with possibility to extend
This is a full-time, paid position.
Job Description
Responsibilities will include but are not limited to:
Managing the Sea Turtle Rehabilitation Centre
Sea turtle patient care including, but not limited to, turtle first aid, feeding, cleaning, administration of medicine, and tank cleaning (under the guidance of our veterinary team)
Rescue injured and sick sea turtles
Photo-ID research (training provided)
Database management
Data analyses
Leading sea turtle dive and snorkels for resort staff and guests
Community outreach and awareness building
Establishing new and strengthening existing partnerships with local NGOs
Create and post social media content
Take part in raising overall environmental awareness at the resort and internationally
Minimum Requirements
The successful candidate will possess the following minimum qualifications, experience, and skills:
Minimum bachelor's degree in marine biology, zoology or related field
Fluent in spoken and written English, a second language is a bonus
Excellent communication skills
Qualified SCUBA diver (Minimum Advanced diver)
Ability to work independently
Experience working with sea turtles
Assets
Knowledge of, and a passion for, the marine environment and conservation
Experience working in remote locations with limited resources
Experience with R language
Experience using Microsoft excel and word
Interest in sea turtle research and conservation
The Organisation
The Olive Ridley Project (ORP) is on a mission to protect sea turtles and their habitats through rescue and rehabilitation, education and outreach and scientific research. At the core of our work is a passionate and dedicated team of scientists, conservationists, citizen scientists and volunteers. We pride ourselves in being able to collaborate with a wide range of diverse groups in order to reach our goal and fill data gaps in sea turtle conservation. The charity is at the forefront of sea turtle conservation, influencing local policy makers, fishing communities and collaborating with research institutes. We currently have bases in Maldives, Oman, Kenya and Pakistan.
Furthermore we conduct research using Photo-ID methods to look at population stability, nesting activity and spatial distribution of sea turtles in the Indian Ocean. We have one of the largest turtle-ID databases in the world with just over 20,000 observations and work with an international team of experts to better develop the method.
ORP opened the first veterinarian run marine turtle rescue centre in Maldives in Baa Atoll in 2017, followed by a second rehabilitation centre in North Malé Atoll in 2019. The rehabilitation centre is run in partnership with One & Only Reethi Rah Resort; we work together to monitor sea turtle populations and nesting activity in North Malé Atoll and care for injured and sick sea turtles.
How to Apply for the Position as Sea Turtle Biologist & Guest Educator
Please send your CV and cover letter, explaining why you would be the ideal candidate for the role as Sea Turtle Biologist & Guest Educator, to Dr. Martin Stelfox at martin@oliveridleyproject.org before 24 November 2020. Only those who meet the requirements for the position will be considered. Please make sure to include job reference OAO002 in the subject of your email when applying.