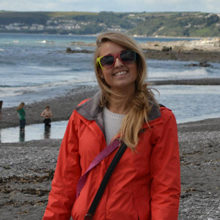 Nicola Weeden was the the Chair of Trustees for the Olive Ridley Project from 2016 to 2018.
Nikki graduated from the University of Plymouth in 2009 with a BSc (Hons) in Marine Biology; the focus of her studies was the diversity of shark populations in the Bahamas. After graduation, Nikki worked alongside Martin Stelfox and Dr. Jillian Hudgins in Mexico, monitoring coral health and diversity on the Meso-American Barrier Reef, and teaching volunteers about the marine environment.
Since August of 2011, Nikki has worked with UK Diving Tour Operator blue o two. She has spent a lot of time in the Maldives on blue o two liveaboards, hosting "Project Shark" itineraries, which teaches divers about shark ecology, biology and threats to the shark populations.