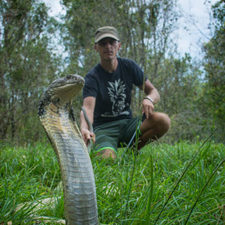 Mark MacDonald (MScF) was a trustee of ORP from its founding until December 2020.
He is a Wildlife Ecologist at the Department of Marine and Wildlife Resources in American Samoa, where he manages several wildlife recovery projects and is the marine turtle biologist for the territory.
The focus of Mark's avian projects is concentrated on the use of translocation and captive rearing as a means for species recovery in listed or locally rare bird species.
Mark grew up in Prince Edward Island, Canada, flipping rocks and sloshing through vernal pools in search of critters. Today, he does much the same throughout the South Pacific and has had the great fortune of spending time with some of the world's most wonderful wildlife. "We need more groups with the dedication and passion of ORP to fight for the preservation of our natural heritage."