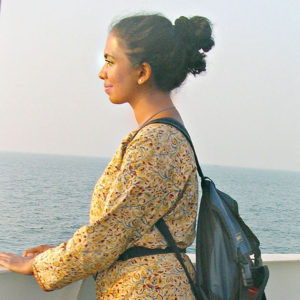 From a dream that took birth during her bachelor days in Environmental Sciences in Bangalore in 1999, Dr Annie Kurian pursued sea turtle research in her Masters in Marine Biology in Karwar, resulting in some pioneering research and conservation work on Olive Ridleys in the area between 2000 and 2002.
The quest was broadened for a PhD from 2002 to 2008 and involved investigating nesting ecology along select turtle nesting habitats in nine coastal states and the major islands of India.
Annie was the Editor of the 2013 WWF-India publication "Marine Turtles along the Indian Coast" and she is also involved in climate change impact studies in the Southern Ocean, initiated in 2009.
Annie is a co-founder of Terra Marine Research Institute (TeMI) with Dr Mridula Srinivasan, a marine mammal scientist/marine ecologist. At TeMI she directs the Programme for Sea Turtles and Coastal Resources, studying how the livelihood of traditional fishing communities are factored into research and conservation programmes.
Abandoned fishing gear are among the biggest threats to marine life, including marine mammals, sharks, and sea turtles. TeMI partners with the Olive Ridley Project in researching the extent of the problem, actively removing ghost nets from the Indian Ocean, and in setting up facilities to transform old fishing nets into useful products, along the west coast of India. The aim is to ultimately develop livelihood schemes and incentives for traditional fishing communities to not simply discard fishing gear at sea.