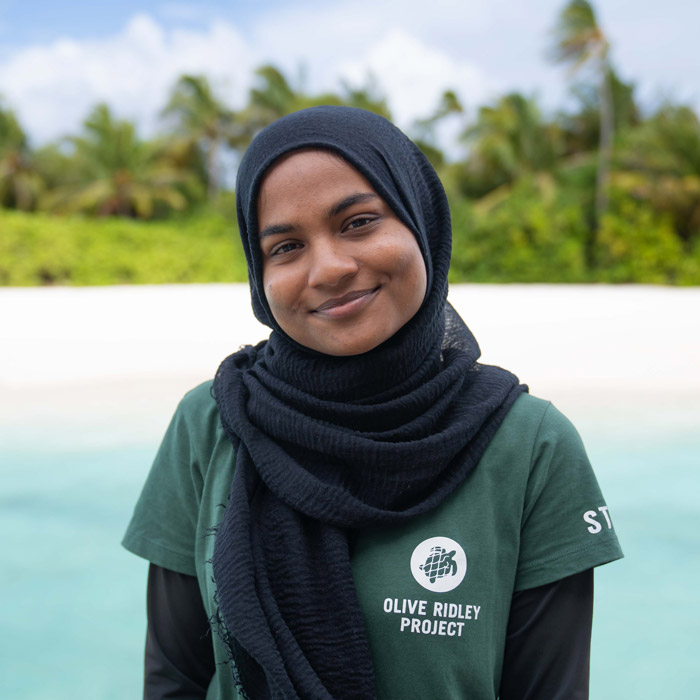 Aminath Angeela was ORP's Sea Turtle Biologist in Laamu Atoll in the first half of 2022. She is from the southern tuna-fishing island of Gemanafushi in Huvadhu Atoll. She grew up in untouched nature, spending a lot of time by the beach and in the seagrass-dense lagoon around her island. Due to the lack of access to snorkeling equipment she didn't have opportunities to see the underwater world, but she was always curious to see fish and corals. At a career guidance program when she was 14, she met a marine biologist – and immediately decided that's what she wanted to be!
However, it was still a novel idea for a local to be a marine biologist in the Maldives and there was little guidance to know what this entailed. So Angeela enrolled in Bachelor of Environmental Management at the Maldives National University, which is the closest course to a marine biology degree available.
She then took up marine biologist internships at resorts to familiarize herself with working in the field, spending time at Angsana Velavaru in Dhaalu Atoll and Como Maalifushi in Thaa Atoll. In 2020, she was part of the first research expedition by Noo Raajje as a researcher from Maldives Marine Research Institute. This paved the way for her to become a Marine Officer at Como Cocoa island in South Malé Atoll, where she spent a year overseeing guest activities – and helping with sea turtle nests they had on island.